Pediatric Rheumatic Fever
Author: Thomas K Chin, MD; Chief Editor: Lawrence K Jung, MD more...
Updated: Jun 28, 2016
What would you like to print?
Background
Rheumatic fever (RF) is a systemic illness that may occur following group A beta hemolytic streptococcal (GABHS) pharyngitis in children. Rheumatic fever and its most serious complication, rheumatic heart disease (RHD), are believed to result from an autoimmune response; however, the exact pathogenesis remains unclear. Studies in the 1950s during an epidemic on a military base demonstrated 3% incidence of rheumatic fever in adults with streptococcal pharyngitis not treated with antibiotics.[1] Studies in children during the same period demonstrated an incidence of only 0.3%. The incidence of rheumatic fever after GABHS infection is thought to be decreased to less than 1%. Cardiac involvement is reported to occur in 30-70% of patients with their first attack of rheumatic fever and in 73-90% of patients when all attacks are counted.
Clinical manifestations and time course of acute rheumatic fever are shown in the image below.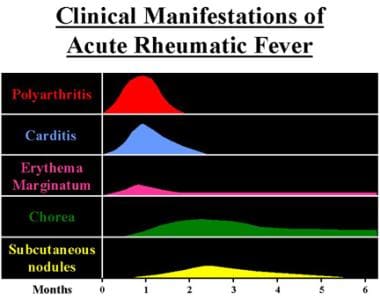 Clinical manifestations and time course of acute rheumatic fever.
Pathophysiology
Rheumatic fever develops in children and adolescents following pharyngitis with GABHS (ie, Streptococcus pyogenes). The organisms attach to the epithelial cells of the upper respiratory tract and produce a battery of enzymes, which allows them to damage and invade human tissues. After an incubation period of 2-4 days, the invading organisms elicit an acute inflammatory response, with 3-5 days of sore throat, fever, malaise, headache, and elevated leukocyte count. In a small percent of patients, infection leads to rheumatic fever several weeks after the sore throat has resolved. Only infections of the pharynx have been shown to initiate or reactivate rheumatic fever. However, epidemiological associations in certain populations have led to speculation that group A Streptococcus impetigo could predispose to or cause rheumatic fever as well.[1]
Direct contact with oral (PO) or respiratory secretions transmits the organism, and crowding enhances transmission. Patients remain infected for weeks after symptomatic resolution of pharyngitis and may serve as a reservoir for infecting others. Penicillin treatment shortens the clinical course of streptococcal pharyngitis and more importantly prevents the major sequelae.
GABHS organisms are gram-positive cocci, which frequently colonize the skin and oropharynx. These organisms may cause suppurative diseases (eg, pharyngitis, impetigo, cellulitis, myositis, pneumonia, puerperal sepsis). GABHS organisms also may be associated with nonsuppurative diseases (eg, rheumatic fever, acute poststreptococcal glomerulonephritis). Group A streptococci (GAS) elaborate the cytolytic toxins, streptolysins S and O. Of these 2 toxins, streptolysin O induces persistently high antibody titers that provide a useful marker of GAS infection and its nonsuppurative complications. Recent studies using enzyme-linked immunosorbent assays showed a correlation between anti-streptolysin O and anti-human cardiac myosin antibodies.[2]
GAS, as identified using the Lancefield classification, has a group A carbohydrate antigen in the cell wall that is composed of a branched polymer of L-rhamnose and N-acetyl-D-glucosamine in a 2:1 ratio. Surface proteins on the cell wall of the organism may subserotype GAS. The presence of the M protein is the most important virulence factor for GAS infection in humans. More than 120 M protein serotypes or M protein genotypes have been identified,[3] some of which have a long terminal antigenic domain (ie, epitopes) similar to antigens in various components of the human heart.
Rheumatogenic strains are often encapsulated mucoid strains, rich in M proteins, and resistant to phagocytosis. These strains are strongly immunogenic, and anti-M antibodies against the streptococcal infection may cross-react with components of heart tissue (ie, sarcolemmal membranes, valve glycoproteins). Currently, emm typing is felt to be more discriminating than M typing.[3]
Acute RHD often produces a pancarditis, characterized by endocarditis, myocarditis, and pericarditis. Endocarditis is manifested as mitral and aortic valve insufficiency. Severe scarring of the valves develops during a period of months to years after an episode of acute rheumatic fever, and recurrent episodes may cause progressive damage to the valves. The mitral valve is affected most commonly and severely (65-70% of patients); the aortic valve is affected second most commonly (25%).
The tricuspid valve is deformed in only 10% of patients, almost always in association with mitral and aortic lesions, and the pulmonary valve is rarely affected. Severe valve insufficiency during the acute phase may result in congestive heart failure (CHF) and even death (1% of patients). Whether myocardial dysfunction during acute rheumatic fever is primarily related to myocarditis or is secondary to CHF from severe valve insufficiency is not known. When pericarditis is present, it rarely affects cardiac function or results in constrictive pericarditis.
Chronic manifestations occur in adults with previous RHD from residual and progressive valve deformity. RHD is responsible for 99% of mitral valve stenosis in adults, and it may be associated with atrial fibrillation from chronic mitral valve disease and atrial enlargement
Epidemiology
Frequency
United States
Rheumatic fever is now uncommon among children in the United States. The incidence of rheumatic fever and RHD was thought to be decreased in the United States and other industrialized countries during the past 80 years. The prevalence of RHD in the United States was less than 0.05 per 1000 population, with only rare regional outbreaks reported in Tennessee in the 1960s and in Utah[4] , Ohio, and Pennsylvania in the 1980's. While In the early 1900s, incidence was reportedly 5-10 cases per 1000 population. Decreased incidence of rheumatic fever was attributed to the introduction of penicillin or a change in the virulence of the streptococci, while the incidence in other developed countries, such as Italy, was comparable.[5] However a recent assessment of temporal trends of patients diagnosed with acute rheumatic fever in the United States from 2001-2011 showed that since 2001, national acute rheumatic fever admissions has steadily increased, with a peak in 2005, and decreased thereafter.[6]
International
In contrast to trends in the United States, rheumatic fever and RHD have not decreased in developing countries. Retrospective studies in developing countries demonstrate the highest figures for cardiac involvement and the highest recurrence rates of rheumatic fever.[7] Worldwide, there are over 15 million cases of RHD, with 282,000 new cases and 33,000 deaths from this disease each year.[8]
Mortality/Morbidity
RHD is the major cause of morbidity from rheumatic fever and is the major cause of mitral insufficiency and stenosis in the United States and the world. Variables that correlate with severity of valve disease include the number of previous attacks of rheumatic fever, the length of time between the onset of disease and start of therapy, and sex (the prognosis for females is worse than for males). Insufficiency from acute rheumatic valve disease resolves in 70-80% of patients if they adhere to antibiotic prophylaxis.
Race
Native Hawaiians and Maori (both of Polynesian descent) have a higher incidence of rheumatic fever. Incidence of rheumatic fever in these patients is 13.4 per 100,000 hospitalized children per year, even with antibiotic prophylaxis of streptococcal pharyngitis.[8]
The prevalence is greatest in the South (34.32%) compared to the Northeast (25.05%), Midwest (22.95%), and West (17.69%). Blacks have the highest mortality rate (5.00%) compared to whites (3.01%), Hispanics (1.66%) and Asians (0.89%). As median income decreases, the frequency increases, with patients earning less than $25,000 per year making up 23.74% of admissions.[6]
Sex
Rheumatic fever occurs in equal numbers in males and females. Females with rheumatic fever fare worse than males and have a slightly higher incidence of chorea.
Age
Rheumatic fever is principally a disease of childhood, with a median age of 10 years; However, GABHS pharyngitis is uncommon in children younger than 3 years, and acute rheumatic fever is extremely rare in these younger children in industrialized countries. Although less commonly seen in adults compared with children, rheumatic fever in adults accounts for 20% of cases.
References
Parks T, Smeesters PR, Steer AC. Streptococcal skin infection and rheumatic heart disease. Curr Opin Infect Dis. 2012 Apr. 25(2):145-53. [Medline].

Garcia AF, Yamaga KM, Shafer LA, Bollt O, Tam EK, Cunningham MW, et al. Cardiac Myosin Epitopes Recognized by Autoantibody in Acute and Convalescent Rheumatic Fever. Pediatr Infect Dis J. 2016 Jun 3. [Medline].

Pickering LK. Rheumatic fever. 2009 Red Book: Report of the Committee on Infectious Diseases. 28th ed. Elk Grove Village, Ill: American Academy of Pediatrics; 2009. 616-628.

Veasy LG, Wiedmeier SE, Orsmond GS, et al. Resurgence of acute rheumatic fever in the intermountain area of the United States. N Engl J Med. 1987 Feb 19. 316(8):421-7. [Medline].

Breda L, Marzetti V, Gaspari S, Del Torto M, Chiarelli F, Altobelli E. Population-based study of incidence and clinical characteristics of rheumatic Fever in abruzzo, central Italy, 2000-2009. J Pediatr. 2012 May. 160(5):832-836.e1. [Medline].

Bhatia S, Tariq A. Characteristics and Temporal Trends of Patients Diagnosed with Acute Rheumatic Fever in the United States from 2001-2011. J Am Coll Cardiol. 2016 April. 67:1892.

Orün UA, Ceylan O, Bilici M, Karademir S, Ocal B, Senocak F. Acute rheumatic fever in the Central Anatolia Region of Turkey: a 30-year experience in a single center. Eur J Pediatr. 2012 Feb. 171(2):361-8. [Medline].

Seckeler MD, Hoke TR. The worldwide epidemiology of acute rheumatic fever and rheumatic heart disease. Clin Epidemiol. 2011 Feb 22. 3:67-84. [Medline]. [Full Text].

[Guideline] Guidelines for the diagnosis of rheumatic fever. Jones Criteria, 1992 update. Special Writing Group of the Committee on Rheumatic Fever, Endocarditis, and Kawasaki Disease of the Council on Cardiovascular Disease in the Young of the American Heart Asso. JAMA. 1992 Oct 21. 268(15):2069-73. [Medline].

[Guideline] American Heart Association Committee on Rheumatic Fever, Endocarditis, and Kawasaki Disease of the Council on Cardiovascular Disease in the Young. Revision of the Jones Criteria for the diagnosis of acute rheumatic fever in the era of Doppler echocardiography: a scientific statement from the American Heart Association. Circulation. 2015 May 19. 131 (20):1806-18. [Medline].

Paruby MG, Carapetis JR. Rheumatic fever in Indigenous Australian Children. J Pediatr Child Health. 2010. 46:527-533.

Bas HD, Baser K, Yavuz E, Bolayir HA, Yaman B, Unlu S. A shift in the balance of regulatory T and T helper 17 cells in rheumatic heart disease. J Investig Med. 2014 Jan. 62(1):78-83. [Medline].

Eriksson JG, Kajantie E, Phillips DI, Osmond C, Thornburg KL, Barker DJ. The developmental origins of chronic rheumatic heart disease. Am J Hum Biol. 2013 Sep-Oct. 25(5):655-8. [Medline].

Marijon E, Ou P, Celermajer DS, Ferreira B, Mocumbi AO, Jani D, et al. Prevalence of rheumatic heart disease detected by echocardiographic screening. N Engl J Med. 2007 Aug 2. 357(5):470-6. [Medline].

Beaton A, Aliku T, Okello E, Lubega S, McCarter R, Lwabi P. The utility of handheld echocardiography for early diagnosis of rheumatic heart disease. J Am Soc Echocardiogr. 2014 Jan. 27(1):42-9. [Medline].

Godown J, Lu JC, Beaton A, Sable C, Mirembe G, Sanya R, et al. Handheld echocardiography versus auscultation for detection of rheumatic heart disease. Pediatrics. 2015 Apr. 135 (4):e939-44. [Medline].

[Guideline] Reményi B, Wilson N, Steer A, Ferreira B, Kado J, Kumar K. World Heart Federation criteria for echocardiographic diagnosis of rheumatic heart disease--an evidence-based guideline. Nat Rev Cardiol. 2011. 9(5):297-309. [Medline].

Robertson KA, Volmink JA, Mayosi BM. Antibiotics for the primary prevention of acute rheumatic fever: a meta-analysis. BMC Cardiovasc Disord. 2005 May 31. 5(1):11. [Medline].

Dajani AS, Taubert KA, Wilson W, et al. Prevention of bacterial endocarditis. Recommendations by the American Heart Association. Circulation. 1997 Jul 1. 96(1):358-66. [Medline].

Rayamajhi A, Sharma D, Shakya U. First-episode versus recurrent acute rheumatic fever: is it different?. Pediatr Int. 2009 Apr. 51(2):269-75. [Medline].

Yakub MA, Dillon J, Krishna Moorthy PS, Pau KK, Nordin MN. Is rheumatic aetiology a predictor of poor outcome in the current era of mitral valve repair? Contemporary long-term results of mitral valve repair in rheumatic heart disease. Eur J Cardiothorac Surg. 2013 Oct. 44(4):673-81. [Medline].

Carrie Armstrong. AHA Guidelines on Prevention of Rheumatic Fever and Diagnosis and Treatment of Acute Streptococcal Pharyngitis. American Family Physician. 2010.

[Guideline] Wilson W, Taubert KA, Gewitz M, et al. Prevention of infective endocarditis: guidelines from the American Heart Association: a guideline from the American Heart Association Rheumatic Fever, Endocarditis and Kawasaki Disease Committee, Council on Cardiovascular Disease in the Young, and the Council on Clinical Cardiology, Council on Cardiovascular Surgery and Anesthesia, and the Quality of Care and Outcomes Research Interdisciplinary Working Group. J Am Dent Assoc. 2008 Jan. 139 Suppl:3S-24S. [Medline].

Abernethy M, Bass N, Sharpe N, et al. Doppler echocardiography and the early diagnosis of carditis in acute rheumatic fever. Aust N Z J Med. 1994 Oct. 24(5):530-5. [Medline].

Asbahr FR, Garvey MA, Snider LA, et al. Obsessive-compulsive symptoms among patients with Sydenham chorea. Biol Psychiatry. 2005 May 1. 57(9):1073-6. [Medline].

Carapetis JR, McDonald M, Wilson NJ. Acute rheumatic fever. Lancet. 2005 Jul 9-15. 366(9480):155-68. [Medline].

Circulation. The natural history of rheumatic fever and rheumatic heart disease. Ten-year report of a cooperative clinical trial of ACTH, cortisone, and aspirin. Circulation. 1965 Sep. 32(3):457-76. [Medline].

Cotran RS, Kumar V, Collins T. Rheumatic fever. Robbins Pathologic Basis of Disease. 6th ed. WB Saunders Co; 1999. 570-73.

Dajani A, Taubert K, Ferrieri P, et al. Treatment of acute streptococcal pharyngitis and prevention of rheumatic fever: a statement for health professionals. Committee on Rheumatic Fever, Endocarditis, and Kawasaki Disease of the Council on Cardiovascular Disease in the Young, the American. Pediatrics. 1995 Oct. 96(4 Pt 1):758-64. [Medline].

Ellis NM, Li Y, Hildebrand W, et al. T cell mimicry and epitope specificity of cross-reactive T cell clones from rheumatic heart disease. J Immunol. 2005 Oct 15. 175(8):5448-56. [Medline].

Fae KC, Oshiro SE, Toubert A, et al. How an autoimmune reaction triggered by molecular mimicry between streptococcal M protein and cardiac tissue proteins leads to heart lesions in rheumatic heart disease. J Autoimmun. 2005 Mar. 24(2):101-9. [Medline].

Guilherme L, Fae K, Oshiro SE, Kalil J. Molecular pathogenesis of rheumatic fever and rheumatic heart disease. Expert Rev Mol Med. 2005 Dec 8. 7(28):1-15. [Medline].

Guilherme L, Ramasawmy R, Kalil J. Rheumatic fever and rheumatic heart disease: genetics and pathogenesis. Scand J Immunol. 2007 Aug-Sep. 66(2-3):199-207. [Medline]. [Full Text].

Karademir S, OGuz D, Senocak F, et al. Tolmetin and salicylate therapy in acute rheumatic fever: Comparison of clinical efficacy and side-effects. Pediatr Int. 2003 Dec. 45(6):676-9. [Medline].

Mukhopadhyay S, Varma S, Gade S, Yusuf J, Trehan V, Tyagi S. Regulatory T-cell deficiency in rheumatic heart disease: a preliminary observational study. J Heart Valve Dis. 2013 Jan. 22(1):118-25. [Medline].

Narula J, Virmani R, Reddy KS. Rheumatic Fever. American Registry of Pathology. Washington, DC: 1999.

Swedo SE, Leonard HL, Garvey M, et al. A case of pediatric autoimmune neuropsychiatric disorders associated with streptococcal infections. Am J Psychiatry. 1998 Nov. 155(11):1592-8. [Medline].

Walker KG, Lawrenson J, Wilmshurst JM. Neuropsychiatric movement disorders following streptococcal infection. Dev Med Child Neurol. 2005 Nov. 47(11):771-5. [Medline].
Medscape Reference © 2011 WebMD, LLC