Overview
Background
Arterial occlusive disease of the upper extremity may represent either local or systemic disease. The pattern of arterial disease varies according to etiology.
Diseases that affect the brachiocephalic vessels include atherosclerosis, arteritis, congenital anomalies, trauma, and fibromuscular dysplasia. In the United States, atherosclerosis is the most common cause of subclavian artery stenosis. Outside of the United States, Takayasu arteritis is more common. The axillary and brachial arteries are common sites of injury. One third of peripheral emboli lodge in the upper extremity, producing acute arterial occlusion. Radiation therapy of the chest or breast may induce subclavian artery disease.
Symptomatic upper-extremity arterial occlusive disease is uncommon because of the abundant collateral network and the infrequency of atherosclerosis in the upper extremity. Patients who present with upper-extremity ischemia range from young adults with nonatherosclerotic causes to elderly patients with atherosclerosis.
Anatomy
The right subclavian artery (see the image below) originates from the innominate artery. Rarely, its origin is distal to that of the left subclavian artery, passing behind the esophagus and producing dysphagia lusoria (ie, difficulty swallowing). An aberrant right subclavian artery is also prone to aneurysm degeneration (ie, Kommerell diverticulum).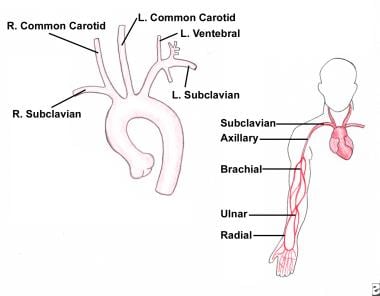 Anatomic drawing of subclavian and brachial arteries.
The vertebral artery is the first branch of the subclavian artery and a major collateral for proximal subclavian artery stenosis (retrograde vertebral artery blood flow). The distal vertebral artery also provides blood flow to the anterior spinal artery.
The internal mammary artery (IMA) is the second branch of the subclavian artery and is used for coronary artery bypass grafting (CABG). Occasionally, progressive subclavian stenosis produces angina in patients who have undergone CABG.
The brachial artery branches at the elbow into the ulnar, radial, and interosseous arteries. Rarely, the ulnar and radial arteries arise from the axillary or subclavian arteries.
The ulnar and radial arteries connect in the hand to form the superficial and deep palmar arches. Palmar arch anatomy varies. In most patients, the ulnar artery is the dominant blood supply of the hand.
Pathophysiology
Vasculitis, fibromuscular dysplasia, and atherosclerosis produce symptoms related to progressive narrowing of the arterial lumen. A diameter reduction of 50% or a cross-sectional area reduction of 70% represents a hemodynamically significant lesion. These lesions produce a pressure drop across the stenotic area. The distal arterial bed is supplied by collateral blood vessels. Symptoms include exercise-induced fatigue as the demand for blood exceeds the supply.
In patients with acute arterial occlusions, collateral blood vessels have not formed, and perfusion drops rapidly below a critical threshold level, which results in persistent pain and tissue necrosis. Limb pressure is generally less than 30 mm Hg. Doppler tones cannot be heard in the digital vessels.
The pathophysiology of Raynaud syndrome is unknown. Precapillary smooth muscle cells constrict in an abnormal response to cold stimulation or emotional stress. [1] The sympathetic nervous system adrenoreceptor function and number are believed to be altered. The distinction between Raynaud disease and Raynaud phenomenon is arbitrary and is best made by dividing patients into those with normal digital arteries (Raynaud disease) and those with obstructed arteries (Raynaud phenomenon). The two are easily distinguished with noninvasive blood flow testing (see Workup, Diagnostic Procedures).
Etiology
The etiology of upper-extremity occlusive disease includes the following:
Large-vessel occlusion (eg, subclavian, brachial, or forearm arteries)

Atherosclerosis

Trauma (eg, thoracic outlet syndrome, penetrating,

[2]

blunt, or iatrogenic)

Arteritis (eg, Takayasu arteritis or giant cell arteritis)

Irradiation

Embolic (eg, cardiac or thoracic outlet in origin, including bacterial endocarditis, microemboli from ascending aorta, or paradoxical emboli)

Fibromuscular dysplasia

Digital artery occlusion (see the image below)

Connective-tissue disease - Scleroderma; CREST (chondrocalcinosis, Raynaud phenomenon, esophageal motility disorder, sclerodactyly, and telangiectasia) syndrome; and mixed connective-tissue disease

Buerger disease

Hypersensitivity angitis

Hematologic - Hypercoagulable states, hyperviscosity, or malignancy

Traumatic - Occupational (eg, hypothenar hammer syndrome or vibratory tools), iatrogenic, or recreational (baseball palmar artery injuries)

Infection - From injection of drugs or from arterial procedures

Flow phenomenon - Vascular steal related to dialysis access graft or fistula placement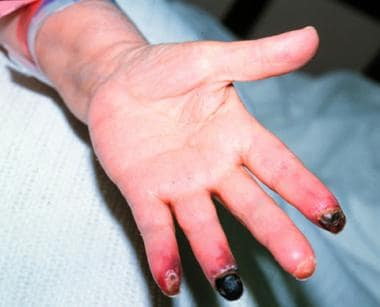 Digital ischemia in patient with long-standing diabetes mellitus who is on long-term dialysis.
Epidemiology
Brachial artery occlusion occurs in 0.9-4% of cardiac catheterizations. The brachial artery is also the most commonly injured artery in civilian trauma (30% of all arterial injuries). Digital gangrene is a frequent manifestation of connective-tissue disease or a hypercoagulable state. Thromboangiitis obliterans (Buerger disease) manifests with multiple digital artery occlusions caused by heavy smoking and is rare. Many patients with upper-extremity arterial disease have associated Raynaud syndrome or significant cold sensitivity.
Prognosis
Carotid-subclavian bypass yields 86-100% 5-year patency. Subclavian transposition yields 95-100% 5-year patency. Upper-extremity bypass yields 52% 5-year patency. Arterial reconstruction for thoracic outlet yields 90% 5-year patency.
Between 0% and 25% of patients with Raynaud disease with negative serology findings develop a connective-tissue disease, and 11-60% of patients with Raynaud disease with positive serology findings develop a connective-tissue disease.
Soga et al reported perioperative and long-term outcomes of endovascular therapy in 553 patients with upper-extremity arterial disease at 37 Japanese cardiovascular centers (mean follow-up, 39±24 months). [3] The procedural success rate was 96.8%, the perioperative complication rate was 9.2%, and the incidence of stroke was 1.8%; 30-day mortality was 0.7%. Primary patency estimates were 90.6±1.3% at 1 year, 83.4±1.8% at 3 years, and 80.5±2.2% at 5 years. The overall survival rates were 94.6±1.0% at 1 year, 86.8±1.7% at 3 years, and 79.0±2.4% at 5 years.
What would you like to print?