Intraosseous Access
Author: Ee Tein Tay, MD; Chief Editor: Vincent Lopez Rowe, MD more...
Updated: Apr 09, 2015
What would you like to print?
Overview
Intraosseous vascular access was first introduced by Drinker in 1922 as a method for accessing noncollapsible venous plexuses through the bone marrow cavity to systemic circulation. The method was abandoned with the development of intravenous (IV) catheters until the 1980s, when intraosseous access was reintroduced, particularly for rapid fluid infusion during resuscitation.[1]
On the basis of previous guidelines, intraosseous access was suggested for children aged 6 years or younger,[2] though subsequent studies have shown that it is safe in older children and adults.[3, 4, 5, 6] Successful infusions in newborns have further suggested that access via the intraosseous route is faster than access via umbilical veins.[7, 8]
According to the Emergency Cardiovascular Care Guidelines in 2000, intraosseous access is recommended in all children after two failed attempts at IV access or during circulatory collapse. In 2005, the American Heart Association recommended intraosseous access if venous access cannot be quickly and reliably established.[9]
Intraosseous access may be easily established by users with little training and is more rapidly achieved than IV access.[10] Manual insertion with force had previously been the primary method for intraosseous insertion, but automated intraosseous insertion devices such as the EZ-IO (Vidacare Corp, San Antonio, TX)[11] have been growing in popularity.[12] Studies have suggested that these automated devices are safe and highly successful on first attempts in both children and adults.[13, 14, 15, 16]
Several articles have described the use of intraosseous access in military and rescue scenarios, where rapid access may be crucial, peripheral venous access may be hard to obtain, and first responders may have limited experience or technical capacity.[17, 18, 19, 20]
Blood obtained through intraosseous access may be used to obtain most laboratory values, including pH level, carbon dioxide tension (PCO2), and ABO and Rh typing.[21] The results of these standard laboratory tests may differ slightly from results obtained with venous blood samples because of low flow and stasis in the bone marrow. All medications and blood products can be safely administered through the intraosseous line, and the onset of action and peak drug levels are comparable to those of IV administration.
Intraosseous needles left in the marrow for longer than 72 hours are at a higher risk of local infection; thus, needles should be removed as soon as permanent venous access is established.
Indications
One indication for intraosseous access is difficulty in establishing venous access, as in the following settings:
Burns

Obesity

Edema

Seizures
Another is a condition necessitating rapid high-volume fluid infusion, such as the following:
Another is to afford access to the systemic venous circulation, as with the following:
Cardiopulmonary arrest

Burns

Blood draws

Local anesthesia

Medication infusion
Contraindications
Contraindications for intraosseous access include the following:
Infection at entry site

Burn at entry site

Ipsilateral fracture of the extremity

Osteogenesis imperfecta

Osteopenia

Osteopetrosis

Previous attempt at the same site

Previous attempt in different location on same bone

Previous sternotomy (sternum insertion)

Sternum fracture or vascular injury near sternum (sternum insertion)

Unable to locate landmarks
Anesthesia
For conscious patients, local anesthesia with 1-2 mL of lidocaine 1% can be administered at the puncture site after antiseptic preparation. (See Local Anesthetic Agents, Infiltrative Administration.) Adult studies have used 5 mL of 1% lidocaine infusion after access has been established to decrease pain and discomfort associated with the force of high-volume infusion.
Equipment
Equipment used to obtain intraosseous access includes the following:
Gloves

Antiseptic solution

Lidocaine 1%

Syringe, 5-10 mL, for blood draws or solution infusion

Intraosseous needle and trocar options, depending on insertion site and patient age (see the first image below)

Spinal needles for neonates

Hypodermic needle, 16-18 gauge

Jamshidi needle (Baxter Healthcare Corp, McGaw Park, IL; see the second image below)

Sur-Fast intraosseous needle (Cook Inc, Bloomington, IN)

Jamshidi disposable Illinois sternal/iliac needle (Baxter Healthcare Corp, McGaw Park, IL; see the third image below)

Sussmane-Raszynski needle (Cook Inc, Bloomington, IN)

EZ-IO (Vidacare Corp, San Antonio, TX; see the fourth image below)

[22]

FAST1 Intraosseous Infusion System (Pyng Medical Corp, Richmond, BC, Canada; see the fifth image below)

[23]
Positioning
Multiple sites are available for intraosseous access entry, including the following:
Proximal tibia, distal to the tibial tuberosity

Distal end of the radial bone in the upper limb

Proximal metaphysis of the humerus

Distal tibia, proximal to the medial malleolus

Distal femur, above the femur plateau

Sternum

Calcaneus
This article describes proximal tibia insertion (see the video below). For intraosseous insertion at the proximal tibia, position the patient supine with the knee flexed. Stabilize the lower leg by placing one hand firmly distal to the knee for support.
Location of proximal tibial tuberosity for intraosseous insertion.
Technique
Proximal tibia insertion
Explain the procedure and the risks and benefits of the procedure to the patient or guardian prior to access in nonemergency cases. Consult with hospital policy regarding informing the patient or guardian in an emergency, as this policy varies among institutions.
Take universal precautions at all times by wearing gloves and disposing of sharps in designated locations.
Position the patient supine with the knee flexed. Locate the tibial tuberosity and palpate approximately two fingerbreadths distal to the tuberosity, between the anterior and posterior borders of the tibia. In infants, measure one fingerbreadth below the tibial tuberosity. This is the site of insertion. (See the video below.)
Location of proximal tibial tuberosity for intraosseous insertion.
Prepare the puncture site with a topical antiseptic (eg, povidone-iodine). (See the first video below.) In conscious patients, anesthetize the puncture site with 1-2 mL of lidocaine 1%. (See the second video below.)
Topical antiseptic preparation with povidone iodine (Betadine).
Lidocaine injection to insertion site.
Place one hand over the dorsal proximal tibia and below the knee for firm support. Hold the needle in the palm of the other hand and relocate the insertion site. Tilt the needle caudally to avoid puncturing the epiphysis and rotate the needle in a screwlike motion through the skin. (See the video below.)
Intraosseous insertion.
Advance the needle until a sudden loss of resistance is felt. If a screw-adjustable stabilizer is present on the device, use it to make the device flush with the skin once the needle is in the correct position. A needle that stands freely and upright without support indicates correct placement.
Remove the trocar and attach the syringe for marrow aspiration. Commonly, marrow is not aspirated upon insertion. Attach intravenous tubing to the hub and infuse fluid. Observe the surrounding tissue for possible extravasation. (See the video below.)
Blood draw and fluid infusion.
Secure the line firmly after insertion. An acceptable technique is to apply tape to either side of the plastic skirt. Additional stability may be achieved by padding the plastic extension between the skirt and the hub with gauze before taping or by placing a small cup with a hole for the intravenous tubing over the device as an additional layer of protection. (See the video below.) Remove the intraosseous line as soon as an intravenous or central line is established.
Line security with taping.
Automated intraosseous insertion with EZ-IO
Select the needle size on the basis of patient weight (see the image below), as follows:
Body weight ≥ 40 kg - 25 mm, 15 gauge
Locate the landmark for the proximal tibia tuberosity to determine the insertion site (see above). Ensure that the line is properly secured prior to blood draws and fluid infusions. (See the video below.)
EZ-IO insertion.
Sternum insertion with FAST1 intraosseous infusion system
Clean the exposed sternum. Use the index finger to locate the sternal notch, and align the notch with the provided patch. (See the first image below.) Place the bone probe in the "target zone" on the patch. Ensure that the introducer is angled at a 90 º angle to the skin. (See the second image below.)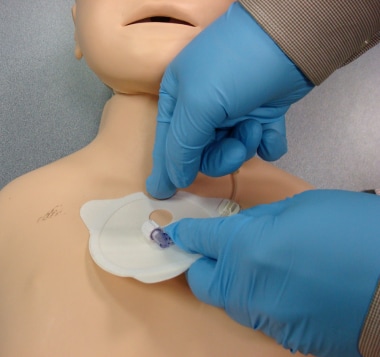 Locate sternum notch and apply patch.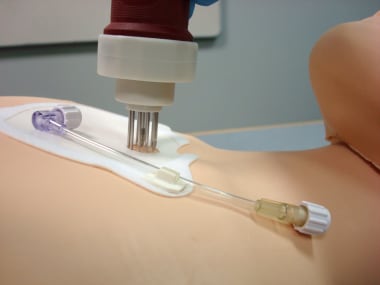 Sternum intraosseous alignment.
Press straight and firmly in the target zone until a sudden loss of resistance is felt. (See the first video below.) Pull back on the introducer to expose the infusion tube for blood draws and infusion. (See the second video below.)
Sternum intraosseous insertion.
Sternum intraosseous infusion.
Secure the intraosseous line with the provided protector dome. (See the image below.)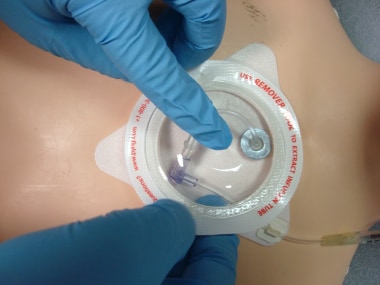 Protector dome.
Pearls
The clinician should not place his or her hand underneath the knee (popliteal fossa area) during the proximal tibia needle insertion. This is a safety precaution to prevent possible lacerations and through-and-through penetration during insertion.
Point the needle distally to avoid epiphysis during insertion.
If initial skin penetration is difficult, a small incision made with a scalpel may be necessary prior to insertion.
Inability to aspirate blood does not indicate improper placement.
Complications
Demonstrated complications of intraosseous access include the following:
Extravasation of blood or infusion into surrounding soft tissue from poor technique or prolonged infusion

Bent needle from poor technique or missed landmark (see the image below)

Bone fracture or through-and-through penetration from excessive force
Rare complications include the following:
The risk of a pulmonary fat embolus is present in adults, though studies in piglets with intraosseous access during cardiopulmonary resuscitation (CPR) showed no increased risk over CPR alone

[24]

Concerns of fluid type have been reported, though studies have shown no increase in risk of injury to surrounding tissues with isotonic solutions as compared with hypertonic solutions

Concerns of bone growth from insertion exist, though no cellular or marrow changes have been demonstrated in animal studies

[25]
References
Bohn D. Intraosseous vascular access: from the archives to the ABC. Crit Care Med. 1999 Jun. 27(6):1053-4. [Medline].

Smith R, Davis N, Bouamra O, Lecky F. The utilisation of intraosseous infusion in the resuscitation of paediatric major trauma patients. Injury. 2005 Sep. 36(9):1034-8; discussion 1039. [Medline].

Atkins DL, Chameides L, Fallat ME, et al. Resuscitation science of pediatrics. Ann Emerg Med. 2001 Apr. 37(4 Suppl):S41-8. [Medline].

Waisman M, Waisman D. Bone marrow infusion in adults. J Trauma. 1997 Feb. 42(2):288-93. [Medline].

Lowther A. Intraosseous access and adults in the emergency department. Nurs Stand. 2011 Aug 3-9. 25(48):35-8. [Medline].

Leidel BA, Kirchhoff C, Bogner V, Braunstein V, Biberthaler P, Kanz KG. Comparison of intraosseous versus central venous vascular access in adults under resuscitation in the emergency department with inaccessible peripheral veins. Resuscitation. 2011 Sep 3. [Medline].

Ellemunter H, Simma B, Trawöger R, Maurer H. Intraosseous lines in preterm and full term neonates. Arch Dis Child Fetal Neonatal Ed. 1999 Jan. 80(1):F74-5. [Medline].

Hansen M, Meckler G, Spiro D, Newgard C. Intraosseous line use, complications, and outcomes among a population-based cohort of children presenting to california hospitals. Pediatr Emerg Care. 2011 Oct. 27(10):928-32. [Medline].

American Heart Association. 2005 American Heart Association (AHA) guidelines for cardiopulmonary resuscitation (CPR) and emergency cardiovascular care (ECC) of pediatric and neonatal patients: pediatric advanced life support. Pediatrics. 2006 May. 117(5):e1005-28. [Medline].

Abe KK, Blum GT, Yamamoto LG. Intraosseous is faster and easier than umbilical venous catheterization in newborn emergency vascular access models. Am J Emerg Med. 2000 Mar. 18(2):126-9. [Medline].

Cooper BR, Mahoney PF, Hodgetts TJ, Mellor A. Intra-osseous access (EZ-IO) for resuscitation: UK military combat experience. J R Army Med Corps. 2007 Dec. 153(4):314-6. [Medline].

Brenner T, Bernhard M, Helm M, Doll S, Völkl A, Ganion N, et al. Comparison of two intraosseous infusion systems for adult emergency medical use. Resuscitation. 2008 Sep. 78(3):314-9. [Medline].

Horton MA, Beamer C. Powered intraosseous insertion provides safe and effective vascular access for pediatric emergency patients. Pediatr Emerg Care. 2008 Jun. 24(6):347-50. [Medline].

Schwartz D, Amir L, Dichter R, Figenberg Z. The use of a powered device for intraosseous drug and fluid administration in a national EMS: a 4-year experience. Journal of Trauma. Mar 2008. 64:654-5. [Medline].

Wampler D, Schwartz D, Shumaker J, Bolleter S, Beckett R, Manifold C. Paramedics successfully perform humeral EZ-IO intraosseous access in adult out-of-hospital cardiac arrest patients. Am J Emerg Med. 2011 Oct 24. [Medline].

Schalk R, Schweigkofler U, Lotz G, Zacharowski K, Latasch L, Byhahn C. Efficacy of the EZ-IO® needle driver for out-of-hospital intraosseous access - a preliminary, observational, multicenter study. Scand J Trauma Resusc Emerg Med. 2011 Oct 26. 19:65. [Medline]. [Full Text].

Rush S, D'Amore J, Boccio E. A review of the evolution of intraosseous access in tactical settings and a feasibility study of a human cadaver model for a humeral head approach. Mil Med. 2014 Aug. 179(8 Suppl):24-8. [Medline].

Lewis P, Wright C. Saving the critically injured trauma patient: a retrospective analysis of 1000 uses of intraosseous access. Emerg Med J. 2014 Jun 30. [Medline].

Vassallo J, Horne S, Smith JE. Intraosseous access in the military operational setting. J R Nav Med Serv. 2014. 100(1):34-7. [Medline].

Helm M, Haunstein B, Schlechtriemen T, Ruppert M, Lampl L, Gäßler M. EZ-IO(®) intraosseous device implementation in German Helicopter Emergency Medical Service. Resuscitation. 2015 Mar. 88:43-7. [Medline].

Evans RJ, Jewkes F, Owen G, McCabe M, Palmer D. Intraosseous infusion--a technique available for intravascular administration of drugs and fluids in the child with burns. Burns. 1995 Nov. 21(7):552-3. [Medline].

EZ-IO [package insert]. San Antonio, TX: Vidacare Corp. 2007. Available at [Full Text].

FAST1 Intraosseous Infusion System for Adult Patients [package insert]. Richmond BC, Canada: Pyng Medical Corp. 2007.

Fiallos M, Kissoon N, Abdelmoneim T, et al. Fat embolism with the use of intraosseous infusion during cardiopulmonary resuscitation. Am J Med Sci. 1997 Aug. 314(2):73-9. [Medline].

Brickman KR, Rega P, Schoolfield L, Harkins K, Weisbrode SE, Reynolds G. Investigation of bone developmental and histopathologic changes from intraosseous infusion. Ann Emerg Med. 1996 Oct. 28(4):430-5. [Medline].
Medscape Reference © 2011 WebMD, LLC