Surgical Treatment of Burns in Children Workup
Author: Renata Fabia, MD, PhD; Chief Editor: Harsh Grewal, MD, FACS, FAAP more...
Updated: Feb 01, 2016
What would you like to print?
Laboratory Studies
Monitoring of electrolytes and blood counts is often helpful, especially with large burns requiring aggressive fluid resuscitation. Obtaining the carboxyhemoglobin level can be important in patients with inhalation injury, especially in those burned in enclosed spaces. Lactate levels correlate with burn severity and cyanide poisoning, and serial levels could be used to define the endpoint of burn shock resuscitation. Prealbumin levels should be monitored weekly in patients with burns involving more than 20% of total body surface area (TBSA) as a measure of nutritional repletion.
A fever workup (including a complete blood count [CBC]; urinalysis, and blood, urine, sputum, and wound cultures) should be performed as clinically indicated.
If invasive burn wound sepsis is suspected (clinical deterioration, a change in the appearance of the burn, an odor to the burn) definitive diagnosis can be obtained with quantitative burn wound cultures (requiring removal of at least 1 g of burned tissue at the bedside) with the microbiology laboratory alerted that quantitative wound cultures are being sent. Invasive burn wound sepsis is defined as more than 105 organisms/g tissue.
An alternative method of diagnosing invasive burn wound sepsis is by burn wound biopsy with histologic examination showing bacteria invading viable tissue.
Imaging Studies
Chest radiography can be helpful in patients who are intubated and in patients who have a suspected inhalation injury. Chest radiography is also required as part of a complete fever workup, as indicated.
Diagnostic Procedures
Calculation of the percentage of TBSA burned can be performed by means of various approaches. The fastest initial estimate of percent BSA burned can be made by employing the pediatric rule of nines (see the image below). This is an adaptation of the adult rule of nines, which takes into consideration the observation that in children, the relative size of the head is larger and the relative size of the lower extremities is smaller.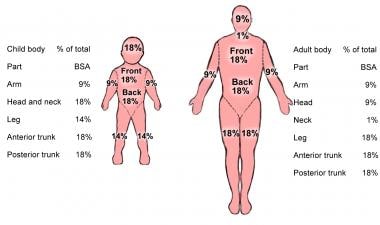 Pediatric Rule of Nines.
Next, Lund and Browder charts can be used to more precisely calculate the percentage of TBSA burned by mapping the injured areas of the body on charts detailing age-appropriate measurements (see the image below).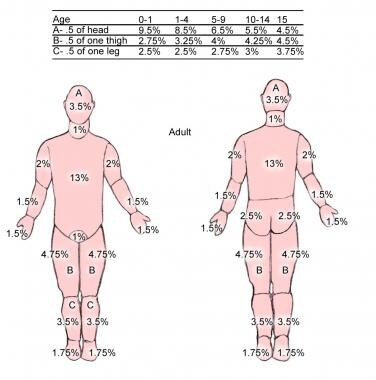 Lund and Browder Chart.
Finally, burn involvement can also be calculated by using the patient's palm. This approach is particularly helpful for small scattered burns and is based on the estimate that the patient's palm (excluding the fingers) represents approximately 0.5% of TBSA.
Note that these are estimates and should be revised by burn care providers in order to achieve more precise calculation when necessary.
References
Lowell G, Quinlan K, Gottlieb LJ. Preventing unintentional scald burns: moving beyond tap water. Pediatrics. 2008 Oct. 122(4):799-804. [Medline].

Meizoso JP, Ramaley SR, Ray JJ, Allen CJ, Guarch GA, Varas R, et al. Scald Burns From Hair Braiding. J Burn Care Res. 2016 Jan-Feb. 37 (1):e7-9. [Medline].

Saeman MR, Hodgman EI, Burris A, Wolf SE, Arnoldo BD, Kowalske KJ, et al. Epidemiology and outcomes of pediatric burns over 35 years at Parkland Hospital. Burns. 2015 Nov 21. [Medline].

Kraft R, Herndon DN, Al-Mousawi AM, Williams FN, Finnerty CC, Jeschke MG. Burn size and survival probability in paediatric patients in modern burn care: a prospective observational cohort study. Lancet. 2012 Mar 17. 379(9820):1013-21. [Medline].

O'Neill TB, Rawlins J, Rea S, Wood F. Complex chemical burns following a mass casualty chemical plant incident: How optimal planning and organisation can make a difference. Burns. 2012 Feb 20. [Medline].

Chan MM, Chan GM. Nutritional therapy for burns in children and adults. Nutrition. 2009 Mar. 25(3):261-9. [Medline].

Jeschke MG, Finnerty CC, Kulp GA, Przkora R, Micak RP, Herndon DN. Combination of recombinant human growth hormone and propanol decreases hypermetabolism and inflammation in severely burned children. Pediatr Crit Care Med. Mar 2008. 9:209-216. [Medline].

Cochran A, Thuet W, Holt B, Faraklas I, Smout RJ, Horn SD. The impact of oxandrolone on length of stay following major burn injury: a clinical practice evaluation. Burns. 2013 Nov. 39(7):1374-9. [Medline].

Reeves PT, Herndon DN, Tanksley JD, Jennings K, Klein GL, Mlcak RP, et al. FIVE-YEAR OUTCOMES AFTER LONG-TERM OXANDROLONE ADMINISTRATION IN SEVERELY BURNED CHILDREN: A RANDOMIZED CLINICAL TRIAL. Shock. 2015 Oct 19. [Medline].

Silver GM, Klein MB, Herndon DN, Gamelli RL, Gibran NS, Altstein L, et al. Standard operating procedures for the clinical management of patients enrolled in a prospective study of Inflammation and the Host Response to Thermal Injury. J Burn Care Res. 2007 Mar-Apr. 28 (2):222-30. [Medline].

Alvarado R, Chung KK, Cancio LC, Wolf SE. Burn resuscitation. Burns. 2009 Feb. 35(1):4-14. [Medline].

Demling RH. Smoke inhalation lung injury: an update. Eplasty. 2008. 8:e27. [Medline].

Joyner BL, Jones SW, Cairns BA, Harris BD, Coverstone AM, Abode KA. DNA and inflammatory mediators in bronchoalveolar lavage fluid from children with acute inhalational injuries. J Burn Care Res. 2013 May-Jun. 34(3):326-33. [Medline].

Plichta JK, Droho S, Curtis BJ, Patel P, Gamelli RL, Radek KA. Local Burn Injury Impairs Epithelial Permeability and Antimicrobial Peptide Barrier Function in Distal Unburned Skin. Crit Care Med. 2014 Apr 8. [Medline].

Yoshikawa T, Mitsuno H, Nonaka I, Sen Y, Kawanishi K, Inada Y, et al. Wound therapy by marrow mesenchymal cell transplantation. Plast Reconstr Surg. 2008 Mar. 121(3):860-77. [Medline].

Fu X, Li H. Mesenchymal stem cells and skin wound repair and regeneration: possibilities and questions. Cell Tissue Res. 2009 Feb. 335(2):317-21. [Medline].

Odar C, Kirschman KJ, Pelley TJ, Butz C, Besner GE, Fabia RB. Prevalence and correlates of posttraumatic stress in parents of young children postburn. J Burn Care Res. 2013 May-Jun. 34(3):299-306. [Medline].

Gupta SS, Singh O, Bhagel PS, Moses S, Shukla S, Mathur RK. Honey dressing versus silver sulfadiazene dressing for wound healing in burn patients: a retrospective study. J Cutan Aesthet Surg. 2011 Sep. 4(3):183-7. [Medline]. [Full Text].

Langschmidt J, Caine PL, Wearn CM, Bamford A, Wilson YT, Moiemen NS. Hydrotherapy in burn care: A survey of hydrotherapy practices in the UK and Ireland and literature review. Burns. 2013 Dec 10. [Medline].

Kimble RM, Mott J, Joethy J. Versajet hydrosurgery system for the debridement of paediatric burns. Burns. 2008 Mar. 34(2):297-8; author reply 299. [Medline].

Hyland EJ, D'Cruz R, Menon S, Chan Q, Harvey JG, Lawrence T, et al. Prospective, randomised controlled trial comparing Versajet™ hydrosurgery and conventional debridement of partial thickness paediatric burns. Burns. 2015 Jun. 41 (4):700-7. [Medline].

Coruh A, Yontar Y. Application of Split-Thickness Dermal Grafts in Deep Partial- and Full-Thickness Burns: A New Source of Auto-Skin Grafting. J Burn Care Res. 2011 Nov 10. [Medline].

Fang T, Lineaweaver WC, Sailes FC, Kisner C, Zhang F. Clinical Application of Cultured Epithelial Autografts on Acellular Dermal Matrices in the Treatment of Extended Burn Injuries. Ann Plast Surg. 2013 Jul 11. [Medline].

Sharma K, Bullock A, Ralston D, Macneil S. Development of a one-step approach for the reconstruction of full thickness skin defects using minced split thickness skin grafts and biodegradable synthetic scaffolds as a dermal substitute. Burns. 2013 Nov 23. [Medline].

Chan QE, Barzi F, Harvey JG, Holland AJ. Functional and cosmetic outcome of full- versus split-thickness skin grafts in pediatric palmar surface burns: a prospective, independent evaluation. J Burn Care Res. 2013 Mar-Apr. 34(2):232-6. [Medline].

Still JM Jr, Orlet HK, Law EJ. Use of cultured epidermal autografts in the treatment of large burns. Burns. 1994 Dec. 20(6):539-41. [Medline].

Fang T, Lineaweaver WC, Sailes FC, Kisner C, Zhang F. Clinical Application of Cultured Epithelial Autografts on Acellular Dermal Matrices in the Treatment of Extended Burn Injuries. Ann Plast Surg. 2013 Jul 11. [Medline].

Besner GE. Burns. Glick PL, Pearl RH, Irish MS, et al, eds. Pediatric Surgery Secrets. 1st ed. Philadelphia, PA: Hanley & Belfus; 2000. 246-52.

Hildreth M, Gottschlich M. Nutritional support of the burned patient. Herndon D, ed. Total Burn Care. Philadelphia, PA: WB Saunders Co; 1996. 237-45.

Paddock HN, Fabia R, Giles S, Hayes J, Lowell W, Besner G. A Silver Impregnated Antimicrobial Dressing Reduces Hospital Length of Stay for Pediatric Burn Patients. J Burn Care Research. May-Jun 2007. 28:409-411. [Medline].

Peters DA, Verchere C. Healing at Home: Comparing Cohorts of Children with Medium-Sized Burns Treated as Outpatients With In-Hospital Applied Acticoat (TM) to those Children Treated as Inpatients with Silver Sulfadiazine. J Burn Care Research. Mar-Apr 2006. 27:198-201. [Medline].
Medscape Reference © 2011 WebMD, LLC