Workup
Approach Considerations
For quick diagnosis and early treatment, Vogt-Koyanagi-Harada (VKH) disease requires a multidisciplinary management strategy involving dermatologists and ophthalmologists.
The diagnosis of VKH disease is based on a constellation of clinical signs and symptoms with no confirmatory tests. However, several diagnostic procedures may be useful in establishing the diagnosis, including fluorescein angiography, ultrasonography, examination of the CSF, magnetic resonance imaging (MRI), and electrophysiologic testing.
Examination of the CSF
This test is not necessary in typical cases of VKH disease but may be useful in patients with atypical manifestations. More than 80% of patients with VKH disease exhibit a transient CSF pleocytosis, which consists primarily of lymphocytes during the first several weeks of the disease. The pleocytosis resolves within 8 weeks of onset in most patients. [57]
Other changes in the CSF include the presence of melanin-laden macrophages (specific for VKH disease and helpful in confirming the diagnosis), increased protein levels, and increased pressure.
HLA typing
Although a number of HLA associations with VKH disease have been documented, HLA typing is not diagnostic of the syndrome and is not routinely recommended.
Audiologic testing
Many patients experience some degree of sensorineural hearing loss. If possible, all patients with auditory symptoms should undergo audiologic testing. [58]
Imaging Studies
Fluorescein Angiography
Acute VKH disease
Multiple pinpoint areas of leakage at the level of the retinal pigment epithelium (RPE) overlying areas of choroiditis are visible during the arteriovenous phase. [59, 60] Peripapillary pinpoint hyperfluorescence may be seen if angiography is performed early in the disease course. [61] In the angiogram's early phase and midphase, radial folds of the choroid may be visible as alternating dark and light bands of fluorescence.
During the later phases of the angiogram, the pinpoint areas gradually enlarge and stain the adjacent subretinal and sub-RPE fluid. Multiple serous retinal detachments with pooling of dye often are seen in the late phases of the study. Other, less common findings include retinal vascular leakage and optic disc staining.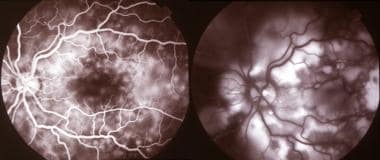 Fluorescein angiography of the left eye in a patient with Vogt-Koyanagi-Harada disease. Midphase is shown on the left, with multiple areas of hyperfluorescence at the level of the retinal pigment epithelium (RPE). Late phase on the same angiogram (right) reveals multiple placoid areas of hyperfluorescence at the level of the RPE and pooling of dye in the areas of serous detachment.
Recovery phase of VKH disease (after treatment with systemic corticosteroids)
Most of the acute phase abnormalities, including exudative retinal detachment and disc edema, resolve during this period. Fluorescein angiography may show persistent pinpoint areas of leakage and disc staining. Some patients may exhibit window defects and areas of mottled background hyperfluorescence.
Chronic VKH disease
This is characterized clinically by depigmentation of the choroid. With angiography, signs of RPE atrophy are visible, such as a moth-eaten appearance, multiple window defects, and areas of alternating hyperfluorescence and hypofluorescence. Additional findings include choroidal neovascularization, retinochoroidal and arteriovenous anastomoses, and neovascularization of the disc. Macular edema is rare in this disorder but may be seen in the chronic phase. [59, 60]
Indocyanine green angiography
Indocyanine green angiography probably has limited prognostic value regarding outcomes. A report suggests, however, that this modality may be useful for monitoring choroidal inflammation and response to therapy. [62, 63]
Acute VKH disease
Indocyanine green angiography findings include delay of choriocapillaris perfusion, as well as fuzzy and indistinct choroidal vessels, multiple hypofluorescent dark spots during the intermediate and late phase, and disc hyperfluorescence during the late phase.
Recovery phase of VKH disease (after treatment with systemic corticosteroids)
Most of the acute abnormalities resolve during this period; however, some of the hypofluorescent dark spots may persist for weeks.
Chronic VKH disease
Findings include hypofluorescent areas during the intermediate and late phases.
Ultrasonography
The most characteristic ultrasonographic finding is diffuse, low to medium reflective thickening of the posterior choroid. Additional findings include serous retinal detachments, mild thickening of the sclera and/or episclera adjacent to areas of choroidal thickening, and mild vitreous opacities. These ultrasonographic features may be useful in monitoring the patient's response to therapy.

Patient with progressive dysacusis and recent onset of visual loss. Fundus photo shows a large, multifocal serous detachment of the right eye. B-scan ultrasonography reveals posterior choroidal thickening with an overlying retinal detachment.

Patient with progressive dysacusis and recent onset of visual loss is shown here following 6 weeks of systemic corticosteroid therapy. Diffuse depigmentation of the choroid with retinal pigment epithelium migration is seen. Residual retinal striae are present in the peripapillary region. B-scan ultrasonography shows resolution of retinal detachment and choroidal thickening.
OCT scanning
Serous retinal detachments with subretinal septa may be visible, especially early in the disease. Optical coherence tomography (OCT) scanning may be useful for monitoring serous detachments and response to therapy. Enhanced depth imaging OCT scanning has revealed a markedly thickened choroid in patients with active VKH. [64]
Enhanced depth imaging OCT (EDI-OCT) has been introduced to evaluate the thickness of the choroid and retina in VKH disease. [65] These studies have shown that choroidal thickness is significantly increased in the acute phase and decreases after treatment.
MRI
This imaging study may be useful in discriminating the sclera from the choroid and retina. In T1- and T2-weighted images, the sclera is hypointense and allows differentiation between VKH disease and posterior scleritis. During the active phase of the disease, the choroid is thickened visibly and enhances following administration of gadolinium. [66, 67]
Electrophysiology
Electrophysiologic testing demonstrates nonspecific abnormalities in VKH disease. Such tests, however, may be useful in monitoring the progression of the disease.
Electroretinogram
During the early stages of the disease, the a- and b-wave amplitudes of the electroretinogram (ERG) may be mildly depressed. This may persist for extended periods, but the amplitudes often recover to near normal levels during the chronic stages of the disease.
Electro-oculogram
During the early stage of the disease, the light peak of the electro-oculogram (EOG) may be depressed; it rises toward normal with recovery and the chronic stage of the disease.
Histologic Findings
Typically, VKH disease primarily is considered as a non-necrotizing diffuse granulomatous inflammation of the uveal tract. Lymphocytes, multinucleated giant cells, and epithelioid cells have been described in the uvea of patients with VKH disease.
Many of the giant cells and epithelioid cells contain melanin pigment. In many cases, the choriocapillaris is not involved in the inflammatory process; however, with disease progression, the choriocapillaris becomes involved. In addition, in eyes with chronic VKH disease, there is loss of choroidal melanocytes. Typical histologic features include Dalen-Fuchs nodules. They present as deposits between the RPE and Bruch membrane, consisting of macrophages, epithelioid cells, lymphocytes, and proliferated RPE cells. [68]
A skin biopsy specimen taken a month after the onset of ocular symptoms of VKH disease likely will reveal a mononuclear infiltrate concentrated in the area of hair follicles and sweat glands, consisting mostly of T lymphocytes with a small number of B cells. In depigmented skin, the absence of melanin, as anticipated in vitiligo, can be noted. Vasodilatation in the dermis, pigment-laden macrophages, and a lymphocytic infiltrate have been described.
What would you like to print?