Overview
Background
Antrectomy (distal gastrectomy) is a procedure in which the distal third of the stomach (the gastric or pyloric antrum) is excised. Gastrectomies are further defined by the type of reconstruction used to reestablish gastrointestinal (GI) continuity. A Billroth I procedure is a gastroduodenostomy, which can be fashioned in either an end-to-end or an end-to-side manner. A Billroth II or gastrojejunostomy reconstruction is usually fashioned in an end-to-side manner. [1] Alternatively, a Roux-en-Y gastrojejunostomy can be performed, and this version of the procedure is the focus of this article. Laparoscopic and robotic approaches have also been developed. [2, 3, 4, 5]
Indications
The incidence and prevalence of gastric ulcers, particularly perforated ulcers necessitating surgical intervention, fell dramatically after the 1970s, when antacids were discovered. [6] Currently, Helicobacter pylori infection and nonsteroidal anti-inflammatory drug (NSAID) use are the most common etiologic factors for ulcer disease.
A review analyzing hospitalization trends between 1993 and 2006 revealed an overall decrease in the prevalence of ulcer disease in the United States, with duodenal ulcers showing a steeper decline than gastric ulcers. [7] Overall inpatient mortality has also decreased. There has been a significant rise in the use of therapeutic endoscopy and a concurrent fall in the use of definitive surgery, which remains the therapy of choice for complications such as perforation or persistent bleeding.
Antrectomy is indicated in the treatment of gastric ulcers that are (a) refractory to medical therapy; (b) complicated by perforation, [8] bleeding, or obstruction; or (c) recurrent after adequate treatment of H pylori. Ulcer location and pathophysiology (see the image below) dictate the appropriate intervention, which does not always involve surgery.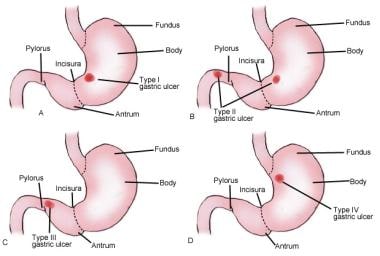 Types of gastric ulcers.
Type I ulcers lie along the lesser curvature at or around the incisura. Type II ulcers involve the lesser curvature as well as the duodenum. Type III ulcers are prepyloric, whereas type IV ulcers are located proximally on the lesser curvature. Type V ulcers can be located anywhere in the stomach but are associated with NSAID use.
Types I, IV, and V represent a state of underprotection from acid, whereas types II and III are sequelae of acid hypersecretion. These are best treated with antrectomy. Removal of the antrum allows pathologic examination of antral/prepyloric ulcers to rule out carcinoma, and it decreases the rate of ulcer recurrence by removing the gastrin-secreting G cells. Truncal vagotomy or highly selective vagotomy is almost always performed simultaneously to decrease the likelihood of ulcer recurrence. This procedure will not be described here.
Antrectomy is also the procedure of choice for benign or small, well-differentiated tumors of the distal stomach. As with any GI neoplasm, lymphadenectomy is mandatory in such cases.
Contraindications
With proper patient selection, there should remain few relative contraindications for the procedure. Prior duodenal surgery precludes a Billroth I reconstruction, as does a "woody," inflamed, or ulcerated duodenum, which makes a secure anastomosis unlikely. Poor nutritional status impairs healing and may contribute to postoperative complications such as anastomotic leaks.
Outcomes
In a prospective randomized trial comparing Billroth II and Roux-en-Y anastomosis after partial gastrectomy plus vagotomy for duodenal ulcers after an average follow-up of 15 years, the latter was found to be significantly better. [9] Although patients who had a Billroth II anastomosis had significantly more frequent chronic fundic gastritis and intestinal metaplasia of the remnant stomach, those who had Roux-en-Y reconstruction were significantly more asymptomatic and were more likely to have normal esophageal and gastric histology.
In a multi-institutional randomized controlled trial that included 228 consecutive patients undergoing distal gastrectomy for gastric cancer, Kimura et al compared the 5-year postoperative outcomes of Billroth I reconstruction (n = 105) and Roux-en-Y reconstruction (n = 123). [10] The two approaches did not differ significantly with respect to body weight change, nutritional status, or dysfunction. Billroth I reconstruction was associated with a higher rate of reflux esophagitis than Roux-en-Y reconstruction, as well as a significantly poorer quality of life on the diarrhea scale.
Chen et al carried out a systematic review and meta-analysis aimed at comparing the safety and efficacy of hand-assisted laparoscopic distal gastrectomy and open distal gastrectomy for gastric cancer, [11] focusing on operating time, incision length, blood loss, number of harvested lymph nodes, time to flatus, hospital stay, postoperative complications, and long-term outcomes. They concluded that the laparoscopic approach, though associated with smaller incisions and quicker recovery and having comparable short-term efficacy to conventional open surgery, lacked multicenter data to confirm long-term efficacy.
Park et al conducted a randomized phase II multicenter clinical trial evaluating laparoscopy-assisted distal gastrectomy with D2 lymph node dissection against open distal gastrectomy for the treatment of advanced gastric cancer. [12] On the basis of the primary endpoint, the noncompliance rate of the lymph node dissection, they found the laparoscopy-assisted procedure to be feasible for treatment of advanced gastric cancer, though findings from subgroup analysis data suggested that further research is warranted for stage III cancer.
Kim et al compared the short-term surgical outcomes of laparoscopy-assisted distal gastrectomy with those of totally laparoscopic distal gastrectomy with Billroth II anastomosis in the treatment of gastric cancer. [13] They found that the totally laparoscopic approach was feasible in this setting and had advantages over the laparoscopy-assisted approach in terms of incision size, duration of hospitalization, and intraoperative convenience; however, additional data from prospective randomized controlled trials would be required before it could be regarded as a standard procedure in this setting.
In 297 patients with early gastric cancer, Lee et al compared short-term outcomes and cost for solo single-incision laparoscopic distal gastrectomy (SIDG; n = 99) with those for conventional multiport laparoscopic distal gastrectomy (MLDG; n = 198). [14] Hospital stay, analgesic use, and postoperative inflammatory markers were similar in the two groups. The SIDG group had a significantly lower mean operating time (120 ± 35.3 vs 178 ± 53.4 min) and significantly less estimated blood loss (24.6 ± 47.4 vs 46.7 ± 66.5 mL) than the MLDG group, as well as nonsignificantly lower rates of both early (< 30 d) and late (≥30 d) complications. Manpower cost was also significantly lower with SIDG.
In a study addressing the short- and long-term results of open distal gastrectomy versus those of laparoscopic distal gastrectomy for treatment of early gastric cancer, Maejima et al reported no difference in cancer-specific survival between the two approaches but found that overall survival was significantly better with the laparoscopic procedure. [15]
The 5-year follow-up results from the Korean Laparoendoscopic Gastrointestinal Surgery Study (KLASS)-02 randomized clinical trial indicated that laparoscopic surgery is noninferior to open gastrectomy in patients with locally advanced gastric cancer. [16]
A retrospective study by Shigeno et al (N = 16,851) compared the short-term results of laparoscopic (n = 15,539) and robotic distal gastrectomy (n = 1312) in patients with grade I-III gastric cancer. [5] Postoperative complication rates did not differ significantly between the two procedures; however, anesthesia time was significantly longer and the duration of postoperative hospitalization significantly shorter with robotic distal gastrectomy.
What would you like to print?