Overview
Practice Essentials
Medullary carcinoma of the thyroid (MTC) accounts for less than 5% of all thyroid cancers. MTC is a neuroendocrine tumor that arises from the C cells of the thyroid, which do not accumulate radioiodine but do secrete calcitonin (Ctn). Sporadic, or isolated, MTC accounts for 75% of cases; the remaining 25% are part of multiple endocrine neoplasia type 2 (MEN2), an autosomal-dominant syndrome caused by germline-activating mutations in the RET proto-oncogene. [1] These features allow early recognition of sporadic MTC using Ctn screening in patients with thyroid nodules and preclinical diagnosis of patients with MEN2 by RET gene analysis.
Outcome depends on extent of disease, nature of tumor biology, and overall efficacy of surgical treatment.
Advances in genetic testing have revolutionized the management of MTC by allowing risk stratification of patients with inherited mutations and identifying molecular targets for therapy. Prophylactic thyroidectomy is indicated for patients who carry mutations that put them at risk for aggressive MTC.
Surgery remains the standard of care for localized disease and for oligometastatic disease. Several tyrosine kinase inhibitors are approved for use in progressive, metastatic MTC, and a variety of agents have entered clinical trials. External beam radiotherapy is used in certain situations. See Treatment and Medication.
MTC often presents as a solitary thyroid nodule. Workup of a solitary thyroid nodule begins with fine needle aspiration biopsy. See the figure below.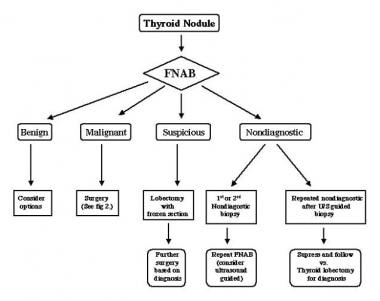 Algorithm for the management of a solitary thyroid nodule. FNAB = fine needle aspiration biopsy; US = ultrasonography.
For patient education resources, see Thyroid Cancer.
Pathophysiology
Medullary thyroid cancer (MTC) is usually diagnosed on physical examination as a solitary neck nodule. Early spread to regional lymph nodes is common. Distant metastases occur in the liver, lung, bone, and brain.
Sporadic MTC usually is unilateral. MTC in association with multiple endocrine neoplasia (MEN) syndromes is always bilateral and multicentric, with presentation earlier in life. MTC is typically the first abnormality observed in both MEN 2A and 2B syndromes.
In addition to producing calcitonin, MTC cells can produce several other hormones, including corticotropin, serotonin, melanin, and prostaglandins. Moreover, paraneoplastic syndromes (eg, carcinoid syndrome, Cushing syndrome) can occur in these patients.
Etiology
Sporadic MTC occurs in 75% of patients, and inherited MTC constitutes the rest. MTC is the dominant component of the multiple endocrine neoplasia (MEN) type 2 syndromes, MEN2A and MEN2B. MEN2A accounts for 95% of the cases. The following four variants of MEN2A have been recognized: [2]
Classical MEN2A - The most common variant. MTC is uniformly present; pheochromocytoma, primary hyperparathyroidism, or both occur less frequently.

MEN2A with cutaneous lichen amyloidosis (CLA) - CLA or typical neurologic pruritus ("neuropathic itch") may present in infancy, before the onset of clinically evident MTC

[3]

MEN2A with Hirschsprung disease

Familial medullary thyroid carcinoma (FMTC) - MTC only, in the absence of a family history of pheochromocytoma or hyperparathyroidism
Mutations in RET, a transmembrane proto-oncogene located on chromosome 10q11.2, are responsible for MEN2. Although its function is still unknown, the protein produced by RET is critical during embryonic development of the enteric nervous system and kidneys. RET consists of 3 domains, including a cysteine-rich extracellular receptor domain, a hydrophobic transmembrane domain, and an intracellular tyrosine kinase catalytic domain.
RET germline mutations are present in virtually all patients with MEN2A and MEN2B, and somatic RET mutations are present in approximately 50% of sporadic MTCs. In sporadic MTC that is RET mutation–negative, mutations in genes involving the RAS pathway—HRAS, KRAS, or (rarely) NRAS—are often found. [2, 4]
Epidemiology
Thyroid cancer represents 2.3% of new malignancies occurring annually in the United States, with an annual incidence of approximately 14.6 per 100,000. Of those thyroid cancer diagnoses, 2% to 3% are medullary thyroid carcinoma (MTC), which translates into approximately 1080-1620 new diagnoses per year. [5]
Unlike the rising incidence rates of papillary thyroid cancer and other differentiated thyroid cancers, incidence rates for MTC (as well as follicular) thyroid cancers have remained relatively stable over the past 30 years.The incidence rate of MTC in Europe is 0.11 per 100,000 person-years, with no noted substantial differences by race/ethnicity and sex. [6]
Peak incidence of isolated MTC occurs in the fifth or sixth decade of life. The peak incidence of MTC associated with multiple endocrine neoplasia (MEN) 2A or 2B occurs during the first to third decades of life. [7]
Prognosis
Prognosis depends on patient age, histologic grade, and status of surgical resection. Patients with a worse prognosis tend to be older, have higher-grade lesions, and have undergone incomplete surgical resection of the lesion. The 5-year relative survival for stages I to III is about 93% compared to 28% for stage IV. [7]
Isolated medullary carcinoma of the thyroid (MTC) typically demonstrates a relatively indolent biologic progression. While regional lymph node metastases are possible, the lesion may not spread outside of the cervical region until several months later. MTC associated with multiple endocrine neoplasia (MEN) syndromes may have a more aggressive course, which also depends on associated comorbidity (eg, pheochromocytoma indicative of the more aggressive MEN2B).
Despite advances in genetic screening for the RET proto-oncogene, preliminary population studies have yet to show a definitive impact on disease prognosis. [8]
A study by Rohmer et al concluded that disease-free survival (DFS) in younger patients (< 21 y) with hereditary MTC was best predicted by TNM staging and preoperative basal calcitonin level of less than 30 pg/mL. Basal calcitonin >30 ng/L, genotypic mutations at codon 918 of the RET gene, and young age of symptom onset were key factors in deciding surgical timing, with consideration for thyroidectomy versus screening by age 5 due to high risk. [9]
In a meta-analysis of 27 studies involving 984 MTC patients who underwent reoperation, Rowland and colleagues found that normalization of calcitonin after reoperation occurred in 16.2% of patients overall. Patients who underwent targeted selective lymph node removal procedures showed normalization of calcitonin in only 10.5% of cases, while normalization was seen in 18.6% of those who underwent compartment-oriented procedures. [10]
Permanent hypoparathyroidism and recurrent laryngeal nerve palsy reportedly occur in less than 2% of virgin neck dissections. Reoperation is associated with a considerably higher risk of these injuries.
What would you like to print?