Overview
Practice Essentials
Medullary carcinoma of the thyroid (MTC) is a distinct thyroid carcinoma that originates in the parafollicular C cells of the thyroid gland. These C cells produce calcitonin.
Sporadic, or isolated, MTC accounts for 75% of cases, and inherited MTC constitutes the rest. Inherited MTC occurs in association with multiple endocrine neoplasia (MEN) type 2A and 2B syndromes, but non-MEN familial MTC also occur.
Outcome depends on extent of disease, nature of tumor biology, and overall efficacy of surgical treatment.
Advances in genetic testing in have revolutionized the management of this disease, by allowing risk stratification of patients with inherited mutations and identifying molecular targets for therapy. Prophylactic thyroidectomy is indicated for patients who carry mutations that put them at risk for aggressive MTC.
Surgery remains the standard of care for localized disease and for oligometastatic disease. Several tyrosine kinase inhibitors are approved for use in progressive, metastatic MTC, and a variety of agents have entered clinical trials. External beam radiotherapy is used in certain situations.
See Treatment and Medication.
See the figure below.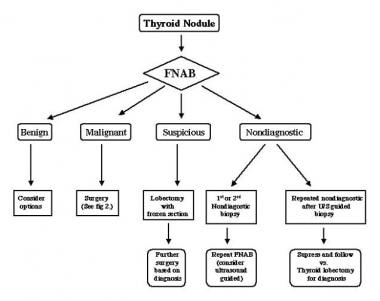 Algorithm for the management of a solitary thyroid nodule. FNAB = fine needle aspiration biopsy; US = ultrasonography.
Pathophysiology
Medullary thyroid cancer (MTC) is usually diagnosed on physical examination as a solitary neck nodule, and early spread to regional lymph nodes is common. Distant metastases occur in the liver, lung, bone, and brain.
Sporadic MTC usually is unilateral. In association with multiple endocrine neoplasia (MEN) syndromes, it is always bilateral and multicentric, with presentation earlier in life. MTC typically is the first abnormality observed in both MEN 2A and 2B syndromes.
In addition to producing calcitonin, MTC cells can produce several other hormones, including corticotropin, serotonin, melanin, and prostaglandins; moreover, paraneoplastic syndromes (eg, carcinoid syndrome, Cushing syndrome) can occur in these patients.
Mutations in the RET (REarranged during Transfection) proto-oncogene, a receptor protein tyrosine kinase encoded on chromosome 10, have been classified into discrete subtypes, which confer varying degrees of risk [1] ; prophylactic thyroidectomy can now be offered to specific types of patients with this genetic abnormality (see Prevention).
Epidemiology
Frequency
United States
Medullary carcinoma of the thyroid (MTC) constitutes approximately 4% of all thyroid cancers in the United States. [2] This figure translates into approximately 1000 diagnoses per year.
International
The international incidence of medullary carcinoma of the thyroid is similar to that in the United States.
Mortality/Morbidity
Isolated medullary carcinoma of the thyroid (MTC) typically demonstrates a relatively indolent biologic progression. While regional lymph node metastases are possible, the lesion may not spread outside of the cervical region until several months later. MTC associated with multiple endocrine neoplasia (MEN) syndromes may have a more aggressive course, which also depends on associated comorbidity (eg, pheochromocytoma).
Despite advances in genetic screening for the RET proto-oncogene, preliminary population studies have yet to show a definitive impact on disease prognosis. [3]
Age
Peak incidence of isolated medullary carcinoma of the thyroid (MTC) occurs in the fifth or sixth decade of life, and the peak incidence of MTC associated with multiple endocrine neoplasia (MEN) 2A or 2B occurs during the second or third decade of life.
What would you like to print?