Treatment
Approach Considerations
Indications for surgical interventions in patients with upper-extremity occlusive disease include the following:
Arm fatigue -

Carotid-subclavian bypass

(see the first image below), percutaneous transluminal angioplasty (PTLA), and stenting

Vertebrobasilar insufficiency - Carotid-subclavian bypass and possible vertebral artery transposition to carotid artery

Subclavian aneurysm and thoracic outlet injuries with distal embolization - Resection of subclavian artery aneurysm and venous bypass and rib resection with thoracic outlet (see the second image below)

Acute arterial occlusion - Embolectomy for embolus and repair for trauma (blunt or penetrating)

Chronic arterial occlusion with pain at rest, ulcer, or gangrene - Bypass using autogenous vein for distal segments and prosthetic material for larger proximal segments, amputation (digital or forearm), and sympathectomy (controversial)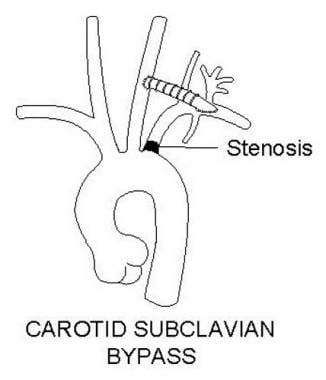 Carotid-subclavian bypass.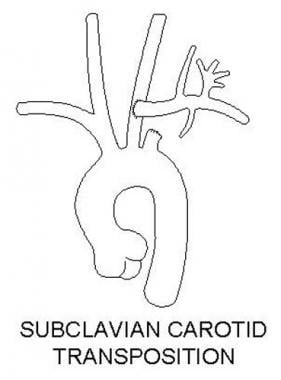 Subclavian transposition.
Few contraindications for surgical intervention exist in the presence of significant cerebrovascular symptoms or gangrene of the hand. Arterial reconstruction may not be feasible if too many of the outflow target arteries are destroyed. Asymptomatic subclavian artery stenosis, even with radiographic evidence of subclavian steal (retrograde vertebral flow), should not be treated. Severe coexisting life-threatening illness may prevent surgical intervention.​
Medical Therapy
Long-term warfarin anticoagulation is recommended in patients with peripheral emboli from a cardiac source. An international normalized ratio (INR) of 2-3 is recommended.
For emboli off the ascending aorta, aspirin or clopidogrel may be used. In rare cases, low-dose aspirin has been used with warfarin.
Nifedipine (10 mg PO q8hr) is used in patients with vasospastic disease of the hand. If this is not tolerated, prazosin at a low dosage may be tried. A third-line drug with some effectiveness is hydralazine.
Lifestyle changes are essential. Warm gloves must be worn, and the skin must be protected from drying and fissuring. Cold avoidance may require moving to a warm climate and avoidance of significantly chilled or air-conditioned environments. Avoidance of vibration trauma from work or hobbies may be necessary.
In patients with Takayasu arteritis or giant cell arteritis, prednisone is the first-line agent. Immunosuppression with methotrexate or cyclophosphamide may be necessary.
Risk-factor modification and aspirin are essential for the treatment of atherosclerotic occlusion. Smoking cessation is mandatory, particularly in patients with Buerger syndrome. Total cholesterol levels should be reduced to below 200 mg/dL, and the low-density lipoprotein (LDL) levels should be 100 mg/dL or less.
Surgical Therapy
Surgical options include the following:
Percutaneous balloon angioplasty and stenting

[12]

Resection of aneurysm

Removal of first rib or cervical rib

Cervical sympathectomy
PTLA, with or without stenting, is used to treat proximal subclavian stenosis. The indications for PTLA of subclavian artery stenosis include vertebrobasilar insufficiency with steal, [13] angina with left internal mammary artery (LIMA) graft, and arm fatigue. A study by Awad El-Karim et al found PTLA to be feasible for treatment of critical hand ischemia due to below-the-elbow obstructive arterial disease, with a high technical success rate and a low short-term complication rate. [14]
The role of a thoracic or digital artery sympathectomy is controversial in patients with digital gangrene. These patients usually have an underlying connective-tissue disease, such as scleroderma; calcinosis, cutis, Raynaud phenomenon, esophageal motility disorder, sclerodactyly, and telangiectasia (components of CREST); or systemic lupus erythematosus (SLE). Either thoracic or digital sympathectomy provides a transient 6-12 months of increased skin perfusion.
A study of patients undergoing transfemoral upper-extremity angiography for acute finger ischemia found that in those patients without tissue loss or gangrene at the time of presentation, catheter-directed thrombolysis was associated with a trend toward improved amputation-free survival, suggesting that this modality may widen the revascularization options in appropriately selected patients. [15] A study by Schrijver et al found catheter-directed thrombolysis to be effective in more than 60% of patients as first-line treatment of extensive acute upper-extremity ischemia. [16]
Preparation for surgery
Standard preanesthesia evaluation should include chest radiography (if the patient has chest symptoms), electrocardiography (ECG), cardiac evaluation (if cardiac history or examination findings are abnormal), a complete blood count (CBC), and a chemistry panel. Prophylactic antibiotics should be administered. Ultrasonographic mapping should be done to delineate available saphenous or other veins to be used for bypass.
Operative details
For carotid subclavian or carotid transposition, a low transverse cervical incision is used. Prosthetic bypass is preferred. Complications include lymphocele, Horner syndrome, and phrenic nerve injury.
Balloon angioplasty and stenting are performed via either a retrograde or an antegrade approach.
For subclavian artery aneurysm resection and removal of cervical rib for thoracic outlet, the incisions are supraclavicular and infraclavicular. Efforts must be made to avoid brachial plexus injury. Rib resection is facilitated after division of the artery. Management of distal emboli is difficult. Complications include lymphocele, Horner syndrome, and phrenic nerve injury.
For procedures involving the axillary artery, exposure is through a longitudinal incision; ulnar, median, and musculocutaneous nerve injuries are possible. The brachial artery is exposed through an S incision; median nerve injury is possible.
Embolectomy should be avoided over areas distended by the balloon catheter. Brachial and small axillary arteries may be patched.
Postoperative Care
Monitor distal circulation with frequent pulse examination, with or without Doppler pressures. Monitor for bleeding and hematoma formation. Document neurologic function by testing median, ulnar, and radial nerve function. Be aware that forearm compartment syndrome can occur. Monitor ECG to rule out perioperative myocardial infarction or ischemia.
Complications
Potential complications include the following:
Bleeding (1%)

Hematoma (1%)

Phrenic or recurrent nerve injury (2%)

Graft occlusion (1-2%)

Brachial plexus or peripheral nerve injury (1%)

Stroke (< 1%)

Death (< 1%)
Long-Term Monitoring
The patient is seen at 2 weeks for wound check, suture removal, or both. Repeat upper-extremity blood flow tests are performed every 3 months for the first year, then annually thereafter. Review the patient's control of risk factors, including smoking.
What would you like to print?