Workup
Imaging Studies
Portable radiographs inform the practitioner if the fetal head is hyperextended and indicate the shape of the maternal pelvis and type of breech presentation.
Limited bedside pelvic ultrasonography is the mainstay for fetal assessment. If breech presentation is suspected, obtain a sonogram to confirm or refute suspicions. In addition to fetal presentation, a sonogram may reveal other fetal and/or uterine abnormalities. See image below.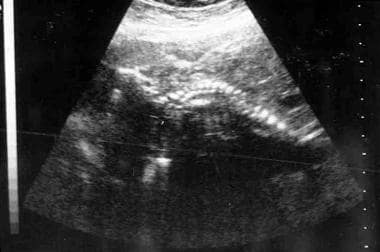 Ultrasound demonstrating a fetus in breech presentation with a hyperextended head (ie, "star gazing").
What would you like to print?