Overview
Background
Medulloblastoma (seen in the image below) is the most common malignant brain tumor in children, accounting for 10-20% of primary CNS neoplasms and approximately 40% of all posterior fossa tumors.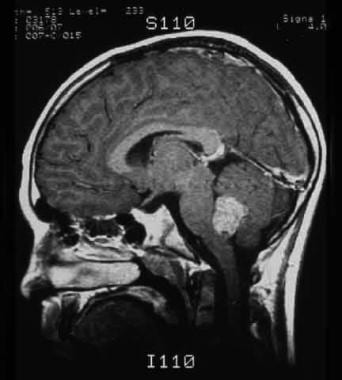 MRI showing a medulloblastoma of the cerebellum.
It is a highly invasive embryonal neuroepithelial tumor that arises in the cerebellum and has a tendency to disseminate throughout the CNS early in its course.
Morphologically similar tumors arising in the pineal region are termed pineoblastomas, and those arising in other CNS locations are called primitive neuroectodermal tumors (PNETs).
With aggressive surgery, craniospinal radiotherapy and chemotherapy, more than 50% of children with medulloblastoma can be expected to be free of disease 5 years later. Using current treatments, 80-90% of those without disseminated disease can be cured; however, treatment for this disease often results in significant endocrinological and intellectual sequelae.
Pathophysiology
Medulloblastoma is a cerebellar tumor arising predominantly from the cerebellar vermis. The histogenesis of medulloblastoma remains controversial.
One view suggests that the cell of origin derives from the external granular layer of the cerebellum. This is supported by the finding that the proliferation of precursor neurons in this layer is controlled by sonic hedgehog (shh), whose receptor PTCH is mutated in a subset of sporadic medulloblastomas. Furthermore, suppression of shh was recently shown to eliminate medulloblastoma that spontaneously develops in the PTCH +/- heterozygote mouse. [1]
Another hypothesis proposes that medulloblastomas have more than one cell of origin. This is based on studies showing differential immunoreactivity to a neuronal calcium-binding protein that is not expressed in the external granular layer and to a beta-tubulin isotype that is expressed in the neuronal cells of the ventricular matrix and external granular layer. Numerous molecular alterations that appear to modulate the biological behavior of medulloblastoma or its response to therapy have been reported. For example, studies suggest that medulloblastoma expression of neurotrophin (NT3) and its cognate receptor, Trk C, may modulate the behavior of these tumors by inducing apoptosis, thereby retarding tumor progression and resulting in a more favorable prognosis. [2]
Other studies have shown that overexpression of the oncogenes ERBB2 and MYCC are associated with worse outcome, and that MYCC can induce the potentially more aggressive large cell anaplastic variant of medulloblastoma. Finally, amplification of the oncogene OTX2 has been most recently described in association with medulloblastoma.
As the tumor grows, obstruction of cerebrospinal fluid (CSF) passage through the fourth ventricle generally occurs, resulting in hydrocephaly. The tumor may spread contiguously, to the cerebellar peduncle and/or the floor of the fourth ventricle; anteriorly, to the brainstem; inferiorly, to the cervical spine; or superiorly, above the tentorium. It also may spread via the CSF intracranially or to the leptomeninges and spinal cord. Of all the pediatric CNS neoplasms, medulloblastoma has the greatest propensity for extraneural spread, especially to bone and bone marrow; however, the rate of such events is less than 4%.
Epidemiology
Frequency
United States
Approximately 250 new patients are diagnosed annually.
International
Exact figures are unknown. In general, brain tumors occur at a rate of 2.5-4 per 100,000 at-risk children per year. Of these, approximately 18% are medulloblastoma.
Mortality/Morbidity
Risk group stratification is continuing to evolve but is currently based on 3 principal features, including age, extent of postoperative residual disease, and the metastasis stage (M stage) derived from the Chang classification staging system. The M stage classification is as follows:
M0 - No gross subarachnoid or hematogenous metastasis

M1 - Microscopic tumor cells found in CSF

M2 - Gross nodular seeding in cerebellum, cerebral subarachnoid space, or in the third or fourth ventricles

M3 - Gross nodular seeding in spinal subarachnoid space

M4 - Extraneuraxial metastasis.
The specific risk groups based on this classification scheme are defined below.
Average-risk disease: This risk group is defined as patients older than 3 years who are at stage M0 with less than 1.5 cm2 of residual tumor postoperatively. The 5-year survival rate for this group is currently more than 80%

Poor-risk disease: This risk group is defined as patients older than 3 years who are at stage M1-M4 and/or with more than 1.5 cm2 of residual tumor postoperatively. The 5-year survival rate for this group is currently 30-60%.

Infants: This group is defined as patients younger than 3 years. This group has the worst prognosis, regardless of M stage and extent of postoperative residual disease. The 5-year survival rate is approximately 30%; however, patients with metastatic disease do considerably worse. Those infants with desmoplastic tumors are more likely to survive.
Various biologic parameters have been related to outcome. In retrospective studies, children with tumors that have increased expression of TRKC and WNT are more likely to survive, whereas those with increased amplification of MYCC oncogene or increased ERBB2 expression have a poorer prognosis. Real-time biologic tumor analysis will likely supplement, if not supplants, clinical parameters used for stratification in the future. In addition, histologic features of severe anaplasia have been associated with poorer survival.
Despite successful treatment, a significant number of patients have neurocognitive and endocrinologic deficits. Although most long-term survivors have normal intelligence, many subsequently develop learning difficulties that require individualized educational programs. Biochemical growth deficiency is observed in 70-80% of patients, and some degree of growth impairment is present in well over half of patients after treatment. Thyroid and gonadotropin hormonal deficiency may also occur. Craniospinal radiation, a mainstay of treatment, has been implicated as a major cause of these deficits.
Race
No racial predisposition is noted. The latest data from the Surveillance, Epidemiology, and End Results (SEER) program showed that patients aged 0-14 years in the United States have an incidence rate per million population of 5.7 in whites and 5 in blacks. [3]
Sex
US incidence per 1 million population for patients aged 0-14 years is 6.1 for boys and 4.5 for girls.
Age
Peak age of incidence is 3-5 years. Approximately 80% of patients are diagnosed in the first 15 years of life.
What would you like to print?