Workup
Laboratory Studies
The routine pretreatment laboratory evaluation for medulloblastoma includes a complete blood cell (CBC) count, electrolytes, liver, and renal function tests. Baseline thyroid function studies and viral titers are also recommended.
Imaging Studies
Diagnosis is usually made by magnetic resonance imaging (MRI) or computed tomography (CT).
CT scanning
CT scan of the brain is commonly used during initial evaluation of patients with neurologic symptoms. In patients with medulloblastoma, CT scan of the head with and without contrast usually shows a solid mass in the 4th ventricle with prominent hydrocephalus in most patients. The vast majority (95%) of medulloblastoma are contrast-enhancing.
MRI
Head and spinal MRI with and without gadolinium should be performed in all patients with CT or clinical findings consistent with medulloblastoma. MRI better demonstrates the anatomic origin and extent of tumor (see the image below). More than 90% of medulloblastoma tumors enhance with contrast. Contrast is essential to detect CSF dissemination.
Preoperative and postoperative MRI is required for detection and measurement of residual disease following surgical resection. Postoperative MRI evaluation should be performed within 72 hours of surgery to delineate residual tumor from the postsurgical inflammatory changes that are visualized on MRI at this time.
Spinal MRI is the most sensitive method available for detection of spinal cord metastasis.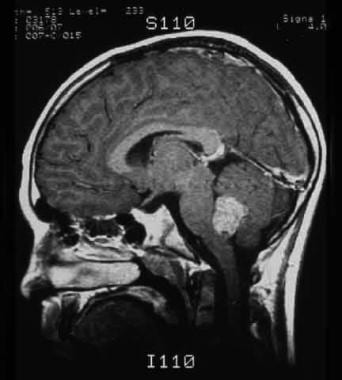 MRI showing a medulloblastoma of the cerebellum.
Bone scanning
Because medulloblastoma can metastasize outside the CNS, especially to bone, a bone scan with plain film correlation may be useful in symptomatic patients.
Other Tests
A baseline hearing test (audiography or brainstem auditory-evoked response [BAER]) is recommended because of the potential toxicity from radiation and chemotherapy.
Some investigational treatment protocols may require additional tests, such as echocardiography, pulmonary function tests, or other more specific tests, for the purposes of monitoring treatment-related toxicity.
Procedures
Lumbar puncture
CSF cytologic examination is useful for the detection of microscopic leptomeningeal tumor dissemination. However, neither clinical symptoms nor negative CSF cytologic findings can be relied on to indicate the presence of nodular spinal cord disease. As many as 50% of patients with positive spine MRI studies are asymptomatic and have negative cytologic results.
Funduscopic examination (or CT or MRI) must be performed before lumbar puncture (LP) to rule out the presence of hydrocephalus.
In known cases of medulloblastoma, LP generally is deferred until 2 weeks postoperation to avoid false-positive results from the presence of tumor cells that have disseminated as a result of surgery.
Bone marrow aspirate and biopsy
Medulloblastoma rarely metastasizes to bone marrow.
These tests should be reserved for patients who demonstrate abnormal peripheral blood findings that have no clear etiology.
Histologic Findings
Medulloblastomas are undifferentiated embryonal neuroepithelial tumors of the cerebellum. They are highly cellular, soft, and friable tumors composed of cells with deeply basophilic nuclei of variable size and shape, little discernible cytoplasm, and often abundant mitoses (see the image below).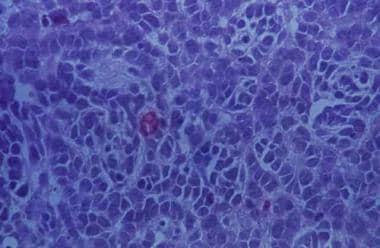 This section displays a typical medulloblastoma, composed of undifferentiated cells with deeply basophilic nuclei of variable size and shape and little discernible cytoplasm.
These characteristics give the microscopic appearance of a small, round, blue cell tumor. Morphologically identical tumors arising in the pineal region are termed pineoblastomas, and those arising in other CNS locations are called embryonal tumors, NOS.
Homer-Wright rosettes (ringlike accumulations of tumor cell nuclei around a neuropil-containing or fibrillary core) and pseudorosettes are variably present (see the image below).
Section displaying Homer-Wright rosettes and pseudorosettes of a medulloblastoma.
These tumors express neuronal and neuroendocrine markers, including synaptophysin and neurofilament proteins.
There are four major histological variants: classic, desmoplastic/nodular, large cell/anaplastic and medulloblastoma with extensive nodularity.
Staging
Staging is based on the extent of tumor at the time of diagnosis and the degree of surgical resection. Complete staging requires pre- and postoperative MRI of the entire brain and spine, postoperative MRI of the tumor site, and CSF analysis. Table 1 summarizes the modified Chang staging system for posterior-fossa medulloblastoma.
Table. (Open Table in a new window)
Tumor Stage

T1

tumor < 3 cm in diameter

T2

tumor ≥3 cm in diameter

T3a

tumor >3 cm and with extension into Aqueduct of Sylvius or foramen of Luschka

T3b

tumor >3 cm and with unequivocal extension into brainstem

T4

tumor >3 cm with extension past Aqueduct of Sylvius or down past foramen magnum

Metastases Stage

M0

no evidence of gross subarachnoid or hematogenous metastasis

M1

microscopic tumors cells found in CSF

M2

gross nodular seeding intracranially beyond the primary site (in cerebellar/cerebral subarachnoid space or in third or lateral ventricle)

M3

gross nodular seeding in spinal subarachnoid space

M4

metastasis outside cerebrospinal axis
What would you like to print?