Breast Cancer: Surgical Approaches and Reconstruction
Stephanie A. Valente, DO, FACS; Risal Djohan, MD; Stephen R. Grobmyer, MD, FACS
December 4, 2014
Just as breasts have different shapes and sizes, breast cancer can have various presentations. This malignancy may appear in the form of a palpable mass (usually painless) and/or a change in the skin or nipple (eg, dimpling, nipple discharge) (left), or it may present without signs/symptoms and then be discovered as an area of concern found on a routine mammogram (right). Workup includes thorough clinical history and physical examination (including the contralateral breast) as well as laboratory tests and imaging studies.[1,2] The diagnosis is made on the basis of findings from a needle biopsy (fine needle, core) and/or a surgical biopsy of the breast tissue and/or lymph nodes at the area under suspicion.[1,2]
Images courtesy of Wikimedia Commons (left) and Stephanie A. Valente, DO, FACS (right).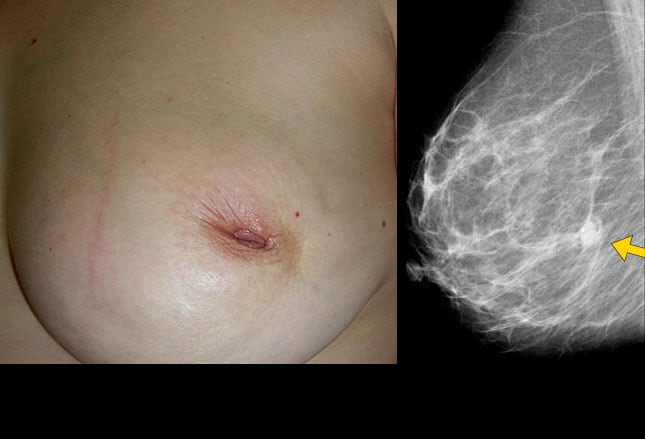 Cancer that is left untreated becomes a locally advanced breast cancer (shown), which limits many surgical treatment options. The overall 5-year survival for breast cancer is 89.2%.[3] Individuals whose breast cancer is identified in the earliest stages (stages 0-II) generally have an excellent 5-year survival; the prognosis decreases with advancing disease (stages III-IV). The relative 5-year survival for those with localized disease is 98.5% (stages 0-I, 100%; stage II, 93%; stage III, 72%); regional disease, 84.6%; and distant metastasis, 25% (stage IV, 22%).[2,3] Patients with unstaged disease have a 5-year relative survival of 49.8%.[3]
Images courtesy of Stephanie A. Valente, DO, FACS.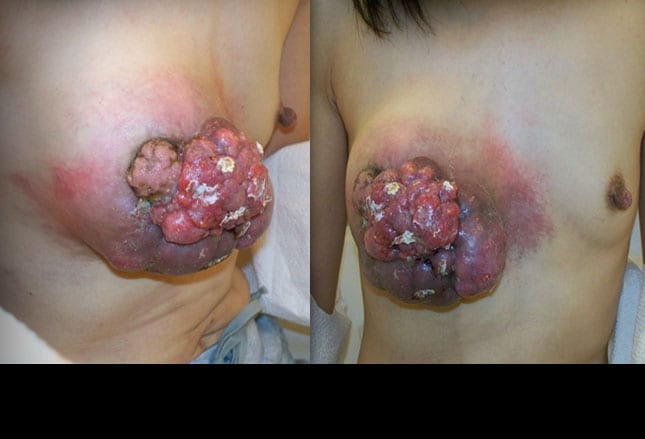 The treatment for breast cancer is dependent on the stage of the cancer at the time of diagnosis and involves a multimodal approach that includes surgery, radiotherapy, chemotherapy, hormone therapy, targeted therapy, and bone-directed therapy.[1,2] In general, early stage cancers (stages 0-2) are initially treated with surgical intervention, whereas more advanced cancers (stages 3-4) often receive medical management first.
Image courtesy of Wikimedia Commons.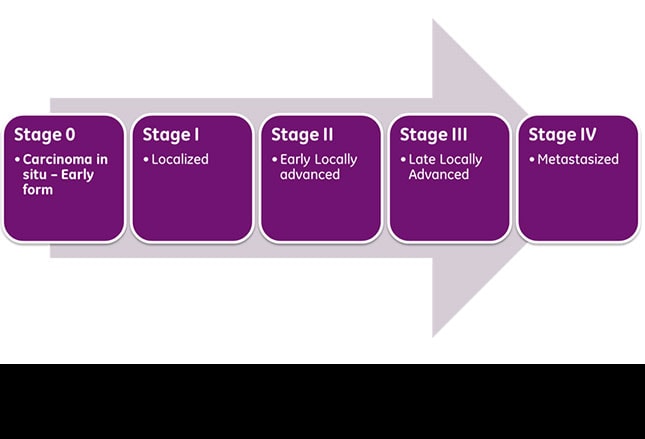 Surgical Intervention
Breast surgery continues to have an important role in the treatment of breast cancer. The goals of surgery are to remove the neoplasm from the breast and to stage the cancer by assessing the axillary lymph nodes.[1,2] In addition to surgery, radiation therapy and/or chemotherapy may be used in some patients, depending on the type and stage of their breast cancer.
Images courtesy of Stephanie A. Valente, DO, FACS.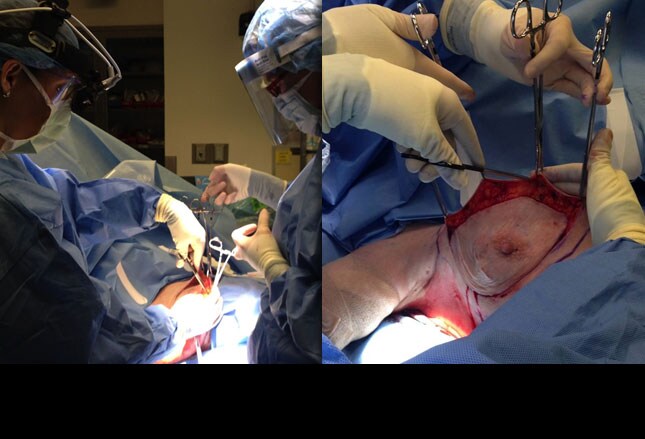 Surgical intervention in breast cancer generally consists of lumpectomy (shown) followed by radiation, mastectomy alone, or mastectomy with reconstruction.[1,2] The type of surgery a women chooses is based on her preference, but it can be influenced by the ratio of the size of the neoplasm versus the size of the breast. If a women with a small breast has a larger malignancy, the only treatment is often a mastectomy.
Images courtesy of Stephanie A. Valente, DO, FACS.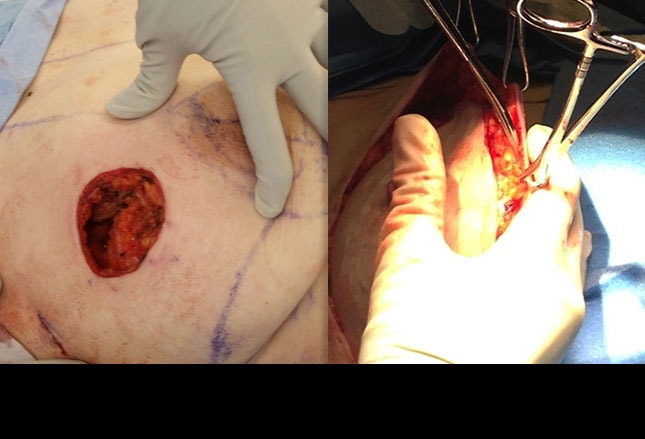 Lumpectomy is a popular option for removal of breast cancer, because it allows a woman to keep her breast (breast-conserving therapy). This procedure requires removal of the neoplasm with a surrounding rim of normal breast tissue (surgical margin). In most cases, patients who undergo lumpectomy require postoperative radiation as part of their treatment regimen.[1,2] The radiation therapy involves daily irradiation of the entire breast for 4-6 weeks.
Images courtesy of Stephanie A. Valente, DO, FACS.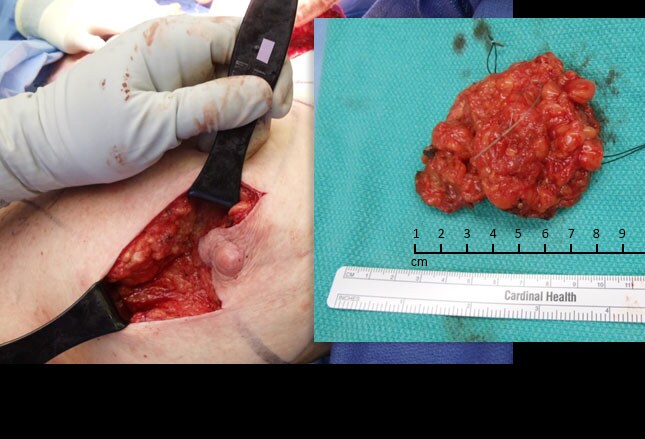 Breast cancer can only be visualized using imaging studies. At the time of lumpectomy, the placement of a wire or wires with imaging guidance aids the surgeon in localizing the cancer and the area that needs to be removed. The wire(s) is(are) removed with the cancer and the surgical margin. The removed tissue is first sent for radiography to verify that the area of concern has been removed, followed by pathology evaluation.
Images courtesy of Stephanie A. Valente, DO, FACS.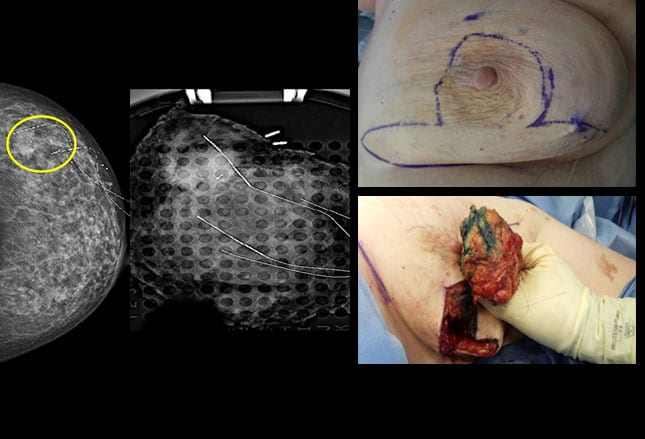 Following excision of a small breast cancer with lumpectomy, some patients can be treated with single-dose intraoperative radiation therapy (IORT). The radiation therapy device is inserted directly into the lumpectomy cavity at the time of surgery (shown). Treatment duration ranges from 20 to 40 minutes; in many cases, IORT can replace the traditional 4-6 weeks of daily radiation treatment.
Image courtesy of Stephen R. Grobmyer, MD, FACS.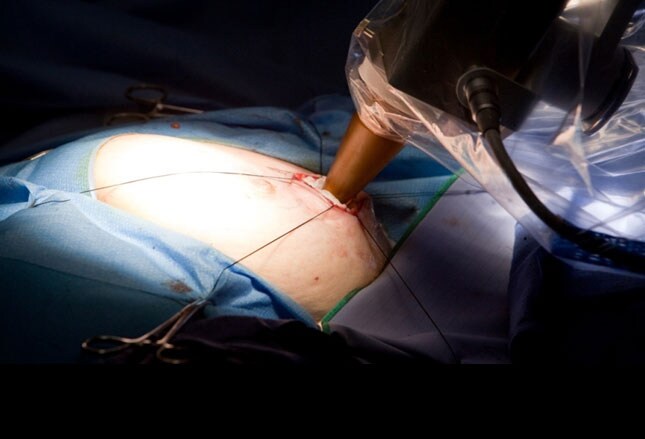 A reduction lumpectomy is a type of oncoplastic surgery in which a lumpectomy is performed through a breast reduction pattern. This procedure allows removal of a larger piece of breast tissue to ensure clean surgical margins as well as allows for the rearrangement of the remaining breast tissue to create a smaller, rounder breast. For symmetry, the contralateral breast is then reduced in a similar manner (right). This surgical approach results in not only the removal the cancer, but it also provides the patient with a pleasing cosmetic result.
Images courtesy of Stephanie A. Valente, DO, FACS.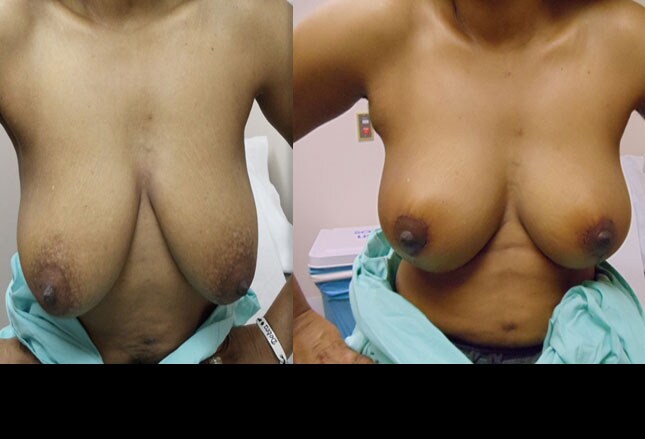 Sentinel Lymph Node Biopsy
Sentinel lymph node (SLN) biopsy is used to stage axillary lymph nodes to help determine a patient's prognosis and treatment.[1,2] Axillary sentinel nodes receive direct drainage from the primary tumor and are the most likely to contain breast cancer cells which have spread from the breast; there may be a single sentinel node or more than one.
Blue dye (and/or a radioactive agent acting as a marker) is injected into the breast around the tumor, biopsy cavity, or in the subareolar area; the blue dye accumulates in the axillary lymph nodes, thus identifying the sentinel node(s).[1,2] The SLN procedure is a safe and effective alternative to complete axillary lymph node dissection in patients with breast cancer.[1]
Image courtesy of Wikimedia Commons/Will Blake.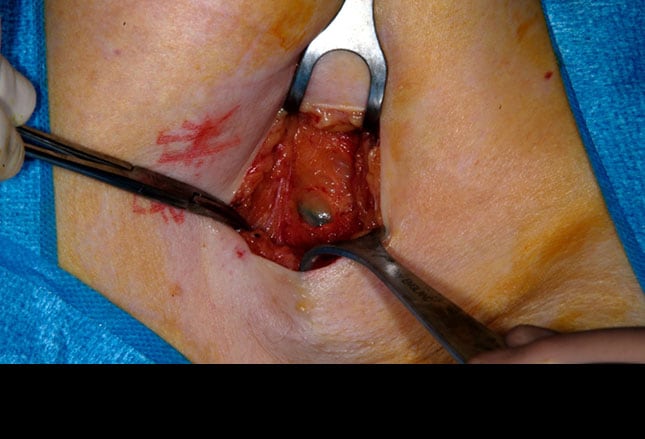 Unfortunately, performing SLN biopsy or an axillary lymph node dissection is not without risk. Lymphedema, in which there is permanent swelling of the arm on the surgical side, may occur. The lifetime risk of lymphedema is up to 3% for an SLN biopsy and up to 30% for an axillary lymph node dissection.[2] Axillary radiotherapy following axillary dissection increases the risk of lymphedema from 2% to 10%; the use of adjuvant radiation therapy following axillary dissection increases this risk from 13% to 18%.[1]
Image courtesy of Stephanie A. Valente, DO, FACS.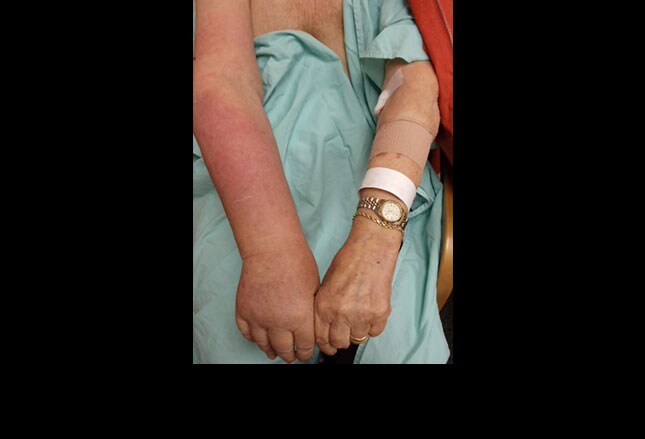 Neoadjuvant chemotherapy involves the administration of chemotherapy before surgery instead of after. This treatment shrinks the breast cancer, thereby making breast conservation a safe therapeutic option. The magnetic resonance images (MRIs) show a left breast cancer before (left) and after chemotherapy (right).
Images courtesy of Stephanie A. Valente, DO, FACS.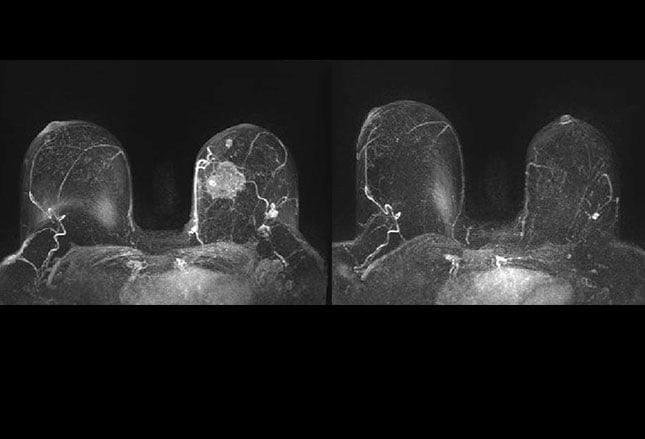 Simple, or total, mastectomy is another treatment option for women with breast cancer. This procedure involves removal of all the breast tissue, including the nipple.[2] Simple mastectomy has been the standard historical approach to removing breast cancer.
Image courtesy of Stephanie A. Valente, DO, FACS.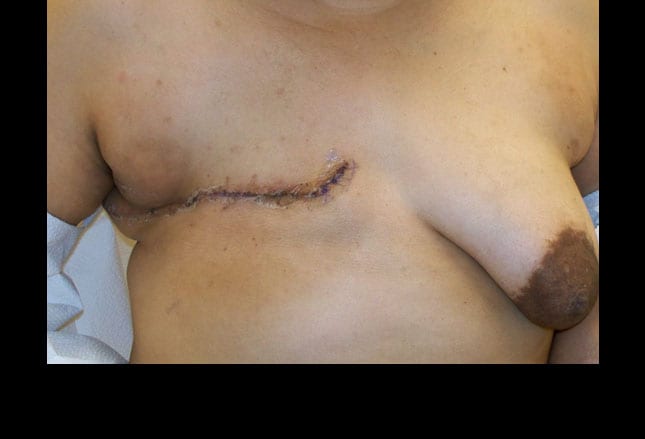 Some patients present with a large cancer which limits their surgical options.[2] A mastectomy (modified radical, radical) is the surgical treatment of choice for larger, more advanced-stage breast cancers. Modified radical consists of removing the entire breast and most of the axillary lymph nodes and may or may not be followed by breast reconstruction.[1,2,4] Radical mastectomy is rarely performed; this procedure involves removal of the entire breast, axillary lymph nodes, and the pectoral muscles.[2,4] Advantages of the modified radical mastectomy include equal efficacy, less extensive procedure, less disfigurement, and a reduced risk of secondary angiosarcoma compared with radical mastectomy.[4]
Images courtesy of Stephanie A. Valente, DO, FACS.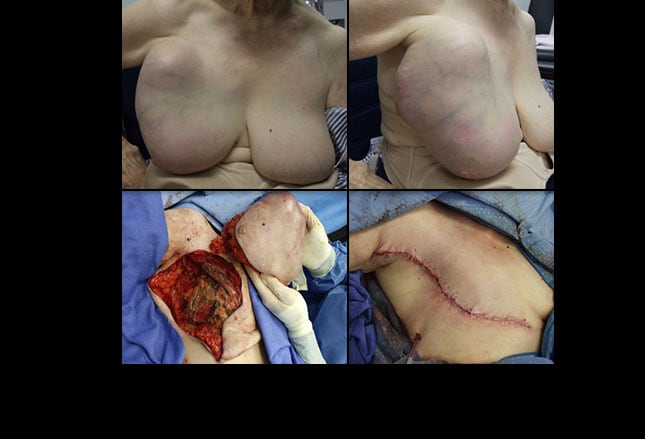 Reconstruction
Advanced surgical techniques have allowed for oncologically safe skin- and nipple-sparing mastectomy and immediate reconstruction. A very good cosmetic result (right images) is one reason for an increase in number of prophylactic mastectomy procedures performed on the contralateral breast. Immediate reconstruction may help patients to maintain self-confidence and body esteem after the major psychological impact of a breast cancer diagnosis.
Images courtesy of Risal Djohan, MD.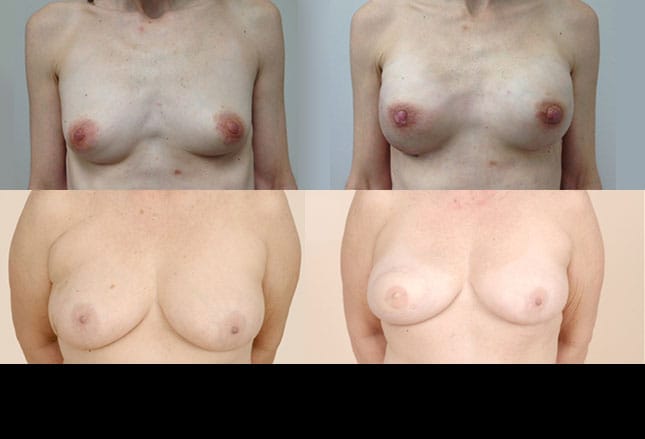 Within the last decade, the evolution of newer mastectomy techniques has continued to allow for very good cosmetic end results. Nipple-sparing mastectomy via an inframammary approach (shown) can be safely performed in appropriately selected patients. This procedure removes the breast tissue but leaves the skin and nipple intact; consequently, the exterior postoperative appearance of the breast is similar to the preoperative appearance.
Images courtesy of Risal Djohan, MD.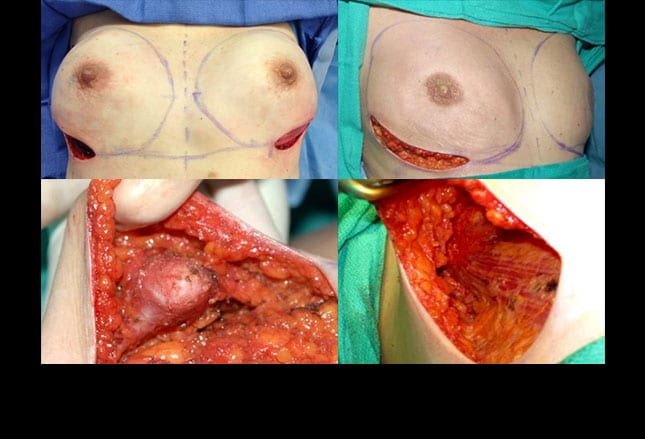 Immediate breast reconstruction involves selection of the optimum implant size, direct insertion of a saline or silicone implant (left), and fixation of an acellular dermal matrix to hold the implant in place (right).
Images courtesy of Risal Djohan, MD.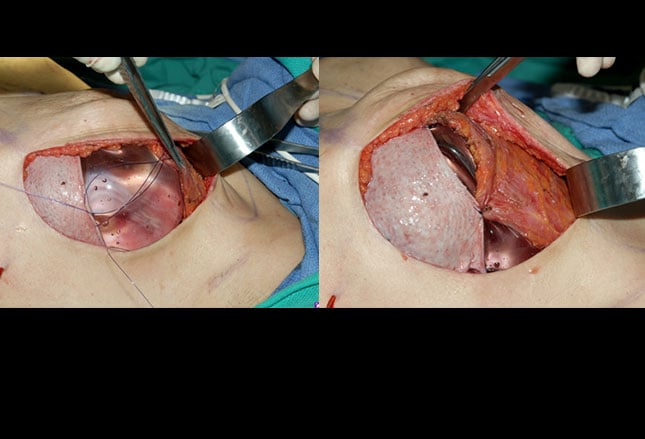 Deep inferior epigastric pedicle (DIEP) flap surgery is a type of autologous free-flap procedure that uses the patient's own abdominal fatty tissue to create new breasts and the inferior epigastric artery and vein as a blood supply to the transplanted tissue. This procedure spares the rectus abdominis muscle, allows the reconstructed breast to be of the patient's own tissue, and involves a concurrent abdominoplasty. DIEP flap surgery requires preoperative computed tomography (CT) scan planning, meticulous dissection, and long operative and recovery times.
Images courtesy of Risal Djohan, MD.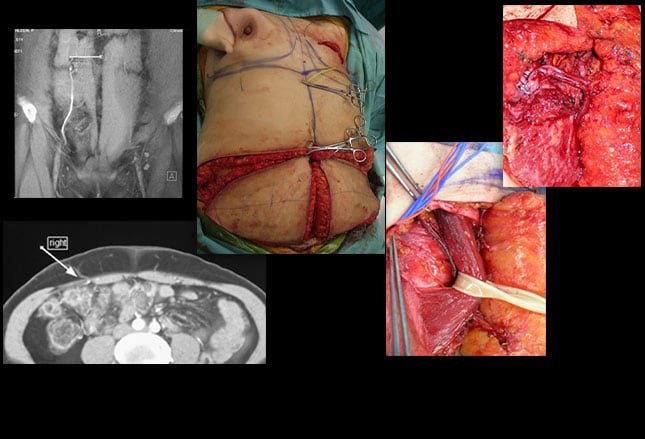 These photographs show de-epithelialization of excess skin (left images), insetting of a DIEP flap (center image), and microvascular anastomosis of a DIEP flap using an operative microscope (right image).
Images courtesy of Risal Djohan, MD.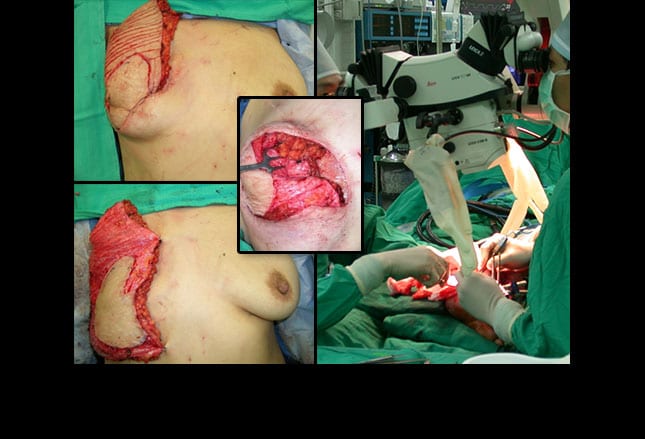 The images show a patient who had right breast cancer. She underwent a right skin-sparing mastectomy with nipple reconstruction and a left-nipple sparing mastectomy. The breast reconstruction was performed with DIEP flap surgery. Note the preoperative (left) and postoperative (right) appearances of the breasts and abdomen.
Images courtesy of Risal Djohan, MD.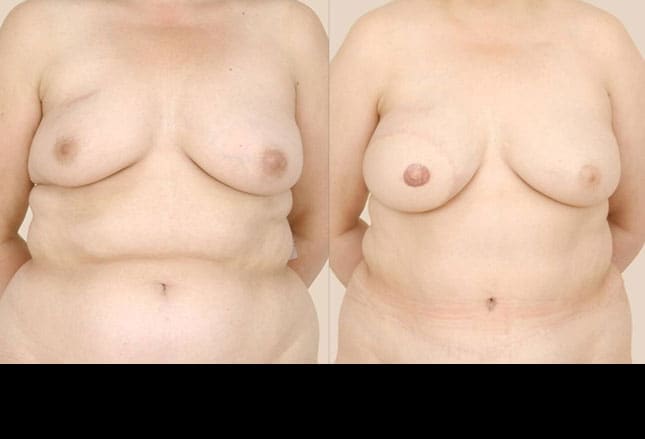 Many times, a woman's nipple may need to be removed as part of her surgery. Nipple and/or areola reconstruction can be performed after main breast reconstruction procedures have healed. A new nipple and/or areola can be created from the reconstructed breast itself, the contralateral nipple, or other sites on the patient's body (eg, ear, eyelid, upper inner thigh, buttocks).[2] The areola can be reconstructed with tattooing or with skin grafts from the inguinal region.[5,6]
Images courtesy of Stephanie A. Valente, DO, FACS, and Risal Djohan, MD.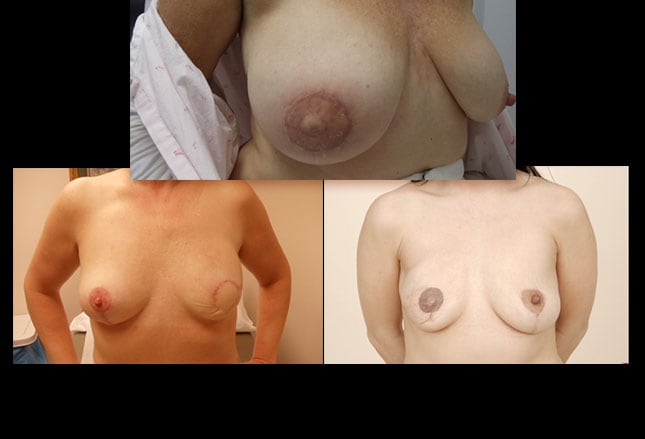 Postmastectomy chest wall cancer recurs in 5%-30% of patients.[7] Therefore, patients who undergo treatment for breast cancer must continue to be monitored for the risk of cancer recurrence and to identify and manage any adverse effects from treatment.[1,2] Breast examinations and breast imaging are important strategies for detecting disease recurrence.
Image courtesy of Stephanie A. Valente, DO, FACS.