Breast Lumps in Young Women: Diagnostic Approaches
Kanchan Kaur, MBBS, MS(General Surgery), MRCS(Edin)
July 2, 2014
Palpable breast lumps in young women represent a diagnostic dilemma for many clinicians. These patients are younger than the recommended age for screening mammograms, and the increased density of breast tissue in younger women makes mammography a less useful modality. Younger patients are less likely to have malignancy, so clinicians must formulate an age-appropriate differential diagnosis list. This ultrasound image shows a phyllodes tumor in a young woman—a typically benign tumor with malignant potential that should be excised.[1] Do you know the best diagnostic approach for the following cases?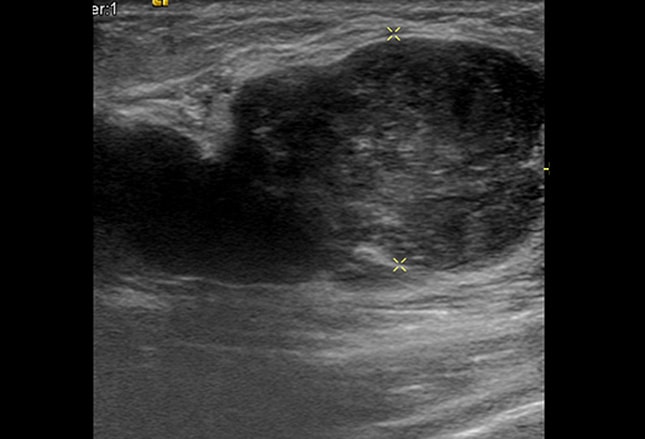 A 28-year-old woman presents with a longstanding history of a lump on the left breast (shown). Over the past week, she has also noticed associated redness and pain.
What is the most likely diagnosis?
A. Sebaceous cyst
B. Periductal mastitis
C. Breast cancer
D. Fibroadenoma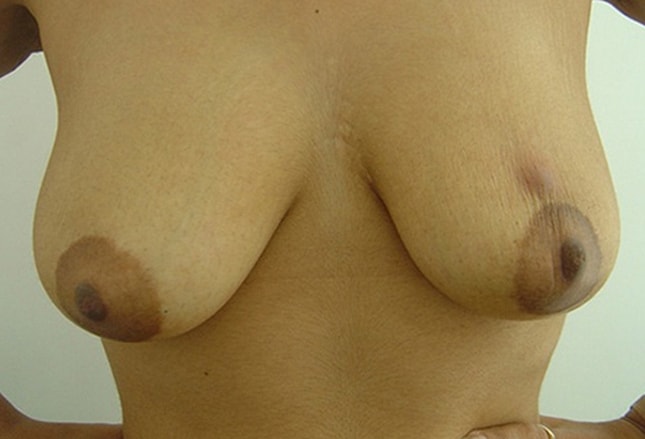 Answer: A. Sebaceous cyst
A sebaceous cyst is an epidermal cyst with the classic feature of a superficial swelling filled with a cheeselike or oily material.[2] This cyst usually grows slowly and is not painful. The diagnosis can generally be made based on the clinical history and physical examination findings, but a biopsy or an ultrasound examination can be performed to exclude alternative pathology. Small noninflamed cysts generally do not need any therapeutic intervention.[2] For acutely inflamed cysts, a short course of antibiotics and/or an intralesional steroid injection may be given. Recurrent infections or very large cysts may warrant drainage and/or excision.
A 22-year-old woman presents with a 2-week history of swelling and pain in the right breast. She is currently breast feeding her 3-week-old child. On examination, her left breast is engorged with milk, but on the right side she has swelling near the nipple with associated redness, warmth, and pain.
What is the most likely diagnosis?
A. Phyllodes tumor
B. Lactating adenoma
C. Abscess
D. Complicated cyst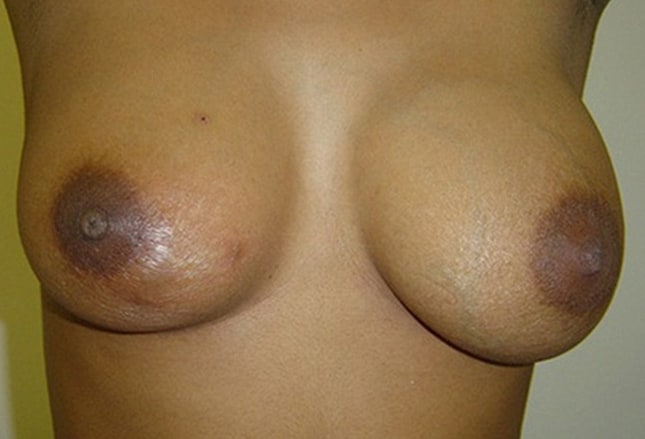 Answer: C. Abscess
The history and physical examination findings are typical for a lactational breast abscess. About 0.4-11%[3] (perhaps up to 20%[4]) of all lactating mothers develop breast abscesses.[5] Lactational breast abscesses often form as a result of inadequately treated infectious mastitis,[4] and the most common causative organism is Staphylococcus aureus.[3,4] In addition to pain, warmth, and erythema, symptoms may include fever, chills, and malaise.[5] In this patient, an ultrasound study revealed an irregular hypoechoic mass lesion with internal debris (shown). Smaller abscesses can be managed by aspiration under ultrasound guidance and oral antibiotics, as well as symptomatic care.[3,4] Larger abscesses may need formal incision and drainage.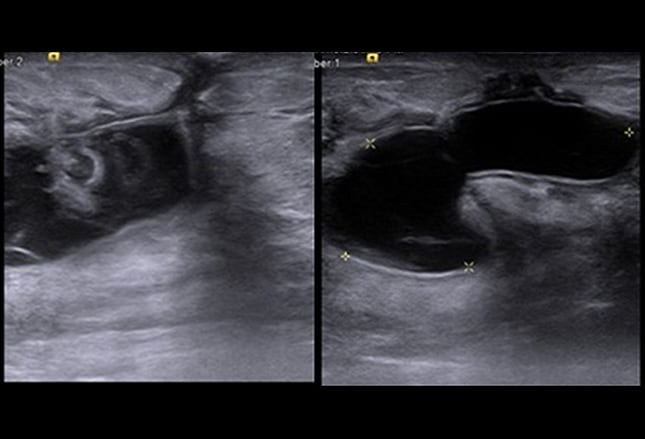 A 25-year-old woman with congenital nipple inversion (shown) presents with a 5-day history of redness and swelling that is associated with pain. You are concerned about a diagnosis of periductal mastitis.
Which of the following is a predisposing factor for periductal mastitis?
A. Cigarette smoking
B. Nipple piercing
C. Nipple inversion
D. All of the above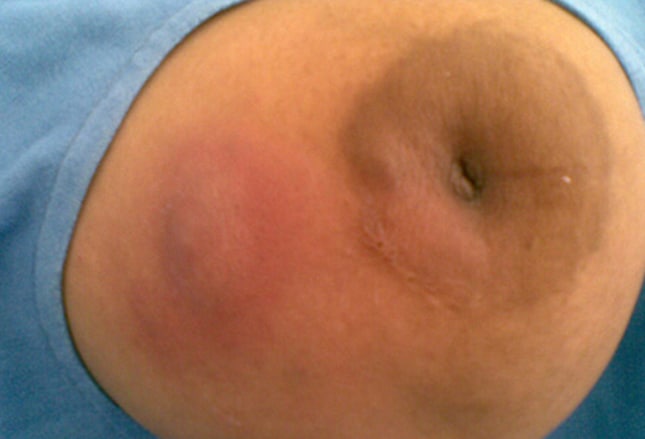 Answer: D. All of the above
Periductal mastitis is an infection that starts in the subareolar[6,7] or juxta-areolar ducts[7]; it is commonly associated with cigarette smoking,[8,9] nipple inversion,[7,9] and nipple piercing.[8] Obtain imaging studies (eg, ultrasonography, mammography); the specific modality is determined on a case-by-case basis.[9] Other diagnostic studies include ductography and ductal lavage and cytology.[9] If left untreated, periductal mastitis can lead to repeated breast infections, nipple inversion from fibrosis, and mammary fistulas (shown).[9] In the early stages, only antibiotics may be needed. If there is pus, a needle aspiration or surgical drainage is required.[8,9] For repeated infections, a major duct excision may be needed. Fistulas require surgical excision.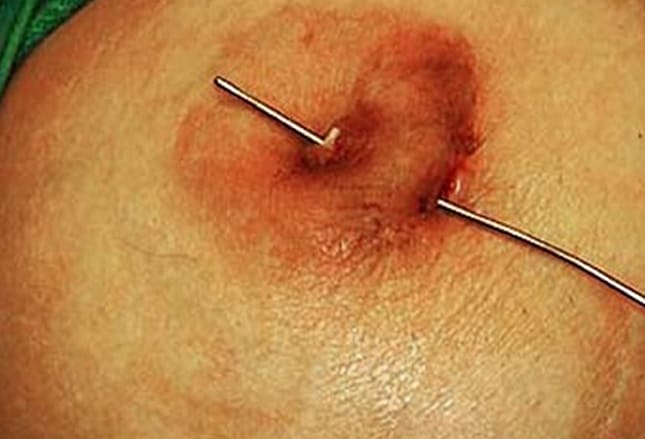 A 25-year-old woman presents with a palpable breast mass. You perform an ultrasound examination (shown) and reassure her that this is a common benign breast lump.
What is the diagnosis?
A. Fibroadenoma
B. Papilloma
C. Complicated cyst
D. Pseudoangiomatous stromal hyperplasia (PASH)
Answer: A. Fibroadenoma
The sonogram shows a classic appearance for a fibroadenoma: well defined, smoothly marginated, and hypoechoic.[10] Fibroadenomas have an unknown etiology and are the most common benign tumors of the breast, particularly in women younger than 30 years and in black women.[11] The use of oral contraceptives before age 20 years is a risk factor for fibroadenomas,[12] and women with these tumors have an increased risk for breast cancer (about a 1.5-2 times greater risk than that of women without breast changes).[11,12] The tumors are mobile[11,12] and composed of glandular and stromal elements.[10] A definitive diagnosis is typically made based on findings from imaging studies (eg, ultrasonography, mammography) and biopsies.[10-12] Lesions that are atypical on ultrasonography, are larger than 2 cm, or exhibit rapid growth should be biopsied. Removal of the lesions is generally recommended,[12] and it is usually done by formal surgical excision. Smaller lumps can be removed by minimally invasive techniques, such as vacuum-assisted biopsy or cryoablation.[13]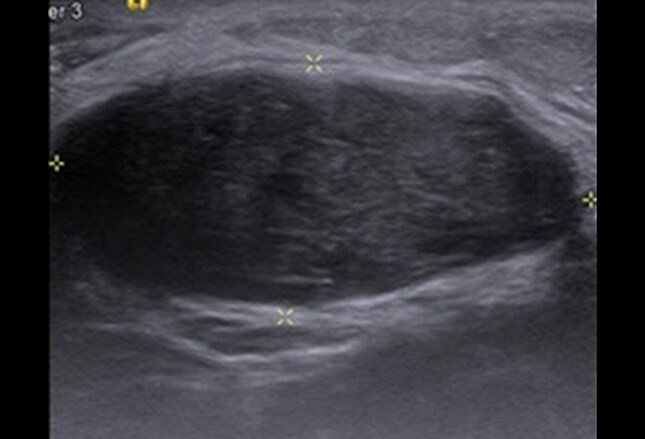 A 22-year-old woman presents with history of a lump in her left breast. She indicates that the lump becomes larger and more painful before her periods, and then the symptoms settle after her periods finish. Clinical examination reveals a tender, immobile lump in the left breast. An ultrasound examination is performed (shown).
What is the most likely diagnosis?
A. Metastatic renal cell carcinoma
B. Fat necrosis
C. Cystic papilloma
D. Fibrocystic change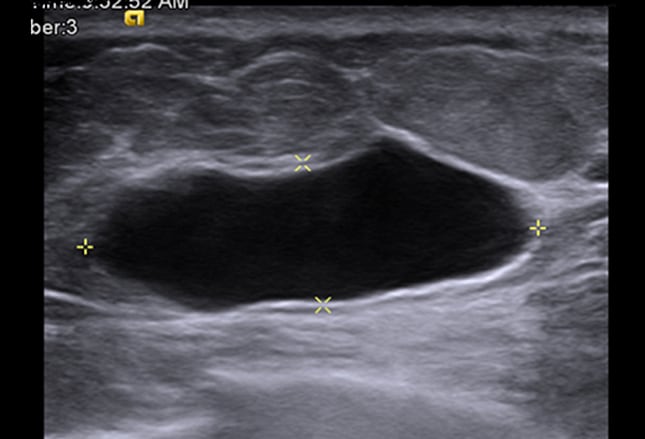 Answer: D. Fibrocystic change
Fibrocystic breast changes (formerly fibrocystic breast disease) are various changes in the glandular and stromal tissues of the breast that occur most commonly in young women, although breast cysts can occur at any age.[14-16] Breast cysts are generally multiple (shown), may be unilateral or bilateral, and wax and wane with the menstrual cycle. Symptoms include swollen, tender/painful, and/or thick or lumpy breasts; sometimes a discharge is present. The diagnosis may be based on the patient's symptoms and a breast examination, but an ultrasound study and/or fine-needle aspiration (FNA) is usually obtained.[14-16] Although most cysts are considered benign, warning signs that require additional workup include bloody aspiration, failure to completely collapse upon aspiration, and solid tissue components. There is no definitive treatment for breast cysts, but supportive measures include taking analgesics and applying heat/ice to the affected breast(s).[14-16] Pharmacotherapy may include oral contraceptives, tamoxifen, androgens, and/or diuretics. Aspiration may performed for symptomatic relief; repeated aspirations may be needed as cysts recur.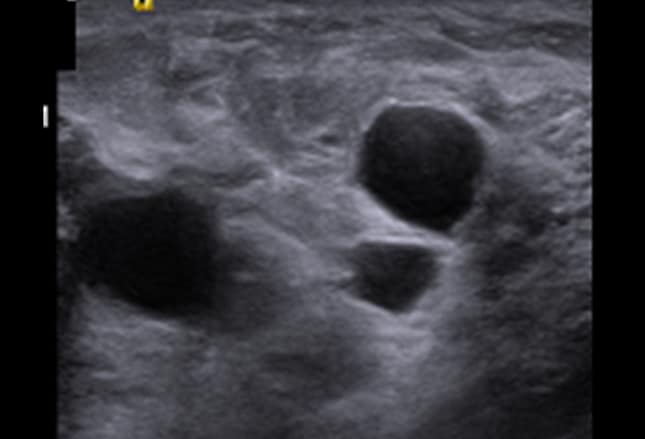 A 22-year-old woman presents with a 1-year history of a lump in the upper inner quadrant of her left breast. Over the last 3 months, it has grown rapidly. On examination, the lump has the appearance of an infected epidermal cyst. An ultrasound study showed a well-defined, complex cystic mass in the subcutaneous tissue that had a large irregular solid component and increased vascularity. The findings necessitated an ultrasound-guided core biopsy (shown) to rule out malignancy and demonstrated a poroid hidradenoma (a benign adnexal tumor of eccrine glands that includes malignancy and sudoriferous tumors in the differential diagnosis[17]). A wide excision was performed on the mass, and the patient recovered well.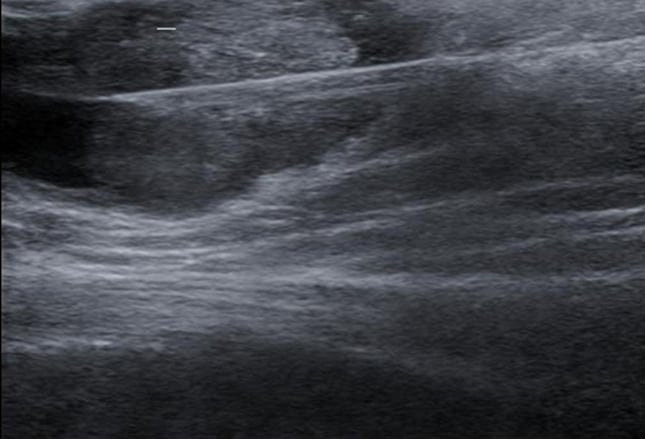 A 28-year-old woman presents with a history of breast lumps that developed 3 months into her lactation and that have persisted for more than 9 months. On clinical examination, bilateral lobulated, partly mobile, firm breast lumps are present. A breast ultrasound study was performed, which revealed thick-walled cystic areas that contained mixed echogenic lesions. The diagnosis of galactocele was suspected, but a large dominant lesion in the right breast (shown) raised sufficient clinical concern for a malignancy that a breast magnetic resonance imaging (MRI) study was obtained.
Which of the following are predisposing factors for galactocele formation?
A. Pituitary adenoma
B. Augmentation mammoplasty
C. Selective serotonin reuptake inhibitors
D. All of the above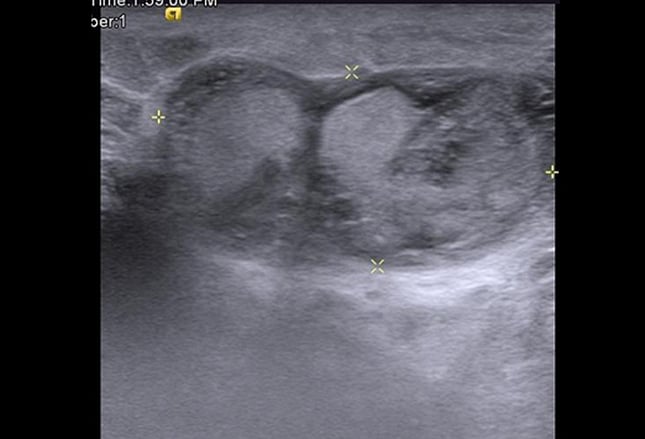 Answer: D. All of the above
The MRI revealed a bilobed cystic lesion with thick, slightly irregular rim enhancement (circled), confirming the suspicion of a long-standing infected galactocele. Galactoceles (or lactoceles) are benign milk-containing cysts that typically develop in pregnant or lactating women; they may also present in women who have ceased to breastfeed.[18,19] The cysts may become infected and result in acute mastitis or an abscess.[18] Predisposing factors for galactoceles include prolactin-secreting tumors or stimulating medications, as well as postoperative fibrosis. The diagnosis is typically made on a clinical basis, and most galactoceles tend to resolve over time.[18,19] Repeated infections may necessitate FNA, with the aspirated milk sent for culture sensitivity, imaging studies (eg, ultrasonography, mammography), and/or surgical excision.[18-20]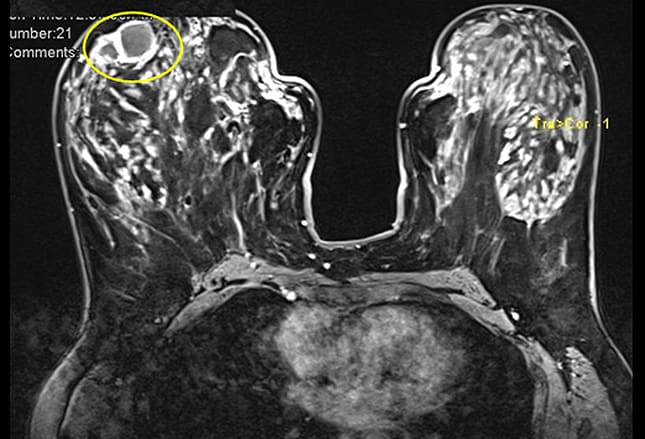 A 26-year-old presents with a lump of 4 months' duration in her left breast that has been gradually increasing in size. A mammogram was obtained, which showed a 3 × 4–cm mass in the 3-o'clock position. The patient underwent an ultrasound study, which revealed a well-defined, irregular cystic lesion with thickened walls and thick echoes inside. The surrounding breast parenchyma was hyperreflective, suggestive of inflammatory changes. A biopsy was performed.
What is the most appropriate biopsy technique?
A. Ultrasonography guided
B. MRI guided
C. Stereotactic guided
D. Blind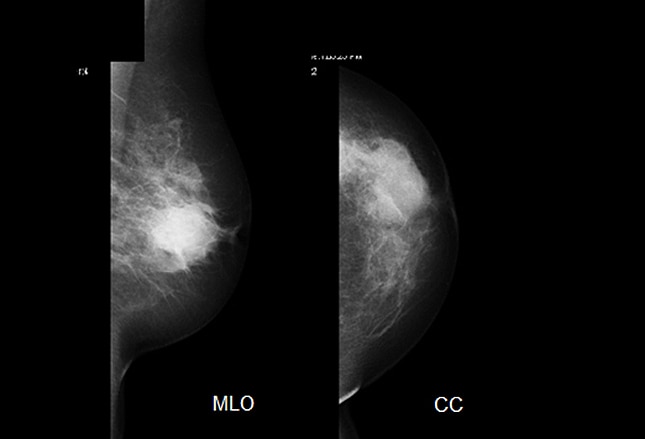 Answer: A. Ultrasonography guided
A lesion easily seen on ultrasound study is best biopsied by using the same imaging modality. The patient's biopsy results showed a chronic necrotizing granulomatous lesion with Langhans giant cells and caseous necrosis that was suggestive of breast tuberculosis (TB). Breast TB is a rare disease that accounts for less than 0.1% of breast conditions in developed regions (the incidence increases to 3-4% in areas with endemic TB such as India and Africa) and is classified as nodular, diffuse, or sclerosing.[21] It is most commonly seen in young lactating multiparous women. Typical features of breast TB include a unilateral painless breast mass (in the middle or upper outer breast quadrant), persistent draining sinus, axillary lymphadenopathy, and nipple retraction.[21] Breast cancer must be ruled out. Patients generally do not have systemic TB. The workup includes Ziehl Neelsen staining or culture for acid-fast bacilli (gold standard), Mantoux testing, FNA, polymerase chain reaction, histopathology, and imaging studies (eg, ultrasonography, computed tomography, nuclear MRI). Treatment involves anti-TB chemotherapy and surgery.[21]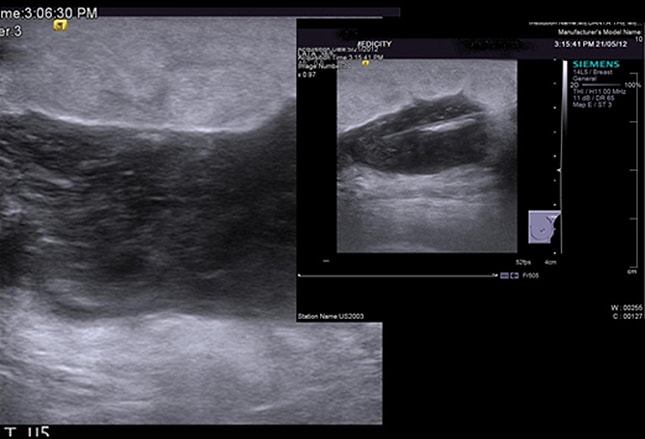 A 26-year-old woman who recently finished lactation reports a 1-month history of repeated infections in the right breast. She has undergone multiple courses of antibiotic therapy, but there has been no resolution of her condition.
What would be the most appropriate next step?
A. Another course of antibiotics
B. Diagnostic ultrasound examination
C. Incision and drainage
D. MRI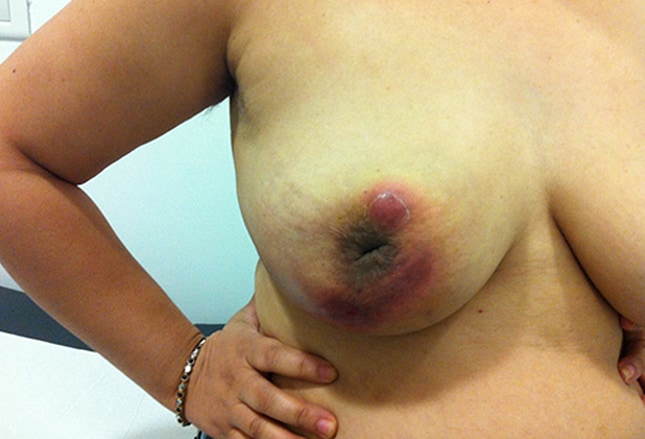 Answer: B. Diagnostic ultrasound examination
An ultrasound study of the breast revealed multiple heterogeneous hypoechoic areas with central liquefaction. A core biopsy of the affected tissue demonstrated granulomatous mastitis. Granulomatous mastitis, or granulomatous lobular mastitis, has an unknown etiology.[22,23] The workup includes image-guided biopsy, but histopathologic findings may be nonspecific. Granulomatous mastitis is a diagnosis of exclusion from other benign breast disorders (eg, duct ectasia, puerperal or periductal mastitis, breast TB) and from other granulomatous conditions (eg, TB, Wegener granulomatosis, sarcoidosis); breast cancer must also be ruled out. The optimal therapy for patients with idiopathic granulomatous mastitis has not been determined, and this disease has a high rate of recurrence.[22,23] Treatment options include expectant management with close regular surveillance, incision and drainage of abscesses, and corticosteroid therapy with wide surgical excision.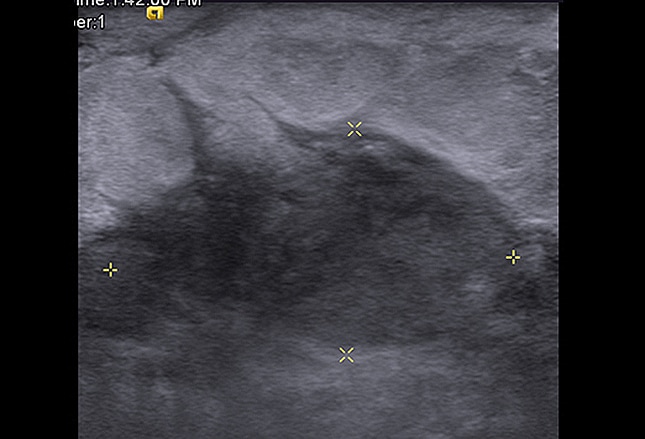 A 25-year-old woman presents with a 4-month history of a rapidly growing lump in her right breast. On examination, the lump is well-defined and mobile. An ultrasonogram revealed a 3.8-cm irregular hypoechoic mass in the upper outer quadrant (shown).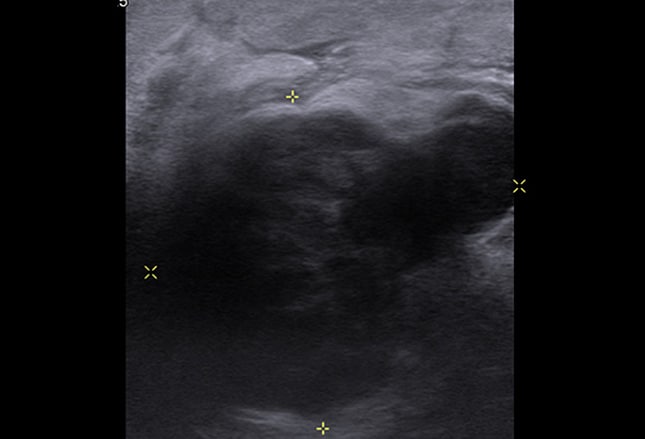 The ultrasound study also showed a 0.8-cm hypoechoic well-defined mass that was adjacent to the nipple (shown). The patient underwent mammography, which was followed by biopsy. She was ultimately diagnosed with breast cancer. About 11% of all new breast cancers occur in women younger than 45 years, most commonly in patients who have a strong family history of breast cancer, have the BRCA1/BRCA2 mutation, received previous radiation therapy, or are of Ashkenazi Jewish descent.[24]