14 Skin Lesions Caused by Cancer Chemotherapy
Winston W. Tan, MD, FACP
December 17, 2014
Cellulitis
An important component to cancer management is chemotherapy. With the incidence of cancer increasing, health care providers will likely be presented with more chemotherapy-related dermatologic manifestations. For example, this 38-year-old man was diagnosed with T-cell lymphoma after an axillary lymph node biopsy. He later presented with cellulitis (shown). Cellulitis is a frequent complication of chemotherapy, often occurring at the site of catheter or intravenous line insertion. In immunocompromised patients with fever, it is always important to inspect sites of intravenous, catheter, or other device insertion for infection.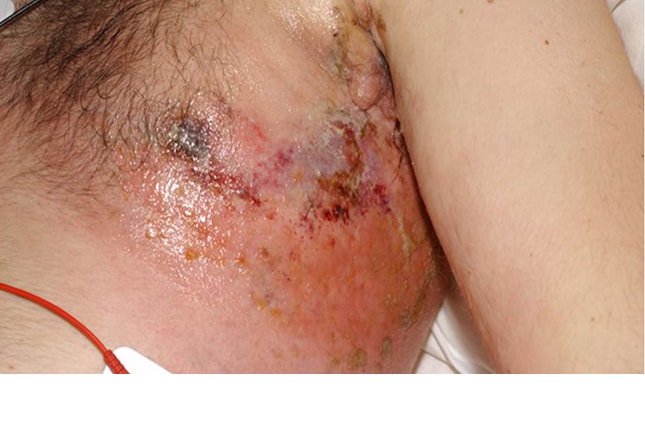 Ecchymosis
This 48-year-old woman with breast cancer was receiving chemotherapy for metastatic breast cancer. She presented with ecchymosis, which is a very common skin finding in patients with thrombocytopenia secondary to chemotherapy, such as gemcitabine. This is also seen in patients with hematologic malignancies, even before treatment. Patients with leukemia may also present with spontaneous bleeding due to thrombocytopenia from the disease itself.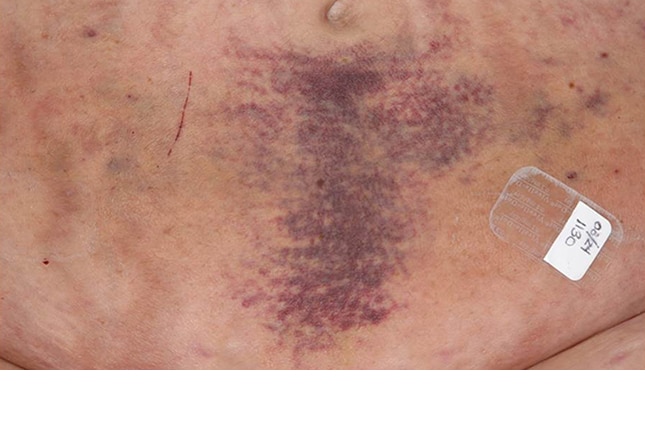 Petechiae and Ecchymosis
These spontaneous lesions developed on the back of a 78-year-old patient. Petechiae and ecchymosis are common in leukemia and other hematologic malignancies and can result from the disease or its specific treatment. This patient had multiple myeloma and Factor VIII inhibitor, which caused these skin lesions to quickly manifest. If more common causes do not explain skin lesions, it is important to consider coagulation factor inhibitors.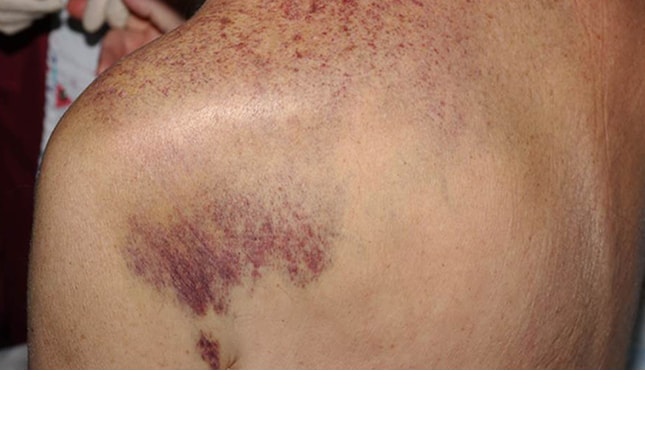 Purpuric Lesions With Petechiae
A 49-year-old man with leukemia developed these skin lesions after his diagnosis. These purpuric lesions with petechiae are secondary to thrombocytopenia and can be caused by the disease or chemotherapy. In this patient, the lesions were secondary to chemotherapy for leukemia.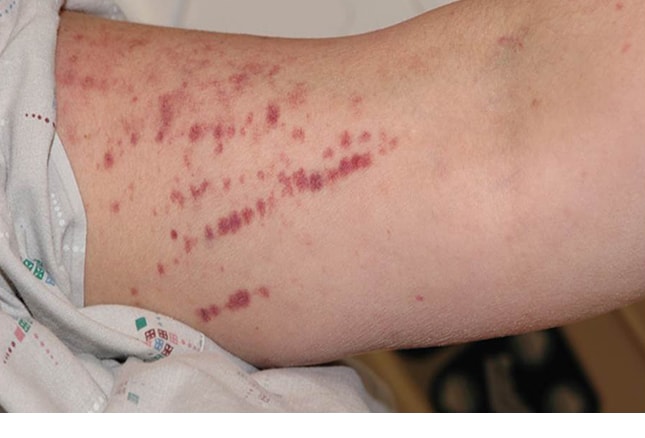 Lesions of the Nose
A 70-year-old woman with renal cancer developed this rash on her nose. The rash is a common side effect in patients taking tyrosine kinase inhibitors (TKIs), such as sorafenib, pazopanib, sunitinib, and axitinib. The rash often starts as a papule and develops into an excoriation over time. These lesions are often painless. If severe, these lesions can be treated with a topical steroid.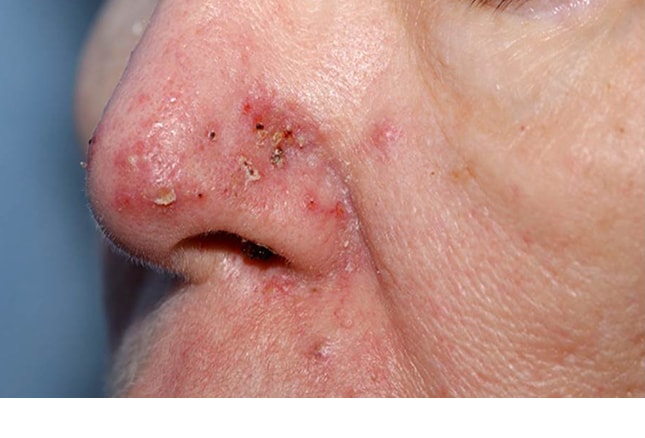 Blisters and Calluses
A 56-year-old man with metastatic renal cancer developed these blisters and callus formations on his foot after treatment with TKIs. Callus formation with blisters on the feet and hands is a common side effect of TKIs. Approximately 2–3 weeks after starting treatment, the papules appear, crust over, and then become painful, peel, and form calluses. These lesions are usually treated with supportive care. If the lesions are severe and physically debilitating, the dose of the TKI should be reduced.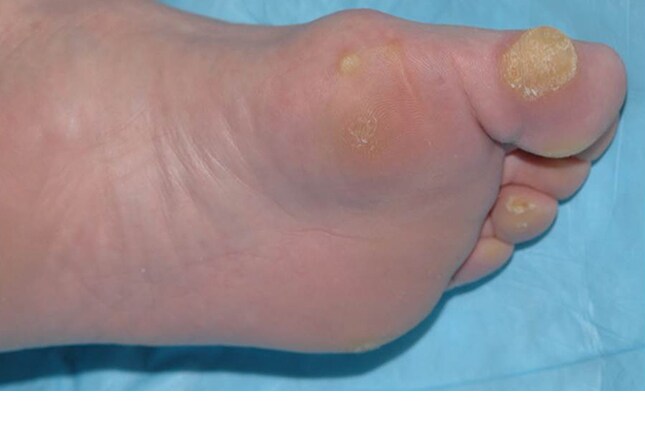 Skin Thickening
A 64-year-old man with hepatitis B virus and metastatic liver cancer developed these skin lesions on his hand. The patient had received sorafenib for his metastatic liver cancer, and such skin thickening is common after receiving TKIs. These lesions are often dry and sometimes painful.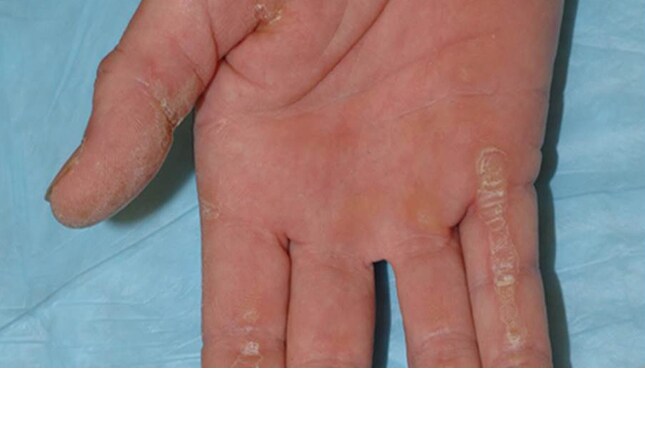 Lesions of the Tongue
This 62-year-old man with metastatic colon cancer developed these tongue lesions. Darkening of the tongue may occur after chemotherapy with fluorouracil (5-FU). These tongue lesions can also be seen in patients on docetaxel for metastatic prostate cancer. The chemotherapy-induced dermatologic manifestations present as purplish, painless vesicular lesions.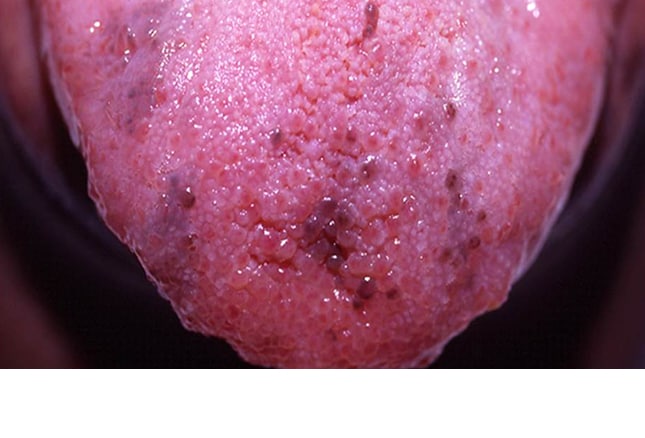 Hypopigmentation
A 62-year-old woman with breast cancer had a mastectomy 6 years ago. Over the past month, she developed skin lesions above the site of the radiation. This hypopigmentation of the skin is secondary to postoperative radiation after mastectomy. The patient developed skin nodules above the radiation changes. Biopsy of these lesions revealed findings consistent with metastatic breast cancer to the skin.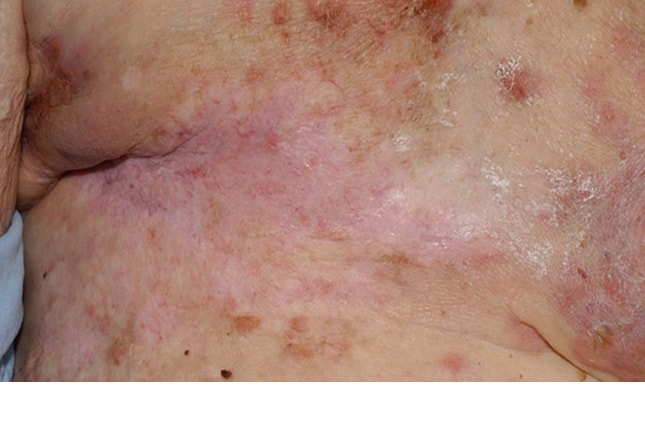 Extravasation of Chemotherapy
A 50-year-old man receiving chemotherapy for his metastatic lung cancer developed these skin changes on his arm after chemotherapy. These changes are caused by extravasation of chemotherapy and can be a risk for patients who do not have an intravenous port.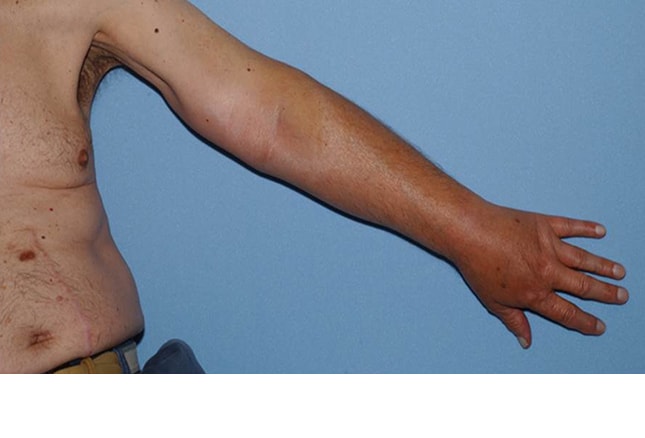 Nail Abnormalities
This 68-year-old man with prostate cancer developed castrate-resistant metastatic disease. Months after treatment, he presented with these nail abnormalities. Photosensitivity and darkening of the skin and nail are common side effects after chemotherapy, including taxane chemotherapy (such as docetaxel in this patient) or 5-FU chemotherapy.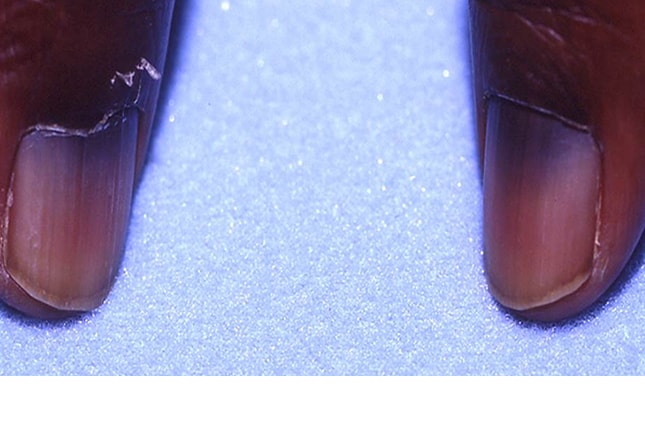 Vesicular Lesions
This 54-year-old woman with leukemia underwent bone marrow transplantation and subsequently developed these vesicular lesions, which appeared 15 days posttransplant. The patient was on morphine for bone pain, so her skin lesions were not painful. However, she was eventually diagnosed with a herpes zoster infection.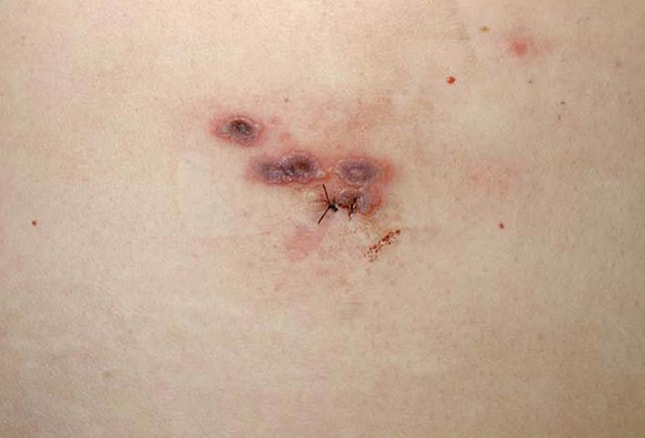 Maculopapular Lesions
This 64-year-old woman was undergoing chemotherapy for metastatic breast cancer when she developed these skin lesions. Maculopapular skin lesions are often due to a drug reaction, disease, or chemotherapy. A skin biopsy can be helpful to distinguish between drug rashes and cancer recurrence.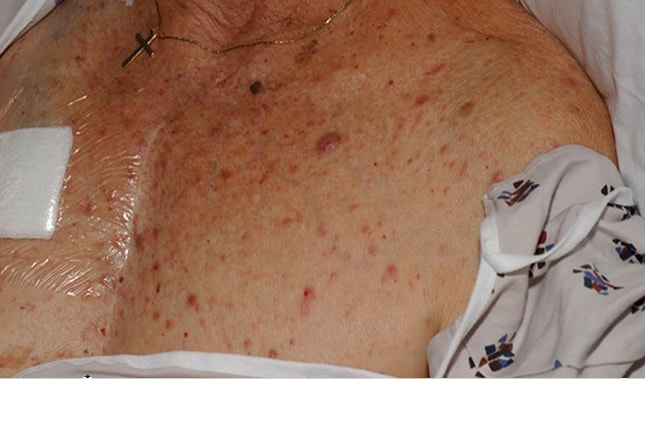 Tumor Nodules
This 59-year-old woman with metastatic breast cancer was receiving chemotherapy and developed these skin lesions, which are tumor nodules. Biopsy confirmed tumor progression in the skin. A biopsy should always be performed if the clinician is unsure about a skin lesion.