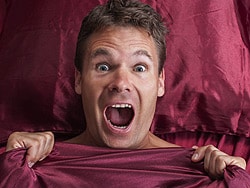 Dreaming and nightmares occur during REM sleep, and they are more frequent in the second half of the night. Nightmares are often confused with sleep terrors, which are episodes of extreme panic and confusion associated with vocalization, movement, and autonomic discharge. Sleep terrors occur during non-REM sleep. Children with sleep terrors are difficult to arouse and console and do not recall a dream or nightmare.
For more on the background of nightmares, read here.
Medscape © 2014  WebMD, LLC

Cite this: Fast Five Quiz: Just in Time for Halloween, Test Your Knowledge of Sleep Terrors and Nightmares - Medscape - Oct 21, 2014.