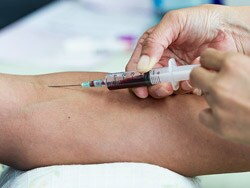 Hyperuricemia may be seen in CML owing to high bone marrow cellular turnover. Vitamin B12 binding protein is synthesized in granulocytes and may be increased in CML because of the leukocytosis. The LAP level is low in CML because of the accumulation of long-lived white blood cells with low enzyme levels. A mild increase in basophils and eosinophils is present and becomes more prominent during the transition to acute leukemia.
To read more about the workup of CML, click here.
Medscape © 2014  WebMD, LLC

Cite this: Fast Five Quiz: How Prepared Are You to Address Chronic Myelogenous Leukemia? - Medscape - Nov 11, 2014.