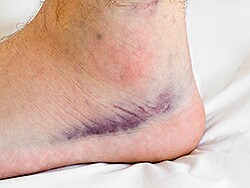 Ankle sprains are classified into the following three grades:
Grade 1 injuries involve a stretch of the ligament with microscopic tearing, but not macroscopic tearing. In general, little swelling is present, with little or no functional loss and no joint instability. The patient is able to fully or partially bear weight.

Grade 2 injuries stretch the ligament, with partial tearing, moderate to severe swelling, ecchymosis, moderate functional loss, and mild to moderate joint instability. Patients usually have difficulty bearing weight.

Grade 3 injuries involve complete rupture of the ligament, with immediate and severe swelling, ecchymosis, an inability to bear weight, and moderate to severe instability of the joint. Typically, patients cannot bear weight without experiencing severe pain.
For more on ankle sprain staging, read here.
Medscape © 2014  WebMD, LLC

Cite this: Fast Five Quiz: Are You Able to Diagnose and Treat Common Football Injuries? - Medscape - Nov 24, 2014.