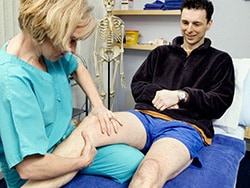 In 2014, the American Academy of Pediatrics released clinical guidelines on the diagnosis, treatment, and prevention of ACL injuries and concluded that the Lachman test was the recommended examination. The Lachman test is the most sensitive test for acute ACL rupture. It is performed with the knee in 30° of flexion, with the patient lying supine. The amount of displacement (in mm) and the quality of endpoint are assessed (eg, firm, marginal, soft). Asymmetry in side-to-side laxity or a soft endpoint is indicative of an ACL tear. Although difficult to measure, a side-to-side difference of greater than 3 mm is considered abnormal.
For more on the physical examination of ACL injury, read here.
Medscape © 2014  WebMD, LLC

Cite this: Fast Five Quiz: Are You Able to Diagnose and Treat Common Football Injuries? - Medscape - Nov 24, 2014.