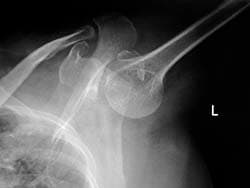 Anterior dislocations (in which the humeral head is displaced anteriorly in relation to the glenoid) account for as many as 95%-98% of shoulder dislocations. The reason is that the muscular and ligamentous support anterior to the humeral head is much less robust than the substantial muscular and bony support afforded posteriorly by the rotator cuff and scapula. Anterior shoulder dislocations may be divided into the following four types:
Subcoracoid

Subglenoid

Subclavicular

Intrathoracic
Subcoracoid and subglenoid dislocations account for 99% of anterior shoulder dislocations.
For more on shoulder dislocations, read here.
Medscape © 2014  WebMD, LLC

Cite this: Fast Five Quiz: Are You Able to Diagnose and Treat Common Football Injuries? - Medscape - Nov 24, 2014.