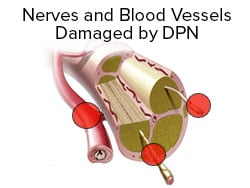 Diabetic peripheral neuropathy (DPN), present in 60% of diabetic persons and 80% of diabetic persons with foot ulcers, confers the greatest risk for foot ulceration; microvascular disease and suboptimal glycemic control contribute.
The pathophysiology of DPN is multifactorial and is thought to result from vascular disease occluding the vasa nervorum; endothelial dysfunction; deficiency of myoinositol-altering myelin synthesis and diminishing sodium-potassium adenine triphosphatase (ATPase) activity; chronic hyperosmolarity, causing edema of nerve trunks; and effects of increased sorbitol and fructose. Other etiologies of diabetic ulceration include arterial disease, pressure, and foot deformity.
For more on the pathophysiology of diabetic ulcers, read here.
Medscape © 2014  WebMD, LLC

Cite this: Vincent Lopez Rowe. Fast Five Quiz: Do You Know What to Watch for and How Best to Treat Diabetic Foot Ulcers? - Medscape - Dec 15, 2014.