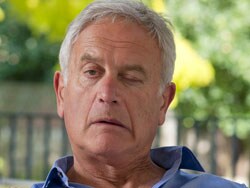 Consider stroke in any patient presenting with acute neurologic deficit or any alteration in level of consciousness. Common signs and symptoms of stroke include the abrupt onset of any of the following:
• Hemiparesis, monoparesis, or (rarely) quadriparesis
• Hemisensory deficits
• Monocular or binocular visual loss
• Visual field deficits
• Dysarthria
• Facial droop
• Ataxia
• Vertigo (rarely in isolation)
• Aphasia
Although such symptoms can occur alone, they are more likely to occur in combination.
For more on the presentation of ischemic stroke, read here.
Medscape © 2014 WebMD, LLC

Cite this: Edward C. Jauch. Fast Five Quiz: Do You Know the Complications, Proper Workup, and Best Treatment Practices for Ischemic Stroke? - Medscape - Dec 29, 2014.