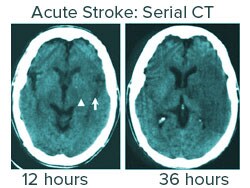 Emergent brain imaging is essential for confirming the diagnosis of ischemic stroke. Noncontrast CT scanning is the most commonly used form of neuroimaging in the acute evaluation of patients with apparent acute stroke. The noncontrast CT scan is fast, readily available, and can identify intracranial hemorrhages allowing for proper selection of patients for reperfusion therapies.
Transcranial Doppler ultrasonography is useful for evaluating more proximal vascular anatomy—including the middle cerebral artery, intracranial carotid artery, and vertebrobasilar artery—through the infratemporal fossa. Echocardiography is obtained in all patients with acute ischemic stroke in whom cardiogenic embolism is suspected. The use of SPECT scanning in stroke is still experimental and is available only at select institutions.
For more on the workup of ischemic stroke, read here.
Medscape © 2014 WebMD, LLC

Cite this: Edward C. Jauch. Fast Five Quiz: Do You Know the Complications, Proper Workup, and Best Treatment Practices for Ischemic Stroke? - Medscape - Dec 29, 2014.