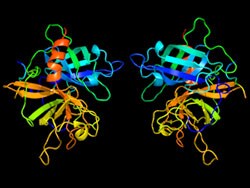 The only fibrinolytic agent that has been shown to benefit selected patients with acute ischemic stroke is alteplase. While streptokinase may benefit patients with acute myocardial infarction, in patients with acute ischemic stroke it has been shown to increase the risk for intracranial hemorrhage and death. Tenecteplase is used in myocardial infraction, but definitive phase 3 trials in stroke have not been performed.
Fibrinolytics (ie, rt-PA) restore cerebral blood flow in some patients with acute ischemic stroke and may lead to improvement or resolution of neurologic deficits. Proper patient selection and protocol adherence is essential because fibrinolytics may also cause symptomatic intracranial hemorrhage. Other complications include potentially hemodynamically significant hemorrhage and angioedema or allergic reactions.
For more on the treatment of ischemic stroke, read here.
Medscape © 2014 WebMD, LLC

Cite this: Edward C. Jauch. Fast Five Quiz: Do You Know the Complications, Proper Workup, and Best Treatment Practices for Ischemic Stroke? - Medscape - Dec 29, 2014.