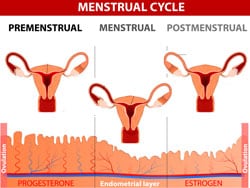 A shorter menstrual cycle (< 25 days) is the most common change in menstrual cyclicity that occurs during the menstrual transition in women who have no pelvic pathology and who continue to be ovulatory. Because functional follicles, which are stimulated by follicle-stimulating hormone (FSH) during the first part of the menstrual cycle, have declined in number, less recruitment of oocytes occurs, and the follicular phase shortens accordingly. However, once ovulation occurs, the luteal phase remains fairly constant, at 14 days.
For more on the physiology of menopause, read here.
Medscape © 2015  WebMD, LLC

Cite this: Fast Five Quiz: Do You Know the Conditions Associated With Menopause and How Best to Treat Them? - Medscape - Jan 20, 2015.