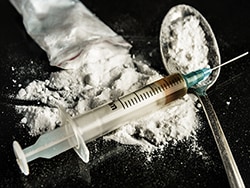 Most individuals who use injection drugs inject their drugs intravenously, but subcutaneous injection (ie, "skin-popping") is also common, and intramuscular injection may occur intentionally or when the individual misses the vein or the subcutaneous space. Injecting drug use is associated with many local and systemic complications for the individual and is also associated with the transmission of infectious diseases via needle sharing and sexual activity. The most commonly injected drug is heroin, but amphetamines, buprenorphine, benzodiazepines, barbiturates, cocaine, and methamphetamine also are injected. Any water-soluble drug may be injected.
For more information on injecting drug use, read here.
Medscape © 2015  WebMD, LLC

Cite this: Fast Five Quiz: How Much Do You Know About Substance Abuse and Addiction? - Medscape - Feb 03, 2015.