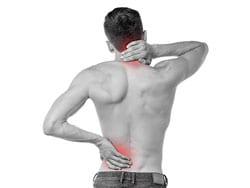 Evaluation of the lower extremities should include a motor examination, a sensory evaluation, and reflex testing at the knees and ankles. The straight-leg raising test (Lasègue test) helps to evaluate disc involvement, sciatica, or a neurologic deficit. A positive Patrick test points to a sacroiliac joint inflammation, but this test should be negative in lumbosacral sprains and strains.
For more on lower back sprains and strains, read here.
Medscape © 2015  WebMD, LLC

Cite this: Richard H. Sinert. Fast Five Quiz: Can You Recognize and Treat Sexual Intercourse-Related Injuries? - Medscape - Mar 13, 2015.