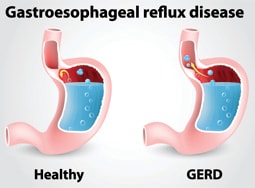 Factors that can contribute to asthma or airway hyperreactivity may include any of the following:
Environmental allergens (eg, house dust mites; animal allergens, especially cat and dog; cockroach allergens; and fungi);

Viral respiratory tract infections;

Exercise, hyperventilation;

GERD;

Chronic sinusitis or rhinitis;

Aspirin or nonsteroidal anti-inflammatory drug hypersensitivity, sulfite sensitivity;

Use of beta-adrenergic receptor blockers (including ophthalmic preparations);

Obesity;

Environmental pollutants, tobacco smoke;

Occupational exposure;

Irritants (eg, household sprays, paint fumes);

Various high- and low-molecular-weight compounds (eg, insects, plants, latex, gums, diisocyanates, anhydrides, wood dust, and fluxes; associated with occupational asthma);

Emotional factors or stress; and

Perinatal factors (prematurity and increased maternal age; maternal smoking and prenatal exposure to tobacco smoke; breastfeeding has not been definitively shown to be protective).
For more on the etiology of asthma, read here.
Medscape © 2019 WebMD, LLC

Cite this: Zab Mosenifar. Fast Five Quiz: How Much Do You Know About Asthma? - Medscape - Jun 04, 2019.