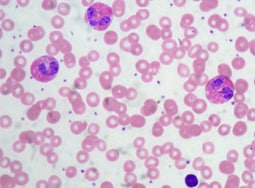 Blood eosinophilia > 4% or 300-400 cells/μL supports the diagnosis of asthma, but the absence of this finding is not exclusionary. Total serum immunoglobulin E levels > 100 IU/mL are frequently observed in patients experiencing allergic reactions, but this finding is not specific for asthma and may be observed in patients with other conditions (eg, allergic bronchopulmonary aspergillosis, Churg-Strauss syndrome).
Venous PCO2 levels have been tested as a substitute for arterial measurements, and a venous PCO2 value > 45 mm Hg may serve as a screening test but cannot substitute for arterial blood gas evaluation of respiratory function. Sinus CT may be useful to help exclude acute or chronic sinusitis as a contributing factor.
For more on the workup of asthma, read here.
Medscape © 2019 WebMD, LLC

Cite this: Zab Mosenifar. Fast Five Quiz: How Much Do You Know About Asthma? - Medscape - Jun 04, 2019.