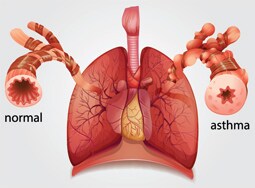 Indications for hospitalization are based on findings from the repeat assessment of a patient after he or she has received three doses of an inhaled bronchodilator. The decision whether to admit is based on the following:
Duration and severity of asthma symptoms;

Severity of airflow obstruction;

Course and severity of prior exacerbations;

Medication use and access to medications;

Adequacy of support and home conditions; and

Presence of psychiatric illness.
Admit the patient to the intensive care unit for close observation and monitoring in certain situations, such as the following:
Rapidly worsening asthma, or a lack of response to the initial therapy in the emergency department;

Confusion, drowsiness, signs of impeding respiratory arrest, or loss of consciousness;

Impending respiratory arrest, as indicated by hypoxemia (PO2 < 60 mm Hg) despite supplemental oxygen and/or hypercapnia with PCO2 > 45 mm Hg; and

Intubation is required because of the continued deterioration of the patient's condition despite intervention
Status asthmaticus, or an acute severe asthmatic episode that is resistant to appropriate outpatient therapy, is a medical emergency that requires aggressive hospital management. This may include admission to an intensive care unit for treatment of hypoxia, hypercapnia, and dehydration and possibly for assisted ventilation because of respiratory failure.
For more about the treatment of asthma, read here.
Medscape © 2019 WebMD, LLC

Cite this: Zab Mosenifar. Fast Five Quiz: How Much Do You Know About Asthma? - Medscape - Jun 04, 2019.