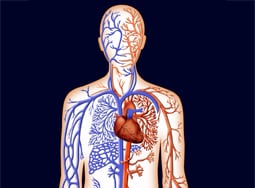 Vascular diseases account for nearly 50% of all cases of ED in men older than 50 years. These diseases include atherosclerosis, peripheral vascular disease, myocardial infarction, and arterial hypertension. Vascular damage may result from radiation therapy to the pelvis and prostate in the treatment of prostate cancer. Both the blood vessels and the nerves to the penis may be affected. Radiation damage to the crura of the penis, which are highly susceptible to radiation damage, can induce ED.
For more on the etiology of ED, read here.
Medscape © 2015  WebMD, LLC

Cite this: Fast Five Quiz: How Much Do You Know About Erectile Dysfunction? - Medscape - Jun 18, 2015.