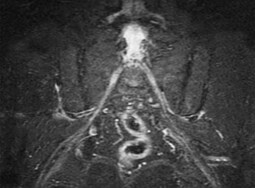 If a tumor or a compressive mass lesion to the peroneal nerve is being investigated, magnetic resonance neurography (MRN) may be considered. MRN provides high-resolution images of peripheral nerves, as well as associated intraneural and extraneural lesions.
MRN can be performed by using a standard 1.5 Tesla MRI system and special phased-array imaging surface coils. These coils acquire image data simultaneously from multiple receive-only surface coils. Image data from each coil in the array are combined to form a composite image with an improved signal-to-noise ratio.
Compared with standard MRI, MRN allows faster acquisition of anatomically detailed images, a smaller field of view, higher resolution, and thinner sections. These features provide images capable of showing the fascicular organization of normal peripheral nerves, thereby rendering the nerves more clearly distinguishable from other tissue (eg, tumor or blood vessels)
For more on the workup of foot drop, read here.
Medscape © 2015  WebMD, LLC

Any views expressed above are the author's own and do not necessarily reflect the views of WebMD or Medscape.
Cite this: Craig C. Young, James W. Pritchett. Fast Five Quiz: How Much Do You Know About Foot Drop? - Medscape - Jul 07, 2015.