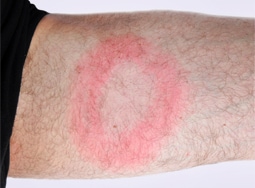 Physical findings in patients with early disseminated disease are as follows:
Erythema migrans, single or multiple lesions

Headache

Fever

Tender adenopathy (regional or generalized)

Conjunctivitis (uncommon, never prominent)

Carditis (usually manifests as heart block)

Meningismus as a sign of aseptic meningitis

Cranioneuropathy, especially cranial nerve VII and Bell palsy (peripheral seventh nerve palsy with decreased unilateral function, including the forehead)
In patients with late disease, the typical physical finding is arthritis. Arthritis is located mostly in large joints, especially the knee. Warmth, swelling from effusion, and limited range of motion help distinguish arthritis from simple arthralgia.
For more on the signs and symptoms of Lyme disease, read here.
Medscape © 2015  WebMD, LLC

Any views expressed above are the author's own and do not necessarily reflect the views of WebMD or Medscape.
Cite this: Russell W. Steele. Fast Five Quiz: Can You Identify and Treat Lyme Disease? - Medscape - Jul 15, 2015.