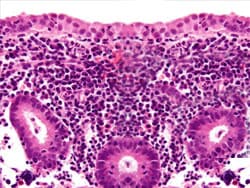 Group A streptococcal infections can cause a diverse variety of suppurative diseases and nonsuppurative postinfectious sequelae. The suppurative spectrum of group A streptococcal infection diseases includes the following:
Pharyngitis, with or without tonsillopharyngeal cellulitis or abscess;

Impetigo (purulent, honey-colored, crusted skin lesions);

Pneumonia;

Necrotizing fasciitis;

Cellulitis;

Streptococcal bacteremia;

Osteomyelitis;

Otitis media;

Sinusitis; and

Meningitis or brain abscess (a rare complication resulting from direct extension of an ear or sinus infection or from hematogenous spread).
The nonsuppurative sequelae of group A streptococcal infections include the following:
Acute rheumatic fever, defined by the Jones criteria;

Rheumatic heart disease—chronic valvular damage, predominantly to the mitral valve; and

Acute glomerulonephritis.
For more on the spectrum of diseases caused by group A streptococcal infections, read here.
Medscape © 2015  WebMD, LLC

Any views expressed above are the author's own and do not necessarily reflect the views of WebMD or Medscape.
Cite this: Michael Stuart Bronze. Fast Five Quiz: Do You Know the Manifestations of and Best Treatment Practices for Streptococcal Infections? - Medscape - Sep 03, 2015.