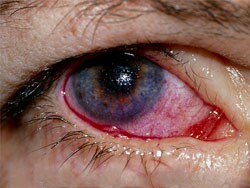 Early ocular complications include the following:
Lagophthalmos (inability to close the eye completely)

Paralytic ectropion of the lower lid

Corneal exposure

Brow droop

Upper eyelid retraction

Decreased tear output and poor tear distribution

Loss of the nasolabial fold

Corneal erosion, infection, and ulceration (rare)
Late ocular manifestations include the following:
Mild, generalized mass contracture of the facial muscles, rendering the affected palpebral fissure narrower than the opposite one (after several months)

Aberrant regeneration of the facial nerve with motor synkinesis

Reversed jaw winking (ie, contracture of the facial muscles with twitching of the corner of the mouth or dimpling of the chin occurring simultaneously with each blink)

Autonomic synkinesis (ie, crocodile tears—tearing with chewing)

Permanent, disfiguring facial paralysis (rare)
For more on presentation of Bell palsy, read here.
Medscape © 2015  WebMD, LLC

Any views expressed above are the author's own and do not necessarily reflect the views of WebMD or Medscape.
Cite this: Selim Benbadis. Fast Five Quiz: How Much Do You Know About Bell Palsy? - Medscape - Sep 29, 2015.