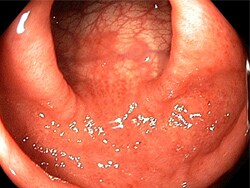 In mild disease that is confined to the rectum, topical mesalazine given by suppository is the preferred therapy. Enemas and foams are less effective because their concentration in the rectum rapidly diminishes. Left-sided colonic disease is best treated with a combination of mesalazine suppository and an oral aminosalicylate.
Combined oral and topical therapy is better than either route alone. Of the oral aminosalicylates, sulfasalazine has the longest history. Sulfasalazine is 5-aminosalicylate (5-ASA) coupled to a sulfapyridine. It is poorly absorbed in the proximal bowel, and the bacteria in the colon uncouple the 5-ASA from the sulfa moiety, allowing 5-ASA to exert its anti-inflammatory effect on the colonic mucosa by inhibiting prostaglandin synthesis. Systemic steroids are indicated when the disease fails to quickly respond to aminosalicylates.
For more on the treatment of ulcerative colitis, read here.
Medscape © 2015  WebMD, LLC

Any views expressed above are the author's own and do not necessarily reflect the views of WebMD or Medscape.
Cite this: Marc D. Basson. Fast Five Quiz: How Much Do You Know About Ulcerative Colitis? - Medscape - Oct 19, 2015.