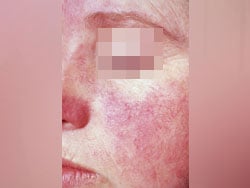 Cutaneous manifestations of SLE include ACR lupus diagnostic criteria: malar rash, photosensitivity, and discoid lupus. Many other cutaneous findings are not explicitly diagnostic features but support impressions of SLE.
Alopecia in SLE often causes hair loss at the temporal regions or creates a patchy pattern. Vascular lesions, such as livedo reticularis (characterized by a lacy, mottled, erythematous skin pattern), periungual erythema (as seen in nailfold capillaroscopy, which can be performed with an ophthalmoscope to search for dilated capillary nailfold loops), telangiectasias, and Raynaud phenomenon (blue, white, and red color changes at the distal digital tips) may develop in some patients with SLE or antiphospholipid antibody syndrome. However, these are nonspecific findings; they can occur in other connective tissue disorders with prominent vascular involvement, such as scleroderma and dermatomyositis.
For more on the presentation of SLE, read here.
Medscape © 2015  WebMD, LLC

Any views expressed above are the author's own and do not necessarily reflect the views of WebMD or Medscape.
Cite this: Herbert S. Diamond. Fast Five Quiz: How Much Do You Know About Systemic Lupus Erythematosus? - Medscape - Nov 03, 2015.