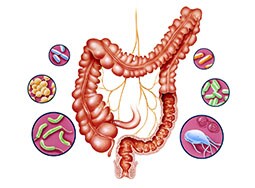 Absorbents (eg, Kaopectate, aluminum hydroxide) help patients have more control over the timing of defecation. However, they do not alter the course of the disease or reduce fluid loss. Note the following:
An interval of at least 1-2 hours should elapse when using other medications with absorbents.

Antisecretory agents, such as bismuth subsalicylate, may be useful. The dose is 30 mL every 30 minutes, not to exceed 8-10 doses.

Antiperistaltics (opiate derivatives) should not be used in patients with fever, systemic toxicity, or bloody diarrhea or in patients whose condition either shows no improvement or deteriorates.

Diphenoxylate with atropine is available in tablets (2.5 mg of diphenoxylate) and liquid (2.5 mg of diphenoxylate/5 mL). The initial dose for adults is 2 tablets 4 times a day (ie, 20 mg/d). The dose is tapered as diarrhea improves.

Loperamide is available over the counter as 2-mg capsules and as a liquid (1 mg/5 mL). It increases the intestinal absorption of electrolytes and water and decreases intestinal motility and secretion. The dose in adults is 4 mg initially, followed by 2 mg after each diarrhea stool, not to exceed 16 mg in a 24-hour period.
For more the treatment of food poisoning, read here.
Medscape © 2015  WebMD, LLC

Any views expressed above are the author's own and do not necessarily reflect the views of WebMD or Medscape.
Cite this: Richard H. Sinert. Fast Five Quiz: This Thanksgiving, Are You Prepared to Confront Food Poisoning? - Medscape - Nov 23, 2015.