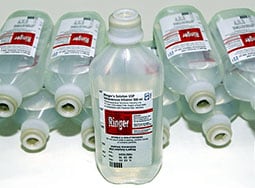 Initial correction of fluid loss is either by isotonic sodium chloride solution or by lactated Ringer solution. The recommended schedule for restoring fluids is as follows:
Administer 1-3 L during the first hour.

Administer 1 L during the second hour.

Administer 1 L during the following 2 hours.

Administer 1 L every 4 hours, depending on the degree of dehydration and central venous pressure readings.
When the patient becomes euvolemic, the physician may switch to half-isotonic sodium chloride solution, particularly if hypernatremia exists. Isotonic saline should be administered at a rate appropriate to maintain adequate blood pressure and pulse, urine output, and mental status.
If a patient is severely dehydrated and significant fluid resuscitation is needed, switching to a balanced electrolyte solution (eg, Normosol™-R, in which some of the chloride in isotonic saline is replaced with acetate) may help to avoid the development of hyperchloremic acidosis.
When blood sugar decreases to less than 180 mg/dL, isotonic sodium chloride solution is replaced with 5%-10% dextrose with half-isotonic sodium chloride solution.
After initial stabilization with isotonic saline, switch to half-normal saline at 200-1000 mL/h (half-normal saline matches losses due to osmotic diuresis).
For more the treatment of DKA, read here.
Medscape © 2015  WebMD, LLC

Any views expressed above are the author's own and do not necessarily reflect the views of WebMD or Medscape.
Cite this: Romesh Khardori. Quiz: What Do You Know About Diabetic Ketoacidosis? - Medscape - Dec 03, 2015.