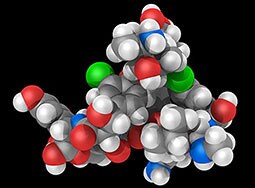 In patients with suspected severe or complicated C difficile infection, initiate early empirical therapy while the stool tests are pending. The choice of treatment regiments depends on the severity of the infection, as determined by vital signs, white blood cell count, and serum creatinine level with supporting clinical evidence, including hypotension, shock, ileus, or megacolon). For nonsevere infections, oral vancomycin (125 mg four times daily for 10 days) or fidaxomicin (200 mg orally twice daily for 10 days) are recommended as first-line therapy in these cases, owing to faster symptom resolution and fewer treatment failures than when metronidazole is used. Vancomycin is not absorbed and acts directly at the infection site. Vancomycin is bacteriostatic against the organism, whereas fidaxomicin is bactericidal. Fidaxomicin is associated with lower recurrence rates. Symptomatic improvement can be expected within 2-3 days. In more severe disease, either oral vancomycin or fidaxomicin can be used.
If oral vancomycin or fidaxomicin are unavailable, oral metronidazole may be used. However, patients with inflammatory bowel disease are a unique population in whom treatment with vancomycin is recommended regardless of disease severity, owing to the high rate of recurrence in this population and the association between C difficile infection and adverse health outcomes, such as surgery and mortality. Metronidazole should be avoided in patients with inflammatory bowel disease and in the elderly and infirmed.
In fulminant cases, combined therapy with intravenous metronidazole and oral or rectal vancomycin is the treatment of choice. Intravenous vancomycin is ineffective and should not be used for C difficile. The Society for Healthcare Epidemiology of America and Infectious Diseases Society of America recommend intravenous metronidazole 500 mg every 8 hours with oral vancomycin 500 mg four times per day (and/or 500 mg administered rectally every 6 hours in 100 mL normal saline as a retention enema). The use of oral metronidazole in severe or life-threatening C difficile infection is discouraged.
For more the treatment of C difficile infection, read here.
Medscape © 2016 WebMD, LLC

Any views expressed above are the author's own and do not necessarily reflect the views of WebMD or Medscape.
Cite this: Michael Stuart Bronze. Fast Five Quiz: Are You Able to Confront Clostridium Difficile Infections? - Medscape - Jan 04, 2016.