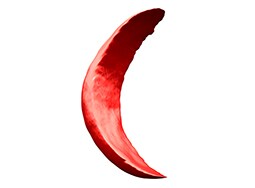 SCD denotes all genotypes containing at least one sickle gene, in which HbS makes up at least half of the hemoglobin present. Major sickle genotypes described so far include:
HbSS disease or sickle cell anemia (the most common form): Homozygote for the S globin with usually a severe or moderately severe phenotype and with the shortest survival

HbS/b-0 thalassemia: Double heterozygote for HbS and b-0 thalassemia; clinically indistinguishable from sickle cell anemia (SCA)

HbS/b+ thalassemia: Mild-to-moderate severity with variability in different ethnicities

HbSC disease: Double heterozygote for HbS and HbC characterized by moderate clinical severity

HbS/hereditary persistence of fetal Hb (S/HPHP): Very mild or asymptomatic phenotype

HbS/HbE syndrome: Very rare, with a phenotype usually similar to HbS/b+ thalassemia

Rare combinations of HbS with other abnormal hemoglobins such as HbD Los Angeles, G-Philadelphia, HbO Arab, and others
For more on the types of SCD, read here.
Medscape © 2016  WebMD, LLC

Any views expressed above are the author's own and do not necessarily reflect the views of WebMD or Medscape.
Cite this: Emmanuel C. Besa. Fast Five Quiz: Are You Prepared to Confront Sickle Cell Disease? - Medscape - Feb 18, 2016.