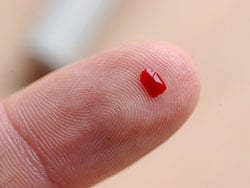 The patient's history and physical examination usually provide sufficient information to allow the clinician to make the diagnosis of OE. Most persons with OE are treated empirically.
Thus, laboratory studies typically are not needed. However, Gram staining and culture of any discharge from the auditory canal may be helpful if the patient is immunocompromised, if the usual treatment measures are ineffective, or if a fungal cause is suspected. However, as many as 40% of all cases of OE do not produce a dominant pathogen. Adults with OE may benefit from a blood glucose check or a urine dipstick test to evaluate for occult diabetes.
Imaging studies are not required for most cases of OE. However, radiologic investigation may be helpful if an invasive infection such as necrotizing (malignant) OE is suspected or if the diagnosis of mastoiditis is being considered. High-resolution CT scan is preferred and better depicts bony erosion. Radionucleotide bone scanning and gallium scanning have been used to make the diagnosis. MRI, although not used as often, may be considered secondarily or if soft tissue extension is the predominant concern.
An otoscope consists of a head and a handle and is used to examine the EAC, the tympanic membrane, and the middle ear. For optimal viewing of the tympanic membrane in an adult, retract the auricle posteriorly and superiorly to straighten the EAC; for optimal viewing in a child, pull the auricle posteriorly.
For more on the workup of OE, read here.
Medscape © 2016 WebMD, LLC

Any views expressed above are the author's own and do not necessarily reflect the views of WebMD or Medscape.
Cite this: Russell W. Steele. Fast Five Quiz: How Familiar Are You With Otitis Externa? - Medscape - May 17, 2016.