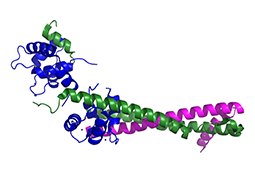 According to the most recent ACC/AHA guidelines on management of acute coronary syndromes, the only biomarker that is recommended currently for the diagnosis of myocardial infarction is troponin. This is due to the high sensitivity and specificity of troponin levels, rendering the measurement of other, non-troponin biomarkers obsolete.
Myoglobin is a low-molecular-weight protein derived from the heme compound of blood. It is found in cardiac and skeletal muscle and released more rapidly from infarcted myocardium than troponin. Urine myoglobin levels rise within 1-4 hours from the onset of chest pain. Myoglobin levels are highly sensitive but they are not specific; hence, they are not commonly used currently in the workup of acute MI, especially if more sensitive cardiac troponin assays are available.
Troponin is a contractile protein that normally is not found in serum. It is released only when myocardial necrosis occurs. Of the three troponin subunits, two (troponin I and troponin T) are derived from the myocardium. Highly sensitive assays can now detect cardiac troponin in patients with acute MI with a high degree of certainty. This has led to the change in clinical practice guidelines to recommend relying solely on the results of sensitive or high-sensitive troponin I or troponin T assays for diagnostic and prognostication purposes in patients with symptoms suggestive of acute MI.
Although the MB isoenzyme of creatine kinase (CK-MB) is found mainly in the heart muscle and is released in the serum if myocardial necrosis occurs, it can be found in other tissues in the body as well. Because of this, CK-MB is less sensitive for detection of myocardial injury than troponin, and substantially more tissue injury is required for its detection. CK-MB levels have been used to estimate the size/extent of myocardial infarction.
For more on the workup of MI, read here.
Medscape © 2016  WebMD, LLC

Any views expressed above are the author's own and do not necessarily reflect the views of WebMD or Medscape.
Cite this: Yasmine S. Ali. Fast Five Quiz: Are You Prepared to Confront a Myocardial Infarction? - Medscape - May 26, 2016.