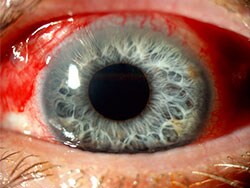 The nails are involved in 80% of patients with psoriatic arthritis but in only 20% of patients with uncomplicated psoriasis, with nail involvement frequently seen at the onset when skin and joint disease begin simultaneously.
Extra-articular features are observed less frequently in patients with psoriatic arthritis than in those with rheumatoid arthritis. In patients with psoriatic arthritis, synovitis has a predilection for the flexor tendon sheath, with sparing of the extensor tendon sheath; both tendon sheaths are commonly involved in persons with rheumatoid arthritis.
Subcutaneous nodules are rare in patients with psoriatic arthritis. If nodules are present in a patient who has psoriasis arthritis, particularly if the rheumatoid factor titer is positive, they suggest the coincidental occurrence of psoriasis and rheumatoid arthritis.
Ocular involvement may occur in 30% of patients with psoriatic arthritis, including conjunctivitis in 20% of patients and acute anterior uveitis in 7% of them. In patients with uveitis, 43% have sacroiliitis and 40% are HLA-B27–positive. Scleritis and keratoconjunctivitis sicca are rare. Possible ocular findings also include iritis.
For more on presentation of psoriatic arthritis, read here.
Medscape © 2016  WebMD, LLC

Any views expressed above are the author's own and do not necessarily reflect the views of WebMD or Medscape.
Cite this: Herbert S. Diamond. Fast Five Quiz: How Much Do You Know About Psoriatic Arthritis? - Medscape - Jun 13, 2016.