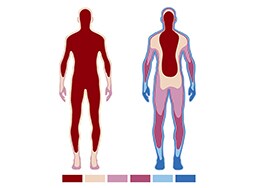 Thermal conduction of water is 25-30 times that of air. The temperature of thermally neutral water, in which a nude individual's heat production balances heat loss, is 91.4°F (33°C). Physical exertion increases heat loss secondary to convection/conduction up to 35%-50% faster. A significant risk for hypothermia usually develops in water temperatures less than 77°F (25°C), which is the temperature found in most US natural waters during the majority of the year. During immersion in ice water, a person will become hypothermic in approximately 30 minutes. Cooling at this temperature becomes life-threatening in approximately 60 minutes.
For more on the presentation of drowning, read here.
Medscape © 2016  WebMD, LLC

Any views expressed above are the author's own and do not necessarily reflect the views of WebMD or Medscape.
Cite this: Richard H. Sinert. Fast Five Quiz: What Do You Know About Drowning? - Medscape - Jun 27, 2016.