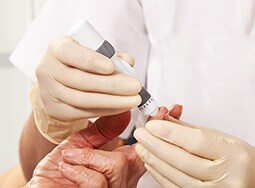 Of all treatments, tight and stable glycemic control is probably the most important for slowing the progression of neuropathy. Because rapid swings from hypoglycemia to hyperglycemia have been suggested to induce and aggravate neuropathic pain, the stability of glycemic control may be as important as the actual level of control in relieving neuropathic pain. The Diabetes Control and Complications Trial (DCCT) demonstrated that tight blood sugar control in patients with type 1 DM decreased the risk for neuropathy by 60% in 5 years. The effect of tight glycemic control on polyneuropathy in patients with type 2 DM or those with impaired glucose tolerance/impaired fasting glucose is not as clear and requires further prospective study.
For more the treatment of diabetic neuropathy, read here.
Medscape © 2016 WebMD, LLC

Any views expressed above are the author's own and do not necessarily reflect the views of WebMD or Medscape.
Cite this: Dianna Quan, Romesh Khardori. Fast Five Quiz: How Much Do You Know About Diabetic Neuropathy? - Medscape - Jul 13, 2016.