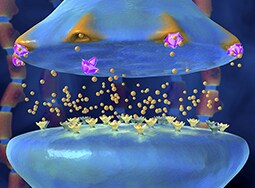 The most widely acknowledged biochemical abnormality associated with fibromyalgia is abnormally low serotonin levels. Many studies have linked serotonin, a neurotransmitter, to sleep, pain perception, headaches, and mood disorders. Lower-than-normal levels of serotonin have been observed in patients with fibromyalgia. A low platelet serotonin value is believed to be the cause of the low serum levels, which have been correlated with painful symptoms.
Low serotonin levels in the central nervous system are thought to result from low levels of tryptophan (the amino acid precursor to serotonin) and 5-hydroxyindole acetic acid (a metabolic by-product) in the cerebrospinal fluid. Investigators have proposed a link between low serotonin levels and symptoms of fibromyalgia; indeed, many propose that low serotonin levels may cause fibromyalgia in whole or in part.
For more on the pathophysiology of fibromyalgia, read here.
Medscape © 2016 WebMD, LLC

Any views expressed above are the author's own and do not necessarily reflect the views of WebMD or Medscape.
Cite this: Herbert S. Diamond. Fast Five Quiz: How Much Do You Know About Fibromyalgia? - Medscape - Jul 18, 2016.