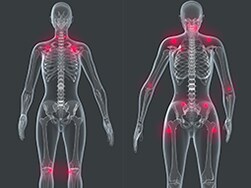 The physician should inform the patient that no cure exists for fibromyalgia but that education; lifestyle changes, including regular physical activity; and proper medications can help the individual to regain control and achieve significant improvement. When patients with fibromyalgia fully understand the nature of the disease, they are more likely to comply with treatment and to take an active role in managing the disease.
Poor diet worsens the symptoms of fibromyalgia, possibly as a result of impaired glycolysis and carbohydrate metabolism. Dietary changes are essential to improving symptoms, but they are challenging to achieve.
Avoid excessive use of physical therapy modalities after minor trauma, excessive activity limitation, and prolonged disability leave from work. Be aware of confounders to recovery, such as pending litigation or compensation claims.
Fibromyalgia in children responds to a combination of psychotherapy, exercise, relaxation techniques, and education. Pharmacotherapy is generally not indicated.
A possible etiologic link between Chiari malformation and fibromyalgia has been suggested. However, no generally accepted evidence indicates that skull surgery for correction of Chiari malformation is of benefit in patients with fibromyalgia, and screening all fibromyalgia patients for Chiari malformation is not recommended.
For more on the treatment of fibromyalgia, read here.
Medscape © 2016 WebMD, LLC

Any views expressed above are the author's own and do not necessarily reflect the views of WebMD or Medscape.
Cite this: Herbert S. Diamond. Fast Five Quiz: How Much Do You Know About Fibromyalgia? - Medscape - Jul 18, 2016.