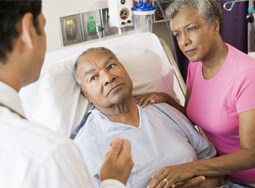 Poor-prognosis characteristics include the following clinical and laboratory factors:
Older age

Symptomatic presentation

Poor performance status

African American descent

Hepatomegaly

Splenomegaly

Negative Ph chromosome or BCR/ABL

Anemia

Thrombocytopenia

Thrombocytosis

Decreased megakaryocytes

Basophilia

Myelofibrosis (increased reticulin or collagen)
Approximately 85% of cases are diagnosed in the chronic phase and then progress to the accelerated and blast phases after 3-5 years. CML accounts for 20% of all leukemias affecting adults. It typically affects middle-aged persons. The American Cancer Society estimates that 8220 new cases of CML will be diagnosed in 2016: 4610 in males and 3610 in females.
For more on the background of CML, read here.
Medscape © 2016 WebMD, LLC

Any views expressed above are the author's own and do not necessarily reflect the views of WebMD or Medscape.
Cite this: Emmanuel C. Besa. Fast Five Quiz: How Much Do You Know About Chronic Myelogenous Leukemia? - Medscape - Aug 15, 2016.