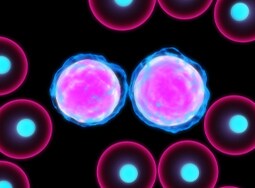 Nonspecific symptoms of fatigue and weight loss may occur long after onset of the disease. Loss of energy and decreased exercise tolerance may occur during the chronic phase after several months.
Patients often have symptoms related to enlargement of the spleen, liver, or both. The large spleen may encroach on the stomach and cause early satiety and decreased food intake. Left upper-quadrant abdominal pain described as "gripping" may occur from spleen infarction. The enlarged spleen may also be associated with a hypermetabolic state, fever, weight loss, and chronic fatigue. The enlarged liver may contribute to the patient's weight loss.
Some patients with CML have low-grade fever and excessive sweating related to hypermetabolism.
In some patients who present in the accelerated, or acute, leukemia phase of the disease (skipping the chronic phase), bleeding, petechiae, and ecchymoses may be the prominent symptoms. In these situations, fever is usually associated with infections. Bone pain and fever, as well as an increase in bone marrow fibrosis, are harbingers of the blast phase.
For more on the presentation of CML, read here.
Medscape © 2016 WebMD, LLC

Any views expressed above are the author's own and do not necessarily reflect the views of WebMD or Medscape.
Cite this: Emmanuel C. Besa. Fast Five Quiz: How Much Do You Know About Chronic Myelogenous Leukemia? - Medscape - Aug 15, 2016.