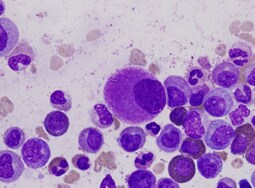 Patients with conditions other than CML, such as newly diagnosed acute lymphocytic leukemia or nonlymphocytic leukemia, may also be positive for the Ph1 chromosome. Some consider this the blast phase of CML without a chronic phase. Ph1 is occasionally found in acute myelogenous leukemia. The chromosome is rarely found in patients with other myeloproliferative disorders, such as polycythemia vera or essential thrombocythemia, but these cases are probably misdiagnosed CML. It is rarely observed in myelodysplastic syndrome.
For more on the workup of CML, read here.
Medscape © 2016 WebMD, LLC

Any views expressed above are the author's own and do not necessarily reflect the views of WebMD or Medscape.
Cite this: Emmanuel C. Besa. Fast Five Quiz: How Much Do You Know About Chronic Myelogenous Leukemia? - Medscape - Aug 15, 2016.